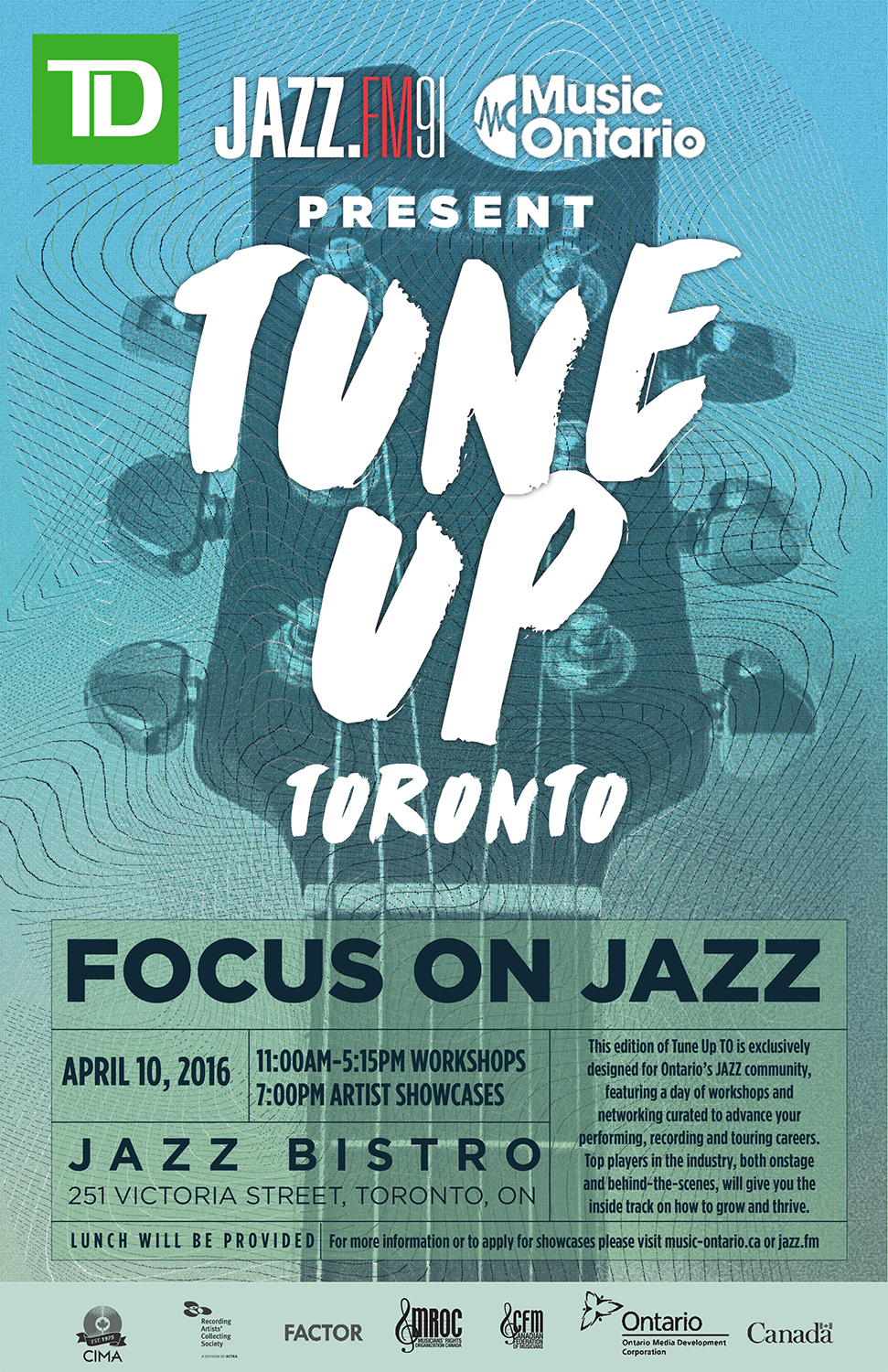 This edition of Tune Up TO is exclusively designed for Ontario's JAZZ community, featuring a day of workshops and networking curated to advance your performing, recording and touring careers. Top players in the industry, both onstage and behind-the-scenes, will give you the inside track on how to grow and thrive.
We are offering a full day of workshops, followed by a networking session, and showcase.
Space is limited, so register now to guarantee your spot http://tuneuptojazz1.eventbrite.ca 
MusicOntario & Jazz.FM present Tune Up Toronto: Focus on Jazz
April 10, 2016 at the Jazz Bistro, 251 Victoria St, Toronto, ON
FULL SCHEDULE ANNOUNCED!
11:00AM OPENING REMARKS
11:30AM PRESENTATION – Risky Business: Taxes, Finances, and Risk Management for Musicians – "Finance professionals weigh in on the dos and don'ts of how to manage your money."
Panelists: Chris Case, Jae Gold, Sam Arraj 
12:45PM PANEL – Get heard! Tools and tips for getting your music publicized, marketed, and on the airwaves.
Panelists: Jane Harbury, Marilyn Gilbert, Brad Barker, Richard Underhill 
1:45PM LUNCH
3:00PM PANEL – The Art of Making a Living – "The self-managed artist has to play many roles as their career progresses. When do you ask for help, and from who? This panel will focus on the for, and not-for profit businesses and organizations such as managers, publicists, agents, unions, music industry associations, and how artists can monetize their music to make a living in todays ever-changing musical climate."
Panelists: Aaron Davis, Shakura S'Aida, Andrew Craig, Sophie Millman
4:15PM PANEL –  Which Way To The Gig? Tours, Gigs, Festivals, and Getting Out There With Tips From The Pros. – "We've assembled an expert team of agents, artists, festival and venue bookers to share their experiences in booking independent artists."
Panelists: Ralph James, Josh Grossman, Derek Andrews, Lara Farcasan 
5:30PM NETWORKING SESSION
6:30PM BREAK
7:00PM SHOWCASE 
Lunch will be provided
Submissions to showcase are now closed. Selected artists will be notified April 1, 2016.
For more information feel free to contact rosalyn@music-ontario.ca