Reeperbahn 2019: ONTARIO @ Canada House!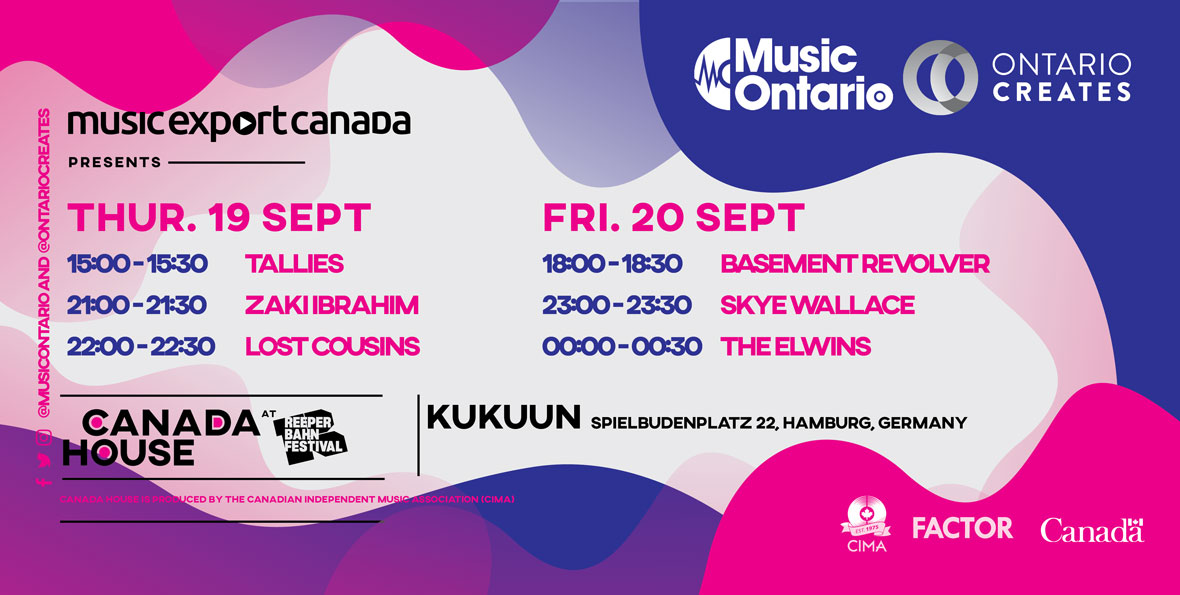 When

Mon 16th - Sat 21st September 2019

Where

Hamburg, Germany

Web
MusicOntario is once again taking part in CIMA's Canada House at Reeperbahn this year, presenting 6 Ontario bands peppered across Thursday, September 19 & Friday, September 20 at kukuun. Learn a bit about our Ontario performers and check out the full lineup of Canadians below!
TALLIES | Sept. 19 @ 3PM
Combining up-beat drum beats melodic bass riffs jingly guitar leads and fluttery lighter-than-air vocals Tallies gives out a soft yet bouncy ray of sunshine not unlike The Sundays'. Tallies bridges that long lost sound with yet a new and youthful take on something all their own. Coming out of Toronto this indie pop band recently formed last year by lead singer and guitarist Sarah Cogan and guitarist Dylan Franklin. With Cian O'Neill on drums and Stephen Pitman on bass the band released their debut album in January 2019 via Kanine Records (USA) and Hand Drawn Dracula (Canada).
https://www.facebook.com/talliesband/
https://www.talliesband.com/

ZAKI IBRAHIM | Sept. 19 @ 9PM
Described as "a retro-Afrofuturist vision sending listeners on a journey through 40 years of electronic music," (Nuvo) Ibrahim's music brings elements of spoken word, hip hop, soul, house and 70s pop together, filtered through the prismatic and often contradictory lenses of personal, historical and scientific relativities. Even the concept of diaspora seems to fall short of capturing the vivid vibrational multitudes of Ibrahim's scope, more than the sum of static geographic parts.
On stage, Ibrahim delivers theatrical, intricate configurations of bodies and ideas built on a contrast of sharp precision and untethered joy. Ibrahim aims to find space for spontaneity within the parameters of structure; in the same way that her music explores non-linear models of time and space, Ibrahim's performances are designed with fluidity and recombination in mind.
www.instagram.com/zatakiwon/
www.twitter.com/zakiibrahim
www.facebook.com/ZakiIbrahim/
LOST COUSINS | Sept. 19 @10PM
For the indie psych rock outfit Lost Cousins, grappling with life transitions—and the domino effects of those choices—is at the core of their sprawling, celestial-sounding debut LP "In Scenery". The record is a sweeping, anthemic tribute to the things one loses or gives up; the places one longs for, especially as one grows up and moves on. It's an album that spans the entire country and collapses back into itself; feeling like a swelling ocean tide with a sweet, significant comedown when it finally settles on the beach. The band has toured throughout Canada and the United States, including opening spots for The Strumbellas, Matthew Good and Hollerado. Recent Canadian festival performances include sets at Wayhome (2015), CityFolk (2016), NXNE (2017), Hillside Festival (2017), M for Montreal (2018), Halifax Pop Explosion (2018), and New Colossus (2019). Lost Cousins is Cam Duffin, Lloyd McArton, Thomas Dashney, Sean MacTaggart, and Marcus Sisk.
www.findlostcousinsband.com
www.instagram.com/LostCousinsBand
www.facebook.com/LostCousinsBand
www.twitter.com/LostCousinsBand
www.youtube.com/LostCousinsBand

BASEMENT REVOLVER | Sept. 20 @ 6PM
Basement Revolver have been crafting both noisy and graceful shoegaze-esque tracks out of their hometown of Hamilton, Ontario since releasing their 2016 breakout hit 'Johnny'. Their affinity for blending 90s-infused indie rock with fuzzy, dreamy pop and poignant, yearning lyrics has earned them a devoted following throughout their native Canada, the US and UK.
Signed to Canada's Sonic Unyon and Memphis Industries affiliate label Fear Of Missing Out for their 2018 debut album release Heavy Eyes, the band have toured throughout North America and the UK with acts including The Go! Team, The Pack A.D. and Amber Arcades.
https://www.basementrevolver.com/
https://www.facebook.com/basementrevolver/
https://www.instagram.com/basementrevolver/
https://twitter.com/BASEREVOLVmusic
https://open.spotify.com/artist/2xaBaFw60ET6GJVxFL...
SKYE WALLACE | Sept. 20 @ 11PM
Skye Wallace is what happens when a trained singer with east coast roots discovers punk rock in their youth and writes music that makes you feel excited.
Wallace's new self-titled album embodies Canadiana. From living on BC's west coast, to spending time at residencies from Norris Point, Newfoundland to Dawson City, Yukon, the Toronto-based artist has been inspired by every corner of the country. However, it's not just geography that informs her sound – her lyrics are often based on Canadian history, sharing the struggles and stories of the past. But this doesn't result in nostalgic sounding music – her lyrics may have roots in folk, but musically they branch out into so much more. From delicate ballads to grungy rock and roll, the new album is sometimes moving, sometimes frenetic, sometimes straight-up unrestrained. With a voice that effortlessly floats between sultry purrs to powerful yelps, and a band that takes you from somber lows to raucous highs, listening to Skye Wallace will take you on a journey that is not to be missed.

THE ELWINS | Sept. 20 @ 12AM
The Elwins are a Juno nominated rock group from Keswick, Ontario that have spent the better part of the past five years touring in support of their three full-length albums. They recently completed recording their fourth album, which will see an early 2020 release.
http://www.theelwins.com
http://www.instagram.com/theelwins
http://www.facebook.com/theelwins
http://www.twitter.com/theelwins

Keep Up To Date