MusicOntario @ Folk Alliance International 2018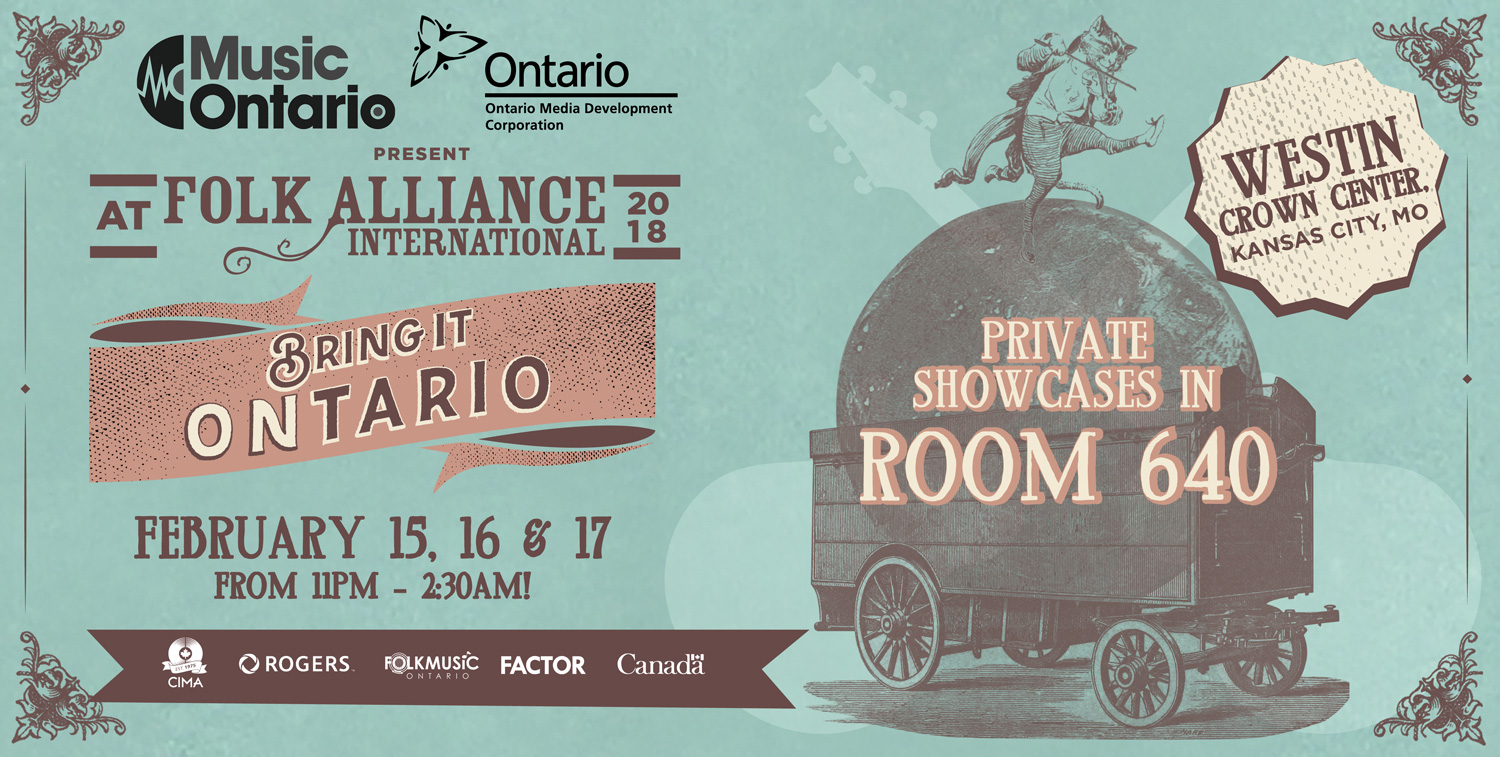 When

Wed 14th, Sun 18th February 2018

Where

Kansas City, MO

Web
Ontario heads to Folk Alliance International!
February 14-18, 2018 in Kansas City, Missouri
MusicOntario, Ontario Media Development Corporation (OMDC), and Folk Music Ontario are pleased to present an incredible lineup of Ontario talent at our private showcases during the Folk Alliance International 2018 conference! Join us in Room 640 for music, refreshments, snacks and a folk of a lot of fun (and the odd pun)!


The full lineup is:
Thursday, February 15, 2018
11:00 pm: Wild Rivers
Wild Rivers immerse their folk-pop originals into the warm musical styles of the artists that influenced them. With over 16 million streams on Spotify, the four-piece band effortlessly blends exquisite harmonies, beautiful songwriting, and a captivating stage presence, while their vibe fits equally well in listening rooms and symphony halls.
11:20 pm: Terra Lightfoot
Whether you're talking about her as a songwriter, guitarist or vocalist, one thing is indisputable: roots rocker Terra Lightfoot is a ferocious talent. Terra released her self-titled debut album in 2011; its critically acclaimed follow-up, 2015's Every Time My Mind Runs Wild, marked the artist's arrival as a striking songwriter and compelling live performer. 2017 brought two new albums: the orchestral collaboration Live in Concert and her third studio album, New Mistakes. On the latter, Lightfoot offers up something rare: the kind of genuine document that can only come from a road-tested breed of songwriter and performer. Shot through with the guitarist-vocalist's powerful, bluesy soul, vivid lyrics and ferocious six-string virtuosity, it's an unforgettable outing — one that has won praise from the likes of No Depression, Pop Matters, Guitar Player, Twangville, and The Boot, and earned a nomination for a 2018 JUNO Award for Adult Alternative Album of the Year.
11:40 pm: Fiver Fines
For almost a decade, Simone Schmidt has been writing new life into and around folk, country, and rock songs. Critically outspoken and largely evading the branding of the music industry proper by working under several aliases, Schmidt might be recognized for her tenure as the front person and songwriter for country act One Hundred Dollars (2007-11) or psych rock unit The Highest Order (2011-ongoing), or from her solo work as Fiver (2012 - on). Schmidt has produced original works for film (World Famous Gopher Hole Museum, Land of Destiny) and appears as a guest vocalist on a number of records, including Doug Paisley, Tasseomancy and The Wooden Sky. In April 2017, Schmidt released Audible Songs From Rockwood on Idee Fixe Records, a song cycle based on the lives of people incarcerated at the Rockwood Asylum for the Criminally Insane in Upper Canada between 1856 -1881.
12:00 am: Aerialists *
Transatlantic quintet Aerialists meld their ferociously creative harmonic sensibilities and deep love for folk traditions into a post-rock coloured sound called prog-trad. Featuring Scottish harpist Màiri Chaimbeul (Darol Anger & The Furies), and Canadian neo-folk innovators Adam Iredale-Gray (Fish & Bird) on guitar and Elise Boeur (Jenny Ritter) on fiddle, the group draws from the wells of Nordic and Gaelic music, adding expansive textures and meticulously sculpted arrangements to create captivating, genre-defying new music.
12:20 am: Suzie Vinnick *
A Saskatoon native transplanted to the Niagara Region of Ontario, Suzie Vinnick is the proud owner of a gorgeous voice, prodigious guitar and bass chops, and an engagingly candid performance style. Her career has seen triumph after triumph. Among her most recent successes: achieving finalist status in the Solo/Duo Category at the 2013 International Blues Challenge in Memphis, TN; the 2012 CBC Saturday Night Blues Great Canadian Blues Award and the 2012 Sirius XM Canada Blues Artist of the Year. Suzie has won 10 Canadian Maple Blues Awards, 1 Canadian Folk Music Award for Contemporary Vocalist of the Year and is a 3X Juno Nominee. Suzie's latest album entitled "Shake The Love Around" is a full band Roots and Blues extravaganza; it will be officially released on Friday, March 9th, 2018.
12:40 am: Brock Zeman
Brock Zeman has been called a master storyteller by countless reviewers. He has toured North America extensively over the last dozen years and has released 13 cd's. Folk/Roots, Americana . Winner of 4 awards from the International Songwriting Competition all from 2016's "Pulling Your Sword Out Of The Devil's Back". Thought provoking introspective lyricist with a knack for the hook, some stories are simple; some are true. All are crafted beautifully and brilliantly.
01:00 am: Dana Sipos *
Described as "stunning, tenderly skewed folk" by Folk Radio UK, Dana Sipos pens hypnotic songs that are filled with a wild wind accompanied by her textured 'Travis Picking' fingerstyle. She tours extensively throughout North America, Europe and the UK and Russia (autumn 2018). Often employing alternative modes, she has toured by bicycle, canoe, train and with an anarchist theatre company on a tall ship. Her last album was nominated for a Canadian Folk Music Award in the Pushing the Boundaries category, celebrating innovation in creating new folk sounds. She was a 2017 Kerrville Folk Festival new folk finalist and attended the inaugural songwriter residency at the Banff Centre. A new album, Trick of the Light, will be released on Toronto's Roaring Girl Records in May 2018.
01:20 am: The Next Generation Leahy
As with all forces of nature, the music and energy created by The Next Generation Leahy simply cannot be contained. The drive to create music is powerful within each of the Leahy children. It has given rise to multi-instrumental talents, whose dynamic live performances have been described as "astounding" and "breath-taking." With these young minds leading the way, their music is constantly evolving making Celtic music for a new audience. The Next Generation Leahy takes their passion for music, song, and dance – which flows from every pore in their bodies – and creates something new and vibrant. No matter the setting, audiences recognize an unbelievable talent. All under the age of 16, the siblings are accomplished multi-instrumentalists whose live performances are filled with the high-energy, infectious music associated with their Leahy heritage. Fiddle, cello, French accordion, singing, piano, and French-Canadian step-dancing all find a voice on stage.
01:40 am: Johnson Crook
Toronto roots-rock band Johnson Crook share a love of pure, honest music stemming from their small-town backgrounds. Drawing inspiration from groups like the Eagles and the Avett Brothers, each member contributes equally, injecting their unique personalities into the overall sound built on four voices.
02:00 am: Annie Sumi *
Annie Sumi is a critically-acclaimed, ethereal-folk artist from Southern Ontario. Since the release of her debut-album, "Reflections", in 2015, she has received nominations for "Best Singer-Songwriter" (TIMAs, 2015), "Contemporary Roots Album of the Year" (Hidden Roots Collective, CFMAs, 2017), and more. With the release of her latest album, "In the Unknown", this songwriter has brought colour and vision to the Canadian music scene. Her live performance is vulnerable; she consistently gives her heart to the stage, and inspires the audience to rise in their emotions. Playing with themes of love, landscape, and human existence, Sumi's lyrical-storytelling invites the audience into her imagination. Her latest release, "In the Unknown", has been described as the sound-child of Sarah McLachlan and Bon Iver; a metaphysical journey into oneself.
---
Friday, February 16, 2018
11:00pm: Mélanie Brulée and her Bad Manners
Since her debut Francophone release Débridée in 2015, award winning bilingual artist Melanie Brulée has played numerous festivals across Canada, mentored developing artists, been featured on several television shows and has spent significant time co-writing in Nashville for her upcoming release. Her songs have seen regular airplay on CBC/Radio-Canada, Sirius XM and Stingray satellite. Exploring a deeper Spaghetti-Western/Americana sound with her new project Melanie Brulée & Her Bad Manners, her new Anglophone material sounds like a Quentin Tarantino soundtrack dipped in tobacco and laced in leather. New album Fires, Floods & Things We Leave Behind to be released fall 2018.
11:20 pm: AHI
From humble beginnings in Brampton, Ontario, indie-soul/alt-folk songwriter AHI (pronounced "eye") has traveled over 100,000 miles, armed with an acoustic guitar and a voice like "gravel on silk". Capturing music lovers around the world with his Billboard-charting viral hit "Ol' Sweet Day", this soulful troubadour is now one of NPR's favourite discoveries of the year, and his keen ability to deliver a story with the ease and familiarity of an old friend has made him one of Canada's most promising new voices. Favouring passion over precision, comparisons to Ray LaMontagne, Richie Havens, and Tracy Chapman are common for this soulful troubadour.
11:40 pm: The Fugitives
The Fugitives, established in 2007, have released four records, which have been nominated for multiple Canadian Folk Music Awards and a Western Canadian Music Award. Their previous album, Everything Will Happen, spent ten weeks on the top ten Canadian folk charts, and earned them a support slot across Western Canada with Buffy Sainte-Marie and an appearance at UK's Glastonbury Festival. Their follow-up, "The Promise of Strangers", is set for release on January 26th on Borealis Records. A folk collective headed by songwriters Adrian Glynn and Brendan McLeod, the band has toured extensively through Canada, Western Europe, and the UK, often joined by renowned multi-instrumentalist Steve Charles, violinist Carly Frey (Echo Nebraska), and banjo player Rob McLaren (Union Duke). Over the past ten years, they've earned a reputation for unforgettable live shows, brimming with complex harmonies, infectious storytelling and top-notch musicianship. As the CBC has it: "This show is simply brilliant". Performance highlights include major folk festivals across Canada, headlining slots in overseas americana festivals, and a recently sold out run across the UK on its rural touring circuit. In 2018, the band will tour across both Canada and the EU, and venture into the United States via an official showcase at Folk Alliance.
12:00 am: Julian Taylor
Toronto music scene staple and musical chameleon Julian Taylor is used to shaking it up. With his songs being placed in such TV shows as Haven, Private Eyes, Kim's Convenience and Elementary, his versatility as a songwriter is signature. His band's most recent recording; the critically acclaimed Desert Star is a testament to this versatile sound. It has the comfortability of an open mind, a wide palette and experienced and inspired musical talent. Beautifully blended soulful blues, rhythmic R&B, modern rock riffs and rootsy folk make the Toronto based, Julian Taylor an experience something worth putting your busy life on hold for; even if it is just for a few moments.
12:20 am: Digging Roots
Musical partners Raven and ShoShona are the creative team and inspiration behind Digging Roots. In creating music they utilize the traditional Anishinabek Song Lines composition technique of tracing melody and rhythm from the contours of the land. This traditional method of creating songs is paired with modern Eurocentric techniques of composition.
12:40 am: Shawna Caspi *
Shawna Caspi is a mighty singer, a story sculptor, and a truth teller who amplifies the voices of the quieted and shines a light on the overlooked. With a commanding stage presence and an inviting charm, she doesn't need a band to deliver an engaging, energetic show. She has all the sound she needs under her fingertips, with a remarkable fingerstyle guitar technique. Songs about burning things down and building them up again, calls for social justice as well as personal and global improvement, thoughts on loneliness, love, and relationships, and a vein of hope that runs through it all.
01:00 am: Piper Hayes *
Born in New York, raised in Toronto, and now residing in Hamilton, critically acclaimed folk/roots singer-songwriter Piper Hayes is truly authentic. She crafts a performance that is both vulnerable and joyous. Her stories are real, relatable and resonant; her voice clear, powerful and dynamic. She is a story weaver and a risk taker who nowadays is accompanied by her partner Carson Ritcey-Thorpe. His careful guitar picking, alternating lead vocals, perfectly placed harmonies, and the love they share for one another is contagious and lends to an irresistible experience. Piper's debut full-length album entitled Piper & Carson truly showcases their timeless musicality and song craft. It is a seamless representation of life, death, kindness and taking action. From living room concerts to festival stages, these two focus on connection and inclusion: unforgettable and too fun to sit through quietly.
01:20 am: Searson

For over a decade now, Searson has toured the world with their unique blend of high energy fiddling, passionate vocals and intricate step dancing. At the core of Searson, are Colleen & Erin Searson, two sisters who hail from the Ottawa Valley, Ontario, Canada. Their spirited live shows feature Colleen on fiddle and Erin on piano & tenor guitar. Interspersed with the incomparably rich sounds of sibling vocal harmonies, both sisters "pound the boards" with Ottawa Valley step dancing. Their most recent release, Homegrown (2017) is their ninth studio recording and features songs by Canadian artists and songwriters who have influenced them in positive ways. In 2015, Searson filmed a national series for CBC called 'Still Standing', representing the history and culture of Ottawa Valley music.
01:40 am: The LYNNeS
The LYNNeS are Canadian heartbreak poets Lynn Miles and Lynne Hanson. The two songwriters are not new to working together, having toured and written songs off and on over the past 10 years, and with Miles having produced two of Hanson's albums. For The LYNNeS songs are what matter the most, and their debut album "Heartbreak Song For The Radio" pairs hauntingly gritty lyrics with tight vocal harmonies. The two witty songwriters play off each other live, often leaving the audience howling with laughter with their between-song-banter. In addition to their beautiful harmonies, the two are skilled multi-instrumental musicians (acoustic and electric guitars, piano, harmonica, mandolin, percussion).
02:00 am: Amanda Rheaume
Amanda Rheaume is an award-winning Métis singer-songwriter with a powerful, slightly gritty, deeply personal, and instantly accessible roots-pop Americana sound. She delivers her unique and soulful blend of folk-country-pop twinged tracks internationally at major country and folk/roots festivals, theatres and clubs in Canada, Germany, Austria, France, Denmark, England, Scotland and Ireland. In 2014 Amanda received a Canadian Folk Music Award for Aboriginal Songwriter of The Year as well as a Juno Nomination for Aboriginal Album of the Year.
---
Saturday, February 17, 2018
11:00 pm: Preetam Sengupta
"Melodic storytelling" describes his music best, and Preetam Sengupta's live show is built around simple performance, playful stage banter, and very little pyro. While the (humbling) comparison most often goes the other way, Preetam's niece has said that Paul Simon sounds like him. We're pretty sure Mr. Simon is unaware of this.
11:20 pm: Jeremy Dutcher
Jeremy Dutcher is a Toronto-based performer, composer, activist, and musicologist. Trained as an operatic tenor, Dutcher blends his Wolastoq First Nation roots into music that transcends boundaries. He is unapologetically playful in his incorporation of classical influences, and full of reverence for the traditional songs of his home, that teem with the urgency of modern-day struggles of resistance. Jeremy prioritizes the Wolastoqey language in his music in hopes of inspiring other young Maliseets to learn this endangered language. Dutcher won Opera New Brunswick's Young Artist Award in 2012 and most recently received the Canada Council for the Arts Aboriginal Music Award. He studied classical music at Dalhousie University and spent time learning from Passamaqouddy song carrier, Maggie Paul. Besides music, Jeremy has been an active community organizer both in Indigenous and LGBT communities. In collaboration with the Truth and Reconciliation Commission, he organized the first national gathering on Two Spirit reconciliation.
Campbell Woods released his debut record, "Oxford Street" in the spring of 2017. He's been on the road ever since, performing everywhere from Vancouver to Halifax, Nashville to Austin. As a songwriter he's been compared to the likes of Townes Van Zandt and John K. Sampson. Powerful songs, delivered simply. "Oxford Street" debuted at number four on the national earshot/ folk roots radio charts and earned a nomination from the Toronto Independent Music Awards. Campbell will release a new record later in 2018.
12:00 am: Russell deCarle
Known throughout North America as the lead singer and founding member of multi-platinum country-roots group Prairie Oyster, Russell deCarle has spent the last decade carving out a solo career, concentrating on songwriting and rhythm guitar playing.Russell's sound is a celebration and culmination of a lifetime of music, including a time when Buck Owens, The Beatles, and Frank Sinatra would all be played back to back on the radio. He is currently touring in support of his third recording, a studio album of mostly original material titled "Alone In This Crowd", released in July 2017. The album offers a fluent collection of songs that mix southern soul and restrained balladry, with obvious touches of southern soul, jazz, blues, and old-school country. deCarle's songwriting has absorbed all those influences, and he avidly listens to both soul singers and the men and women who made early country music so compelling.
12:20 am: Royal Wood
Singer, songwriter, multi-instrumentalist and producer Royal Wood has established himself as a true musical talent. Since being proclaimed "Songwriter of the Year" by iTunes, Wood has continued to evolve and hone his musical craft – maintaining an unmistakable identity while uncovering and reinventing his sound. Wood has two albums that have debuted in the Top 30, multiple JUNO nominations, 2-time Canadian Folk Music Award-nominee, and a #1 added song at Hot AC radio. His songs have been heard on high profile sync placements like Grey's Anatomy, and Private Practice. Royal just completed a wildly successful and sold out cross country theatre tour opening for the legendary Bonnie Raitt.
12:40 am: Union Duke
Sweat flies and floorboards tremble - Union Duke is a Toronto folk quintet with an explosive live show. Bridging soulful indie rock with bluegrass and country, the group belts out soaring harmonies with three, four and even five voices. The songs are irresistible, the perfect fit for the heatwave of the dance hall or the cool breeze of the park. These five guys have been making a commotion in one way or another since they were kids, and years of making music together have brought them to this: a heartbreak of twang and a bootshake of rock and roll. Union Duke is two fifths city, two fifths country, and one fifth whiskey.
01:00 am: Ambre McLean
When all else fails, we are told to follow our hearts. That is the guiding wisdom behind the musical journey embarked upon with AmbreMcLean's new album, "My Heart". It is a sonic and lyrical exploration of all the things we feel most in our hearts – from the simplest joys, to the elation of love, to the pain of loss, and all things in between. This much anticipated follow up to 2014's "Me" – "My Heart" brings us a stripped down and raw record, rife with sincere and sometimes bone-chilling performances – all tied together by McLean's unique musicianship and breath taking voice.
01:20 am: The Young Novelists *
The Young Novelists are a Toronto-based band fronted by husband and wife Graydon James and Laura Spink. Since the band's inception in 2009, they have played stages across the U.S. and Canada, released three full-length albums, won numerous awards and continuous praise for their unmatched, effortless harmonies. Their last record made us strangers landed them a Canadian Folk Music Award for New/Emerging Artist, a nomination for Vocal Group of the Year, and reached top 20 on both !earshot and Stingray Music (formerly Galaxie) folk charts. With a sound that has been compared to everyone from The Band to 'pre-weirdness' Wilco, the band's personal mission is to create sad songs for happy people — whether that means a nostalgic ballad or an upbeat anthem, The Young Novelists' ability to tell familiar stories with a modern folk edge make them, and their songs, instant classics.
01:40 am: Gillian Nicola *
The first thing that strikes listeners about Hamilton's Gillian Nicola is the strength of her vocals. This rising singer/songwriter ranges from acoustic folk singer-songwriter to textured and electric Americana, and reflects a layering of influences and sounds. Her songwriting captures both autobiographical and outwardly inspired stories surrounded by a rich, folk-Americana musical landscape that is anchored on authenticity and honesty. After multiple tours supporting her 2016 EP, No Place to Call, Nicola will spend early 2018 at the Alberta's Banff Centre for Arts & Creativity composing her full-length debut, set for release later this year. A classically trained vocalist, Nicola's 2013 EP Chasing the Wind was nominated for two Hamilton Music Awards and a Toronto Independent Music Award. In 2017, her single "Oh Marie" was nominated for the Ontario Arts Council's Colleen Peterson Songwriting Award. Nicola is also a community organizer, hosting Open Mic Nights and Songwriters Circles, and lends her talents to various non-profit organizations, such as Girls Rock Camp Toronto.
02:00 am: Sarah Jane Scouten
Three-time Canadian Folk Music Awards nominee Sarah Jane Scouten is one of Canada's most original voices in roots and country music, steeped in traditional North American music since infancy and a legacy of excellent song craft that swings almost dangerously between the comedic and tragic. She draws on the palate of the natural world, pairing deft lyrics with evocative melodies, beckoning the listener to get lost within. Appealing in equal parts to indie folk audiences, Americana listeners and hardline traditional music enthusiasts, her third full-length album When the Bloom Falls From the Rose released on Light Organ Records in 2017 showcases her "agile voice, ruminative songwriting, and love for classic country, indie pop, and everything in between," according to American Songwriter.
02:20 am: Rosalyn Dennett *
Rosalyn Dennett is a fiddler, singer, songwriter, and multi-instrumentalist from Winnipeg, Manitoba. She established herself on the international roots scene through her role as one of the founding members of the highly acclaimed quartet Oh My Darling. With four nominated albums, headlining four international tours, and sold out shows across the country, she moved to Toronto to pursue her love of traditional music. Some of her projects include Ken Whiteley & the Beulah Band, Whitebrow, Pigeonhawk Stringband, Bon Fer, and many more. Rosalyn has had the pleasure of performing with Donovan Woods, Fred Penner, David Francey, The Fugitives, Zachary Lucky, Kaia Kater, Tim O'Brien, Dirk Powell, Adam Cohen, Valerie June, the Crooked Brothers, Gabriel DeSantis and has recorded on over 20 albums.
*Co-presented by Folk Music Ontario
Listen now on Spotify!
Keep Up To Date