MusicOntario @ MEGAPHONO 2018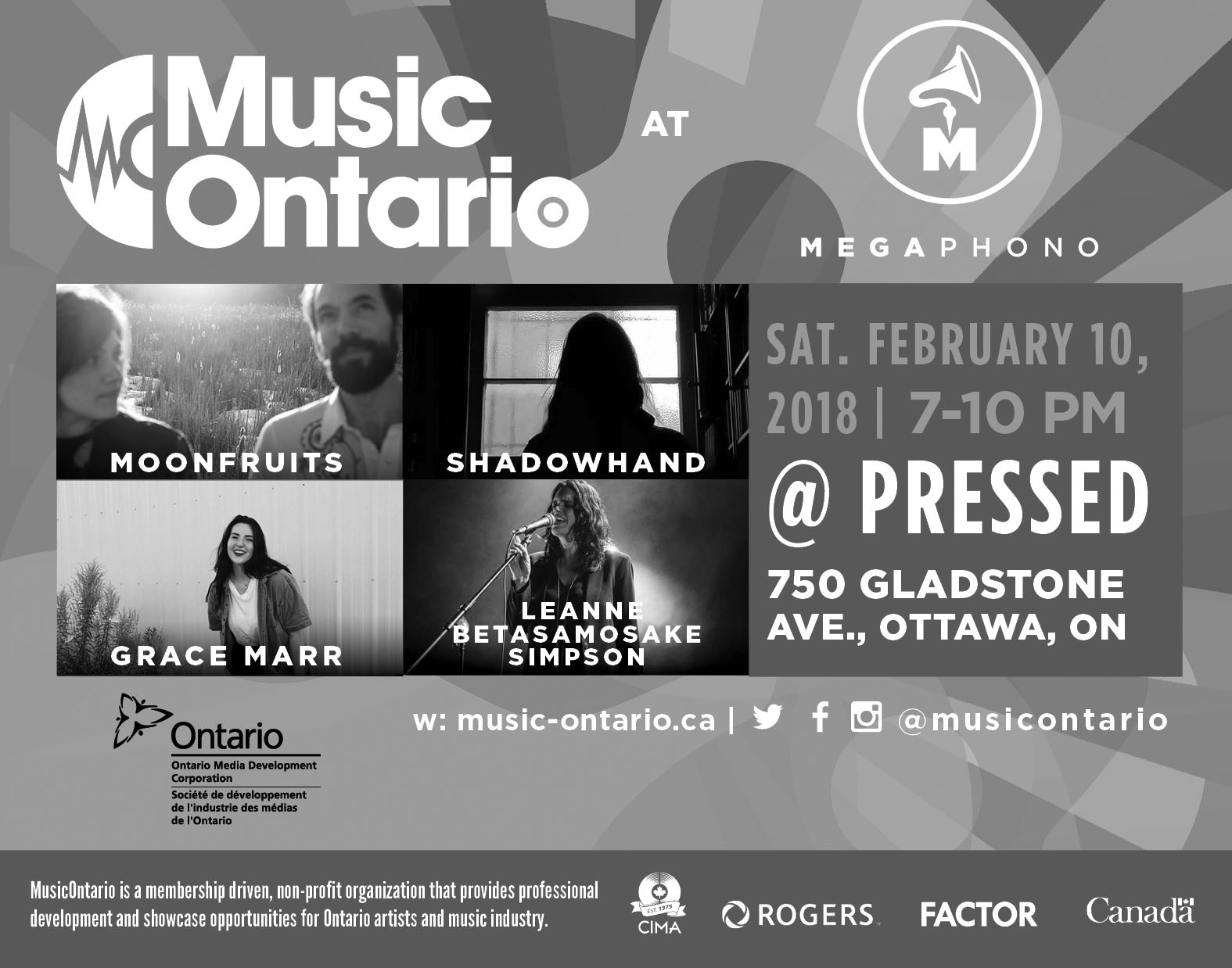 When

Sat 10th February 2018

Where

Pressed - 750 Gladstone Avenue, Ottawa, Ontario K1R 6X5

Web

Tagged as
MusicOntario is proud to partner with MEGAPHONO to present this amazing showcase at MEGAPHONO 2018 Music Showcase Festival:
Leanne Betasamosake Simpson
http://www.megaphono.tv/2018/leanne-betasamosake-simpson

Moonfruits
http://www.megaphono.tv/2018/moonfruits

Shadowhand
http://www.megaphono.tv/2018/shadowhand

Grace Marr
http://www.megaphono.tv/2018/grace-marr
at Pressed
750 Gladstone Ave
$10 advance / $15 at doors
Free with MEGA PASS or FO'SHOWS wristband.
Tickets and festival passes available here > https://goo.gl/eVjTpZ
Doors at 7:00 pm
all ages
Leanne Betasamosake Simpson is a renowned Michi Saagiig Nishnaabeg artist, musician, poet and writer, who has been widely recognized as one of the most compelling Indigenous voices of her generation. Her work breaks open the boundaries between story and song—bringing audiences into a rich and layered world of sound, light, and sovereign creativity. Her latest album, f(l)ight, was released in 2016. f(l)ight is a compelling collection of story-songs that effortlessly interweaving Simpson's complex poetics and multi-layered stories of the land, spirit, and body with lush acoustic and electronic arrangements.
Escorted by a banjo and a parlour guitar, Moonfruits' soaring harmonies captivate listeners and celebrate common ground. Partners on and off stage, they summon music from a place where ideals and imagination intertwine. Pulling as much from their imaginations as from their encounters on the road, their sophomore effort, Ste-Quequepart - a French-language concept album - plays like a short film soundtrack. Intimate moments give way to cinematic arrangements as characters emerge and speak through song.
Shadowhand arranges folk songs in a ghostly style of soul music. Described as the sound of leaving a party alone to walk to the store for cigarettes, the band creates a richly dark, down-tempo, and ambient sound. The lyrically rich songs float atop waves of guitar and pulsing rhythm to create an encompassing fog through which moments of coursing colour and brightness may be glimpsed.
Recognized for her vocal gymnastics, smooth songwriting, and vibrant stage presence, Grace has fallen in love with not only music but the magic of connecting with a room full of strangers. Since attending two songwriting programs in 2017, lead by Warner-Chappell Exec. Judy Stakee, Grace has been sharing her music on stages such as RBC Bluesfest, Ottawa Marvest Festival, and local venues and functions such as The Mayor's Annual Golf Tournament and The BOBs Awards Ceremony.
MEGAPHONO's Safer Spaces policy is intended to make this event a supportive environment. Attendees are asked to act out of respect for this policy: www.megaphono.tv/safer-spaces