MusicOntario @ Indie Week 2018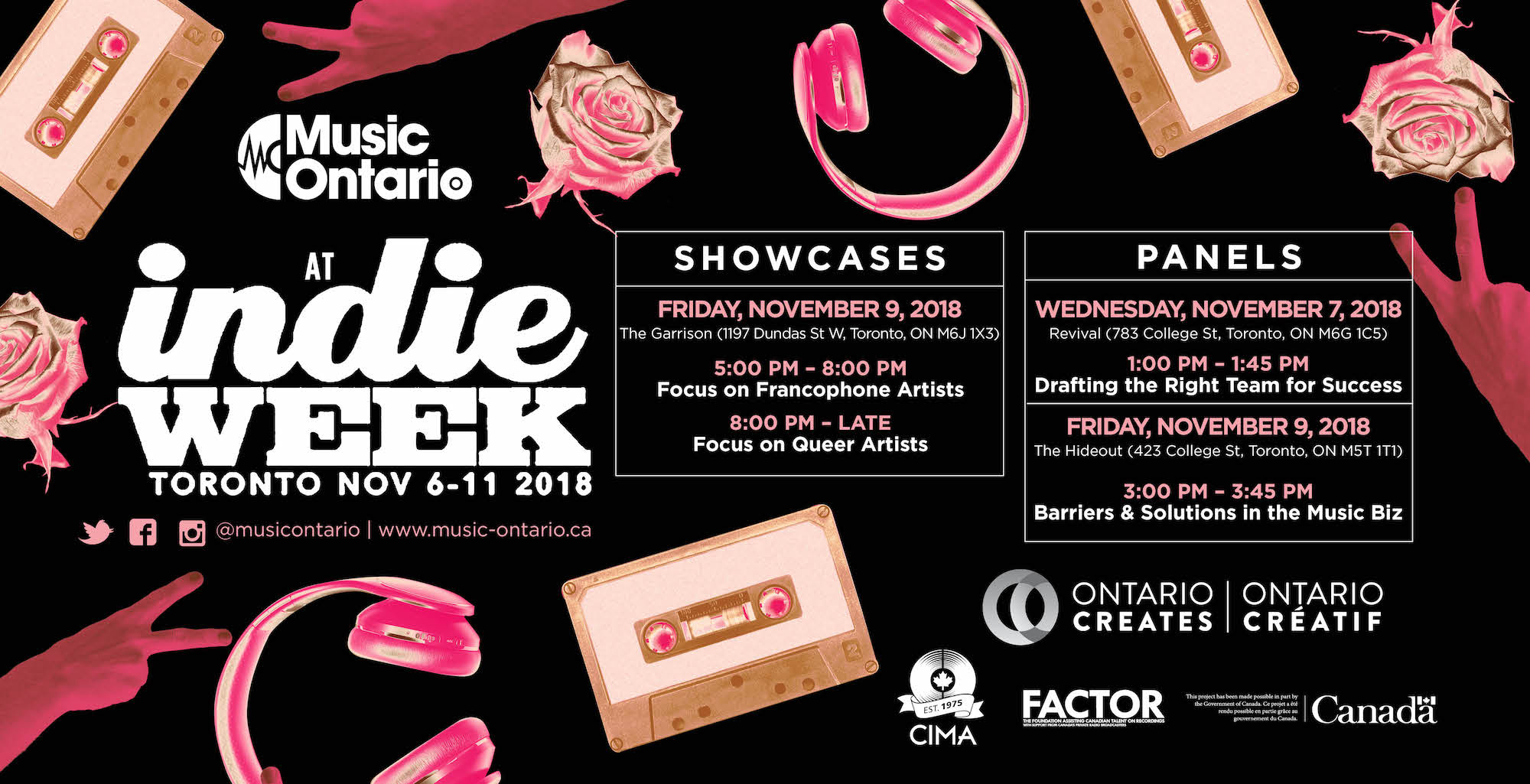 When

Tue 6th - Sun 11th November 2018

Where

Toronto, ON

Web

Tagged as
MusicOntario at Indie Week 2018
November 6-11, 2018 - Toronto, ON
MusicOntario is pleased to be involved in Indie Week Canada once again this year!
MusicOntario is hosting the following events:
PANELS
Wednesday, November 7th, 2018 @ Revival (783 College St., Toronto, ON)
1:00 PM – 1:45 PM: Drafting the Right Team for Success
Every artist aspires to build a team of industry professionals who both support their artistic visions, and facilitate and realize career potential. That said, it's incredibly important to understand when you need a manager, a booking agent, a label, or marketing professionals – and more than that, it's crucial to share some key values with those who represent you and speak on your behalf as a creator. In this session, we will discuss how to best work with music industry peers, and how to build successful, respectful and fruitful relationships that allow you to make a living as an artist.
Panelists:
Erin Carroll – PR & Marketing, Cadence Music (Moderator)
Matt Maw – Artist Management, Six Shooter Records
Linda Bush – Director of Artist and Label Services, Cadence Music
Baldeep Randhawa – Talent Agent, APA
Urvah Khan - Artist
Friday, November 9th @ The Hideout (423 College St, Toronto, ON M5T 1T1)
3:00 PM – 3:45 PM: Barriers & Solutions in the Music Biz
We all know the universal barriers that artists and entrepreneurs face in the arts: funding, professional development, affordable creative spaces, performance spaces and housing, and more. But what are some of the less visible barriers we face in the creative sector that affect/hinder the overall health and potential of independent music in Ontario? How can the music industry work together to grow our access to resources and opportunities?
Panelists:
Kayla McGee – Executive Director, The Music Gallery (Moderator)
Tessa Gooden – Artist | Digital Media & Outreach Coordinator, SOCAN Foundation
Rosalyn Dennett – Artist | Licensing Coordinator, CFM
Taiwo Bah – Project Coordinator, Sponsorship & Outreach, FACTOR
Rachel Romu – Artist | Disability Visibility Activist
SHOWCASES
Friday, November 9th, 2018 @ The Garrison (1197 Dundas St. W, Toronto, ON)
5:00 PM - 8:00 PM: Focus on Francophone Showcase
8:00 PM - LATE: Focus on Queer Artists Showcase
About Indie Week: Now in its 15th year, Indie Week Canada (IWCAN) is one of Canada's top emerging artist festivals hosting 300+ artists, 25+ venues in 6 days. Indie Week puts industry and artists together, acts have made connections and have built new business furthering their career. Along with artist showcases, Indie Week hosts the Indie101 Music + Tech Conference with industry leaders and over 80 speakers – artists have the opportunity to participate in mentorship, classroom and 1-on-1 sessions along with the regular industry panels. Indie Week is a great launch pad for artists wanting to enter into the North American and Canadian markets and make the connections that can help take your band to the next level.
Indie Week features: 300+ bands, 25+ venues across downtown Toronto, VIP industry launch, closing parties and awards show, demo listening sessions, songwriting circles, industry panels, workshops, mixers and events, and 4am last call!