MusicOntario & The Bout present Stretching-A-Buck: Cashflow tips for independent musicians & bands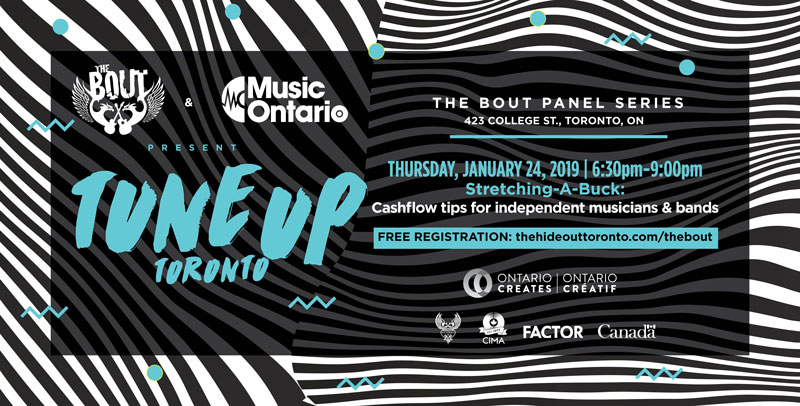 When

Thu 24th January 2019

Where

The Hideout, Toronto, ON

Web

Tagged as
TUNE UP TORONTO: THE BOUT PANEL SERIES
January-April 2019 @ The Hideout (423 College St., Toronto, ON)
MusicOntario is joining forces with The Bout @ The Hideout in 2019 to present a series of panels designed to equip emerging bands and artists with some of the tools they will need to build their careers in the music biz!
Thursday, January 24, 2019:
Stretching-A-Buck: Cashflow tips for independent musicians & bands
Being a creator means you've got to learn how to manage your money – whether you earn it with a) a side hustle, b) through your music (royalties, merch, touring, etc.), c) via investment/funding programs, or the mostly likely option d) all of the above and then some, you need to keep your books clean and organized.
Next, you're going to need to budget what you have so that once you're done recording and packaging your music, you have the capital to hit the road, produce merch, hire marketing pros and develop promotional content to reach the widest possible audience. $$$$$ - need we say more? Join us to make sure your investments are moving your career forward.
SPEAKERS:
Joe Bartok – Accountant / Business Manager / Founder, This is the Deal Inc. (moderator)
Amanda Martinez – Artist
Eric Jafry – Bookkeeper, Coalition Music
Jaimie Milburn – Golden Child Recordings
Keep Up To Date