MusicOntario & The Bout present Lifecycle of an album: Strategies for getting the most out of your next release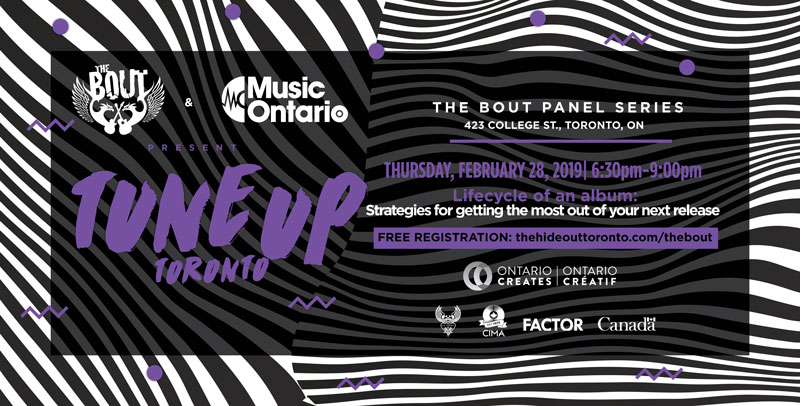 When

Thu 28th February 2019

Where

The Hideout, Toronto, ON

Web

Tagged as
TUNE UP TORONTO: THE BOUT PANEL SERIES
January-April 2019 @ The Hideout (423 College St., Toronto, ON)
MusicOntario is joining forces with The Bout @ The Hideout in 2019 to present a series of panels designed to equip emerging bands and artists with some of the tools they will need to build their careers in the music biz!
Thursday, February 28, 2019:
Lifecycle of an album: Strategies for getting the most out of your next release
If you joined us for last month's session – "Stretching-A-Buck: Cashflow tips for independent musicians & bands" – you're aware of all of the simultaneous costs that are in store for you when releasing new music. Strategies for the album life-cycle are constantly evolving, so you've got to identify the right support team to help you build a market plan that's not only feasible financially, artistically & logistically, but that truly puts your best foot forward so that your release works its butt off for you for as long as it can.
Real talk: simply releasing new music isn't enough to attract audiences to your gigs or Spotify page, so there's much more legwork to be done once you wrap in the studio. Hear from each of these experts to learn how each cog in the industry wheel works to get new music heard.
Panelists:
Tony Tarleton - Acronym Records (Moderator)
Lisa Logutenkow - Dine Alone Records
Renan Yildizdogan - Gypsy Soul Records
Tyler Tasson - Endemic Marketing
Rebecca Webster - Webster Media Consulting
Keep Up To Date