Ontario @ the Canadian Blast BBQ @ SXSW 2019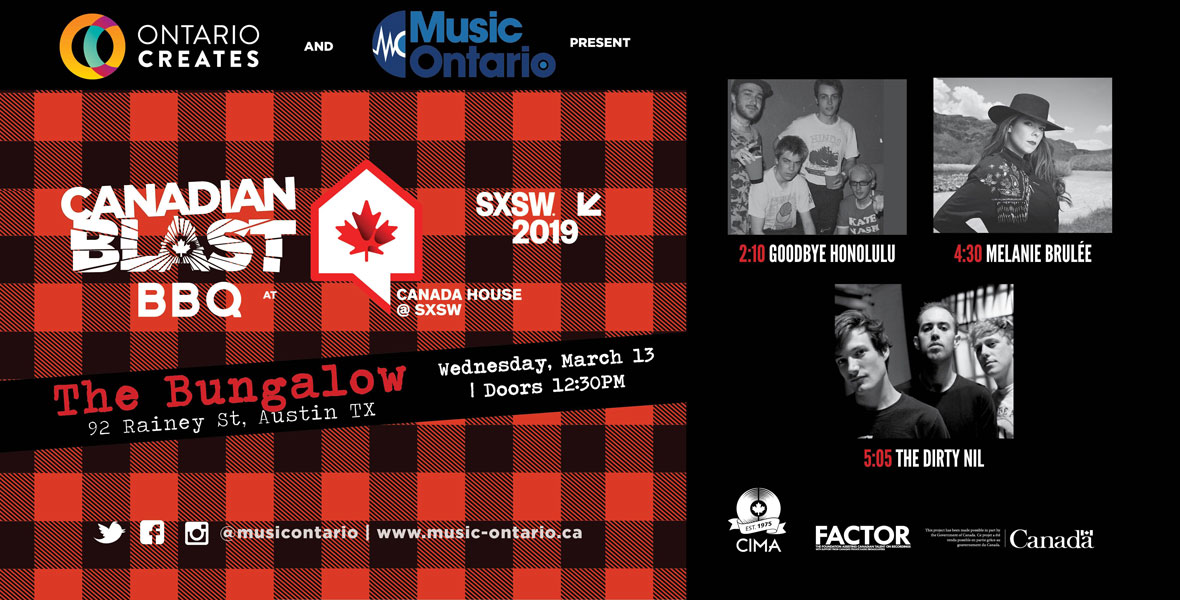 When

Wed 13th March 2019

Where

Austin, TX

Web
Make The Bungalow Your Home Away From Home at SXSW with the Canadian Blast BBQ & 2 Days of Canada House Showcases!
Canadian Blast BBQ @ SXSW Wednesday, March 13 at new location The Bungalow!

Next week, CIMA's legendary Canadian Blast BBQ will be returning to Austin, TX as the kickoff for Music Export Canada's mission at SXSW! This year the BBQ will move to a brand new location – The Bungalow (92 Rainey St, Austin TX)! The showcase will be presented by Audiogram, CIMA, the City of Toronto, Laughing Heart Music and Ontario Creates/MusicOntario.
The Canadian Blast BBQ will launch two days and nights of performances, networking and business development activities. For 14 years, the Canadian Blast showcase and B2B initiative has traveled the globe bringing vibrant and trend-setting talent and industry from Canada to international export markets through festivals, conferences, trade shows and independent missions in the US, Europe, Latin America, Asia and Australia.
Come grab a bite, mingle with some of Canada's best and brightest and listen to your future-favourite artists on Wednesday, March 13 from 1PM-530PM while thawing out in the Texan sunshine. The BBQ is open to all SXSW badge holders.
The stellar Canadian Blast BBQ lineup at SXSW features: Goodbye Honolulu, Hillsburn, Kai Exos, Liza, Melanie Brulée, Soran, Tallies and The Dirty Nil. MusicOntario and Ontario Creates are proud to be presenting three of these artists: Goodbye Honolulu, Melanie Brulée, and The Dirty Nil!
Following the Canadian Blast BBQ, make sure to join us at Canada House (also at The Bungalow) for two days and nights of Canadian music. On Wednesday evening, Canada House will be taken over by an official SXSW showcase hosted by Canadian indie record label Dine Alone Records.
The showcases will wrap up on Thursday evening with another official SXSW showcase hosted by Toronto-based independent artist services company Arts & Crafts.
Celebrate Ontario with us under the Texas sun!
Goodbye Honolulu - 2:10pm
Toronto's Goodbye Honolulu might be one of the most well connected bands you haven't heard.... yet. They've toured the USA twice with Hinds; Selena Gomez is a fan; they just released a record on Burger Records; they've also toured with Kate Nash, SWMRS, Miya Follick, Together Pangea and their live show is a rambunctious ball of energy.
Melanie Brulée - 4:30pm
What most might call Americana, folk-rock or country music, Toronto-based Melanie Brulée colours her own, bringing a vintage respect to a modern sound by intertwining surf-style guitar tones and catchy melody hooks - all with the vibe of a speakeasy cabaret. Her music has been on regular rotation on CBC and Sirius XM and her third album Fires, Floods & Things We Leave Behind, exploring themes of family, loss and addiction, was released in October 2018.
The Dirty Nil - 5:05pm
The Dirty Nil "has boiled rock down to its purest form—effortless riffs, knobs-to-11 volume, and feedback for days. And then there's quintessential frontman Luke Bentham, a born rock star… Rounded out by the wrecking crew of drummer Kyle Fisher and bassist Ross Miller, the trio is a high-voltage machine—an opening act that blows away every headliner with ease and a smile." - Vice Noisey
The full BBQ lineup is:
1:00-1:20: Hillsburn
1:35-1:55: Liza
2:10-2:30: Goodbye Honolulu
2:45-3:05: Kai Exos
3:20-3:40: Tallies
3:55-4:15: Soran
4:30-4:50: Melanie Brulée
5:05-5:25: The Dirty Nil
For more information on Canada House activities at SXSW 2019, head to CIMA's website!