MusicOntario Communities Connect Brampton: Music Publishing, Sync & Licensing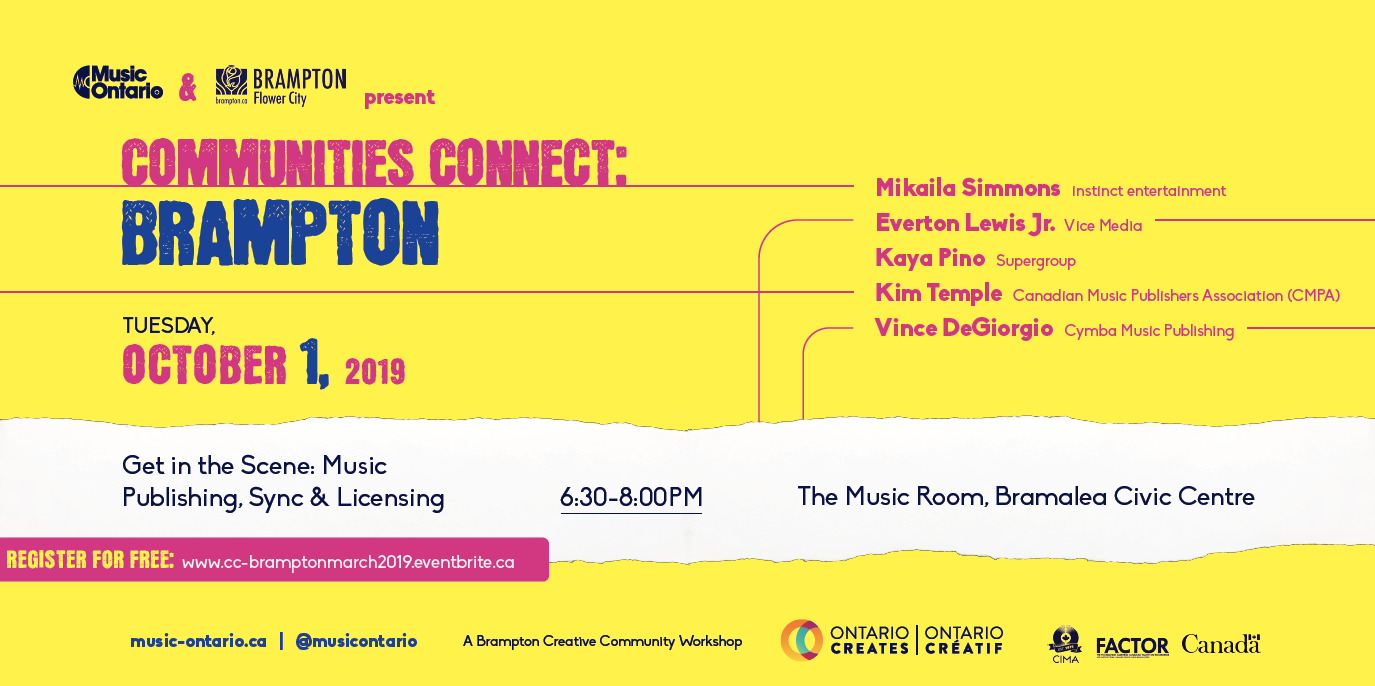 When

Tue 1st October 2019

Where

Bramalea Civic Centre - Brampton, ON

Web

Tagged as
Communities Connect Brampton
Music Publishing, Sync & Licensing
Tuesday, October 1st, 2019 - Bramalea Civic Centre
MusicOntario Communities Connect is all about bridging the gaps between Ontario's vibrant music markets based on consultations with local artists, music professionals and creative organizations. This year, MusicOntario is pleased to work with the City of Brampton to present three panel sessions throughout the year for independent artists and musicians.
Music Publishing, Sync & Licensing
From publishing, music supervision/sync, to licensing and rights collectives, working smart in today's music industry goes beyond optimizing the front end of your business (music sales, gigs, merch). It requires savvy behind the scenes as well: protecting your publishing rights, and licensing and placing your music in film, television, ads and videos games can help you generate revenue in the background. Learn from various industry pros how the cogs in the wheel flow together and how to approach the key players to put your music to work!
PANELISTS:
Moderator: Mikaila Simmons – instinct entertainment (music supervisor) web: www.instinctentertainment.ca


Mikaila is a music supervisor at instinct entertainment. She sources and licenses music for TV (Upcoming Crave show New Eden, Vikings, The Handmaid's Tale S1, Diggstown, Mary Kills People, Condor) and film (The Grizzlies, Seven in Heaven, An American Dream: The Education of William Bowman).
Everton Lewis Jr. – Vice Media (music supervisor) web: www.vice.com

Kaya Pino – Supergroup Sonic Branding Co. (music supervisor) web: www.wearethesupergroup.com
Kaya grew up amongst music, culture and the arts in downtown Toronto. She incorporates this diverse background in her work providing her with a unique perspective. Beginning her career in advertising, Kaya worked on tier one Canadian brands learning different aspects of media, new technology and branding. Leaving advertising to pursue a more creative space Kaya found her dream job with Supergroup Sonic Branding Co. In her three years with the company Kaya has worked on independent films, award winning web-series and a multitude of advertising campaigns for brands across varying categories.

Kim Temple – Canadian Music Publishers Association (publisher) web: www.musicpublishing.ca
As Head of Licensing & Publishing, Kim Temple pursues sync placement opportunities in film & television, digital content, gaming and ads for Six Shooter's roster. She also creates new opportunities for her songwriters in the world of co-writing, song camps, and international collaborations. With 20+ years of experience in Canada's music industry her varied background includes touring internationally as a professional drummer, as well as managing worldwide royalty collections for film & TV composers, artists and publishers. Kim is also Senior Manager of Member & Industry Relations for the Canadian Music Publishers Association, and has been appointed to the City of Toronto's Music Advisory Committee (TMAC).

Vince DeGiorgio – Cymba Music Publishing (publisher) web: www.cymbamusic.com
Vincent Degiorgio's career reads like a journey around the world of the music industry with no set destination.
He is the president and founder of Chapter 2 Productions Inc., which houses the publishing entities CYMBA Music Publishing, InterCym Music and The Billy Ray Louis Music Publishing Company. In his former role as Vice-President of International A&R at RCA, Degiorgio was responsible for signing NSYNC in the US and is the owner and operator of the oldest dance music label in English speaking Canada, Power Records Inc., further cementing his place as one of Canada's music industry stalwarts.
Degiorgio's passion has always been a great song, and his formation of CYMBA Music Publishing is what he calls 'a determined defiance to conventional publishing'. CYMBA, an acronym for 'Crushing Your Music Business Apathy' houses a unique, boutique roster of some of Canada's most creative and artful professionals, with a roster that includes platinum songwriter Davor Vulama, award winning singer/songwriter Dennis Ellsworth, EDM topliner and pop vocalist Amy Kirkpatrick, hip hop master tracksmaster B. Morales and the catalogue of the prolific Juno nominated producer, Ari Rhodes. To date, Cymba has secured over 150 synch licenses. Cymba's newest addition is soulful songstress Reeny Smith.
Vincent's own collaborations has been recorded in 14 different languages in innumerable countries around the world. Ranging from Canada all the way to Korea, Sweden and South Africa, he has amassed sales have in the millions of units. He has written for international superstars including both of Caro Emerald's blockbuster debut album 'Deleted Scenes From The Cutting Room Floor', and # 1 follow up album, "The Shocking Miss Emerald". "Deleted Scenes" is the longest running # 1 album in the history of the Netherlands, remaining on the album chart for over 100 weeks.
He is currently in his second term as chair of Canadian Music Publishers Association, and is a board member on the Canadian Songwriters Hall of Fame.
Light snacks will be served.
FREE to attend!