Communities Connect: Music and Film: Merging Mediums in the art of Storytelling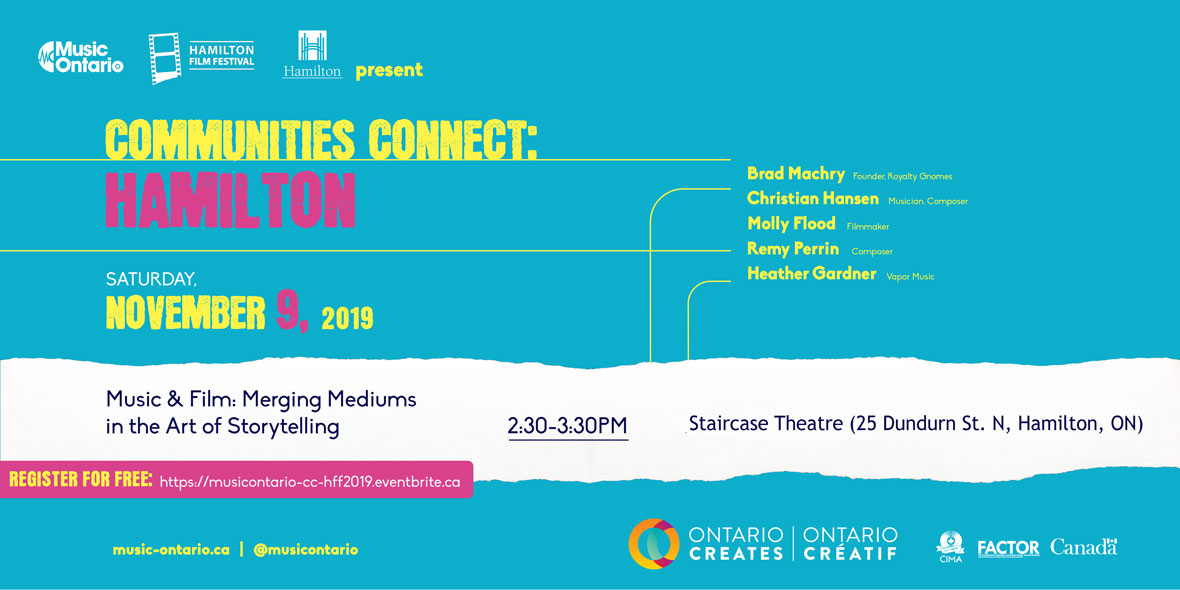 When

Sat 9th November 2019

Where

Staircase Theatre

Web
MUSICONTARIO, THE CITY OF HAMILTON & HAMILTON FILM FESTIVAL PRESENT
COMMUNITIES CONNECT: Music and Film: Merging Mediums in the art of Storytelling
November 9, 2019, 2:30PM-3:30PM @ Staircase Theatre (27 Dundurn St N, Hamilton, ON)
MusicOntario Communities Connect is all about bridging the gaps between Ontario's vibrant music markets based on consultations with local artists, music professionals and creative organizations. These events strive to build community and networks, and increase access to industry information, resources, and opportunities.
MusicOntario and the City of Hamilton are pleased to again partner with The Hamilton Film Festival in presenting discussions of all things music in relation to film. This year, we dive into how film and music intersect from various creative perspectives, whether from that of a composer tasked with enhancing filmed media with their original pieces, or from the director whose work is being scored. Hear also from a music supervisor and a rights manager as they break down how the four roles work together to marry two powerful mediums into a single work of seamless storytelling.
PANELISTS
Brad Machry (Founder, Royalty Gnomes) – Moderator
Christian Hansen (Songwriter)
Heather Gardner (Head of Music Supervision, Vapor Music)

Molly Flood (Filmmaker)
Remy Perrin (Composer & Founder/Creative Director, The Wave Pulse Studios)
Tickets: https://musicontario-cc-hff2019.eventbrite.ca

Brad Machry (Truth North Records, & Founder, Royalty Gnomes)
When kids discover music culture some dream of the spotlight, they envision thrilling crowds with big vocals and bigger hair. Yet, while Brad Machry's schoolmates were forming bands, he was already living his dream handling merch and designing posters. Now Manager of Royalties & Licensing at Canada's original independent label True North Records, distributor IDLA, and parent company Linus Entertainment, he oversees artists' revenue streams and secures music placements for Film and Television. Brad's two decades in the music industry also includes work with: CMRRA, ole Rights Management, The Glenn Gould Foundation, The McAuley Boys, NuFunk Concerts, KJ Sawka, and Mac Graham. Brad also hosts Stringed Theories, a late night mixed format show on CFMU 93.3FM in Hamilton.
Brad recently founded Royalty Gnomes to apply this unique depth and breadth of knowledge in rights management to the independent music community.

Christian Hansen (Songwriter)
Christian Hansen is an award-winning songwriter from Edmonton, Alberta now based in Toronto. He is a recipient of Rawlco Radio's Breakout Artist of the Year Award, the Enbridge Emerging Artist Award and is a Verge XM Satellite Radio's Best New Artist nominee. His music has been featured in short films, feature films and web series. The song Cocaine Trade off his debut album POWER LEOPARD achieved National radio play and reached number 4 on Sonic 102.9 FM's top 100 requested songs of 2009. He has showcased at festivals across Canada and shared the stage with artists such as Metric, Matthew Good, Hollerado, Sarah Slean, Cake, Social Distortion and Jane's Addiction. Known for his "intelligent lyricism and tight arrangements" (Stuart Derdeyn, Vancouver Province), Christian has written in a variety of musical genres from punk rock to folk to synth pop, and is currently composing all the original music for the upcoming web series Band Ladies.

Heather Gardner (Head of Music Supervision + Licensing at Vapor Music)
Heather lives and breathes music. With professional training in piano performance and arts management, her ears intimately understand the relationship between song and picture, and how to harmoniously capture that magic within any budget parameters. Heather balances her right brain creativity with extensive left brain attention to detail, allowing for a seamless licensing process from concept to contract to cue sheet.
Her credits include work on television series ('Vacations of the Brave' (Amazon Prime), 'Hello Goodbye' (CBC), 'Shoot The Messenger' (CBC/ITV/WGN America), 'Rookie Blue' (ABC/Global)), feature films, video games and advertising campaigns that have been seen worldwide. She was awarded the prize for Best Sync - Commercial at the first Canadian Sync Awards (2018) for her work on #EatTogether for President's Choice, where she licensed the world renowned Burt Bacharach classic "What The World Needs Now", which was reimagined by the Vapor Music team featuring Walk Off The Earth's Sarah Blackwood on vocals.

Molly Flood (Filmmaker)
A graduate of the University of Alberta's BFA Acting Conservatory and The Second City Conservatory program, Molly spent ten years playing in bands and working in theatre before cutting her first film, SHY VAMPIRE, on 16mm at Ryerson's Chang School of Continuing Education. Her first short film, ORCHID, received nominations for Best Actress, Best Film and Best Director at the Austin Breakthrough Film Festival (2018). She is an associate artist with Toronto experimental collective IT COULD STILL HAPPEN, recipient of the Queen's Golden Jubilee Emerging Artist Scholarship and winner of the Toronto ACTRA Women's Committee Toolkit 4.0 competition. Molly has directed music videos, commercials and short films and is currently in pre-production for the IPF and BELL Media funded Band Ladies, a six part web series that tells the story of a group of women that start a punk band in their 40s.

Remy Perrin (Composer & Founder, WavePulse)
A gold medal award winner in Music at the University of Western Ontario, Remy Perrin is a composer with varied musical experience. He is a trained audio engineer with an in depth understanding of how great music is made. He has worked on a variety of projects from film scoring to TV shows, advertisements, album production and artist development. Remy founded WavePulse to bring top studio and composition quality at rates that that respond to today's professionals, entrepreneurs, and established & emerging artists.
Remy has been composing for over 15 years, and loves his craft. His training and hands on experience give him an ear for producing music and sound to create any given atmosphere. Having worked with several DAW platforms means that he can adapt to different workflow environments. He has worked with a multitude of artists to produce their sound, and has composed for video games, major DVD releases, and created soundscapes and foley effects for clients. He is focused and on getting clients exactly what they are looking for on a tight deadline. For a comprehensive look at the wide palette Remy employs, see The Human Genre Project.
His specialty in composing is scoring to visual cues, which builds maximum emotional impact for a viewer, whether it is realizing an alternate world within a film or game, or more effectively selling your product. Remy ensures along the way that both music and production follow the artistic vision of the end project by working hand in hand with clients, while giving his unique vision and extensive experience as a guiding asset throughout the process.