Lunch & Learn 01: How to Break in Toronto (a perspective into booking and promoting for the hip hop community)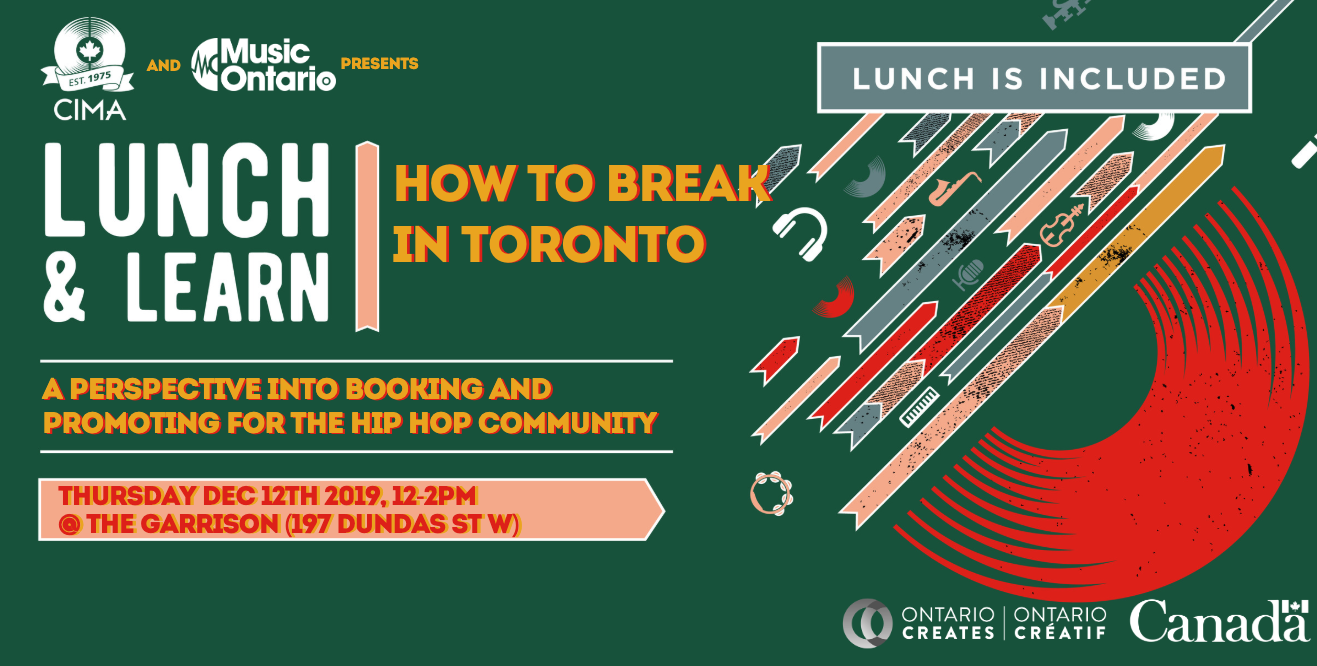 When

Thu 12th December 2019

Where

The Garrison

Web
CIMA & MusicOntario present: Lunch & Learn 01
How to Break in Toronto: a perspective into booking and promoting for the hip hop community
Is the traditional method of booking shows the way to go, or is it helpful to take a DIY approach when it comes to playing in Toronto? This Lunch & Learn session is catered to the city's hip-hop community and is designed to provide useful tips and tricks, alongside insights from those on the inside to help you to secure gigs in the city, and to get the most out of your live shows
When: Thursday, December 12, 2019
Where: The Garrison (1197 Dundas St W, Toronto, ON M6J 1X3)
Time: 12:00pm - 2:00pm
Price: FREE for CIMA & provincial MIA members with discount code; $15 for non-members
Bonus! Lunch is included.
Questions?: Members should contact Sam R (samr@cimamusic.ca) for the discount code.

PANELISTS
Chris Wilson (Head of Music & Culture @ The Drake Hotel Properties)
Currently the Head of Music + Culture for The Drake Hotel Properties and previously worked in London, UK as the Talent Booker and Music PR. In my roles I assemble and manage an innovative, diverse and attractive year-round program of high-quality music and cultural programs and events that reach the widest range of target audiences as possible and maximize the use of spaces to drive business.

Jesse Ohtake (The Academy)
Jesse Ohtake has been behind the scenes within the hip hop and R&B scene in Toronto over the past 15 years. Having moved from Kingston, Ontario to Toronto in early 2000's, Jesse has dedicated himself to fostering a thriving urban music and arts community in Toronto. A musical participant himself as a radio/club DJ in Kingston, he has created or contributed to some of the most innovative music programs Toronto has seen. His company TheCyberKrib Entertainment Group is involved in event production, talent booking, marketing and consulting, with concerts and street marketing managed via The Academy brand. and a founding member of the Manifesto Festival of Community & Culture - Canada's marquee festival of hip hop culture. Jesse has programmed music for a multitude of institutions, including NXNE, Luminato, Red Bull Music Academy and Red Bull Sound Select, Canadian Music Week, Harbourfront Centre and more. Jesse continues to keep his ear to the ground, playing an integral role in propelling Toronto's music scene - especially emerging local artists - to even greater heights.

Moderator: Melissa Vincent: (Managing Editor, BeatRoute Magazine)

Melissa Vincent is writer, editor, and community organizer based out of Toronto. She is the managing editor of BeatRoute, former editor-in-chief of A.Side, and a book editor at Shed Creative Agency, Universal Music Canada's in-house creative agency. Her work has appeared in Pitchfork, Billboard, The Fader, and The Globe and Mail among others. She is the incoming Polaris Music Prize foreperson. She also books metal shows, sometimes.