International Women's Day - Music Summit Toronto 2020 #IWDMSTO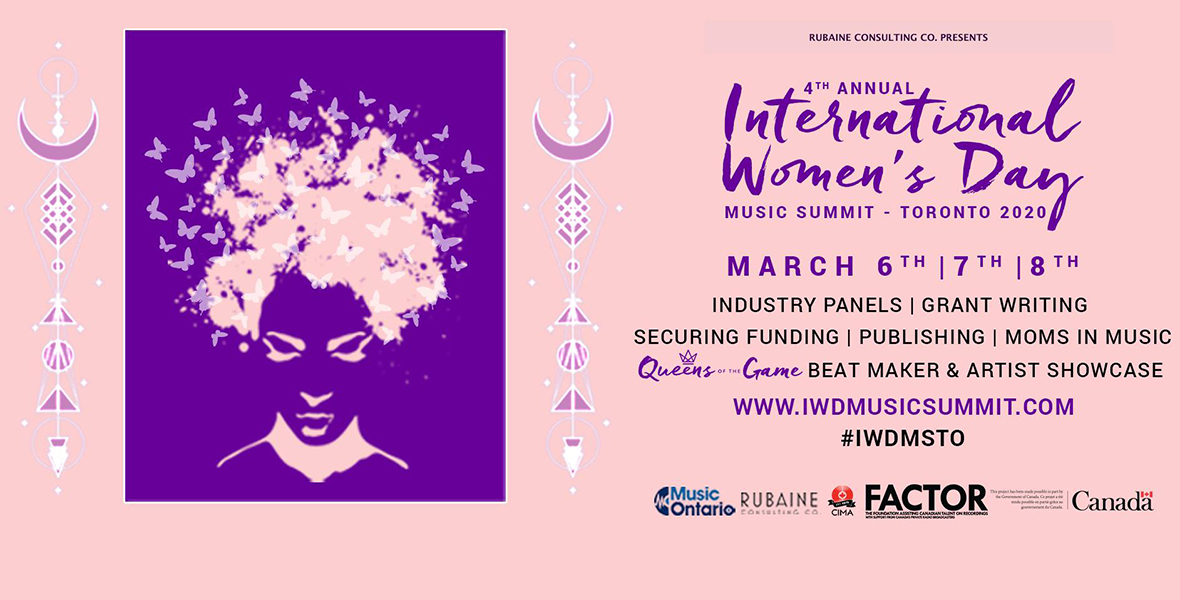 When

Fri 6th - Sun 8th March 2020

Where

Basso Lounge, The Hideout - Toronto, ON

Web
International Women's Day - Music Summit Toronto 2020 #IWDMSTO
March 6-8, 2020 @ multiple venues (Toronto, ON)
Music Summit for Hip Hip, R&B, Reggae, Soul music artists and professionals working in the Toronto Music industry.
Rubaine Consulting Co. brings back the annual IWD celebrations for its 4th year with an action packed 3 day Music Summit for hip hop, reggae, r&b, soul/neo soul, electronic, and indigenous-identifying artists.
Friday March 6, 2020: Venue TBD - Moms In Music Panel , Grant Writing Workshop, Funding panel with FACTOR , MusicOntario, OMDF and networking mixer.
Saturday March 7, 2020: Basso Lounge - Producers Panel , Beat Makers and Artist showcase, Mental Health in Music with Unison Benevolent Fund
Sunday March 8, 2020: The Hideout - One on Ones with industry delegates, Publishing Panel with music licensing powerhouse Supergroup + more, Women In Music panel, closing with
"Queens of the Game" showcase with some of the cities hottest upcoming artists.
This event is geared toward increasing the visibility, diversity and advancement of music professionals who are women or identify as part of a marginalized community. Speakers and Show Line Up: Coming Soon
Thank you to our supporters: FACTOR, MusicOntario, and CIMA For more info go to: www.IWDMusicSummit.com