POSTPONED: Acoustic Thursdays @ stackt, feat. Devon Lougheed (Altered By Mom) in the Crown Royal Courtyard!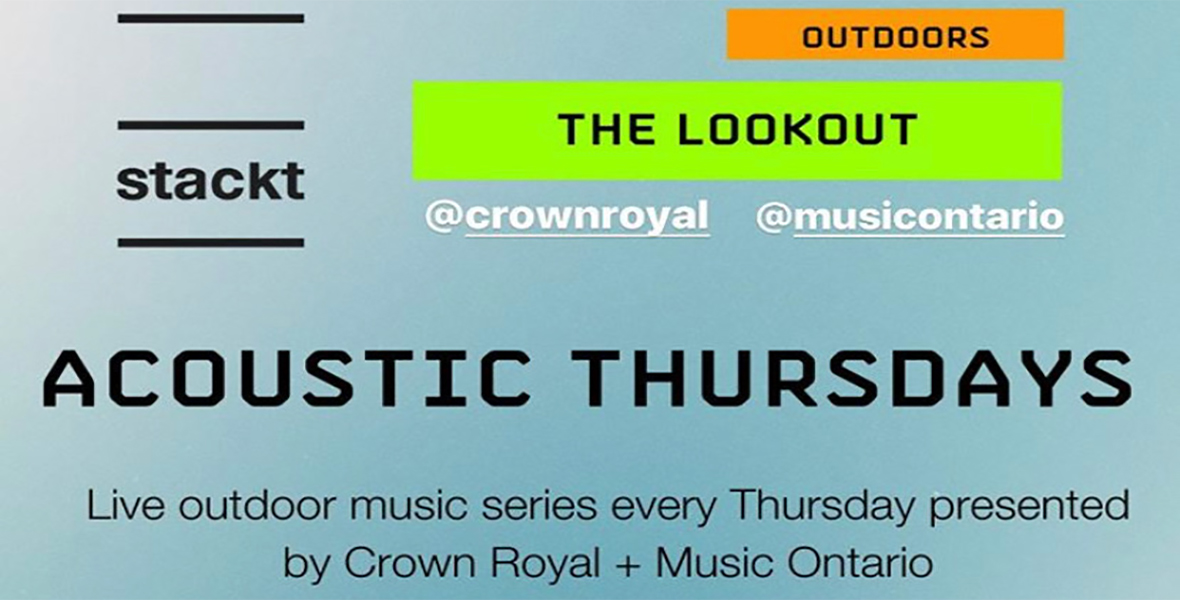 When

Thu 26th November 2020

Where

stackt market - 28 Bathurst St., Toronto, ON

Web
This event will be rescheduled for a date in 2021 after Fall 2020 lockdown in Toronto is lifted - stay tuned!

MusicOntario is helping to inject some MUCH needed live music back into our lives this fall in Crown Royal's decked out holiday courtyard at stackt market, running every Thursday from November 12 to December 17, 2020. Get (safely) cozy and festive outdoors with fire pits, snuggly blankets, warm drinks. In partnership with Crown Royal, we're celebrating the Spirit of Generosity this season by bringing you some fantastic free live music. In turn, they and stackt are helping MusicOntario continue to do what we do as we close out this challenging year: support Ontario's emerging music community through education, opportunities, resources, and networking.
Devon Lougheed will be serving up an instrumental set on November 26th from 5-7pm, so swing by after work for an appropriately distanced bevvy or two!
ABOUT DEVON LOUGHEED
One part Devon Lougheed (Hey Ocean!, Smashing Satellites) and one part Gina Kennedy (Skye Wallace, Monowhales), Toronto's ALTERED BY MOM combines a knack for infectious melodies and classic songwriting with a quirky sense of humour and a tongue-in-cheek post-grunge aesthetic - like Sloan had a baby with Barenaked Ladies... and then that baby stole your cigarettes.
While BODY FEELS WEIRD (2016) introduced the bands' quirky style and undeniable pop chops (witness campus radio gem, "Joanne"), what came next was an entirely uncontainable beast in comparison. Releasing one original song per week for all of 2020 resulted in the expansive collection 52 SONGS (2020). These big shiny tunes are an exploration of analog love in a digital era, and, like a big warm hug that lasts slightly too long, are alternately heartwarming and menacing.
Photo by Geoff Fitzgerald
www.instagram.com/AlteredByMom
www.facebook.com/AlteredByMom
www.youtube.com/AlteredByMom
Keep Up To Date