CIMA, MusicOntario, & StayOutLate present: Mother Mother Sound Project Day 1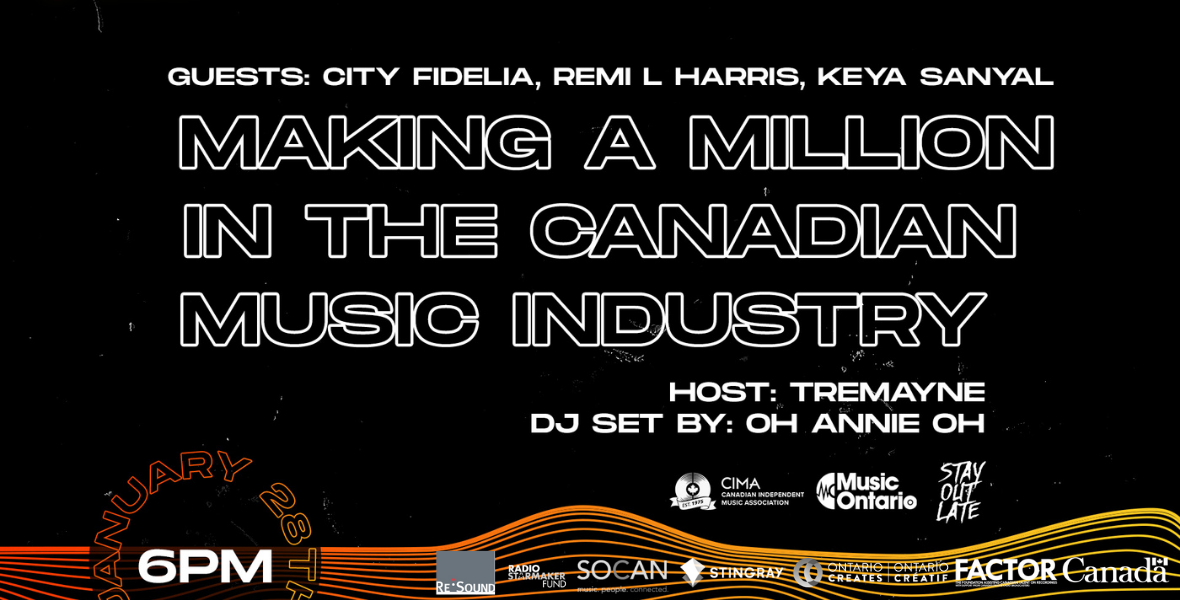 When

Thu 28th January 2021

Where

Zoom

Web

Tagged as
CIMA, MusicOntario, & StayOutLate Present: Mother Mother Sound Project:
January 28, February 4, & February 9, 2021
CIMA, MusicOntario, and StayOutLate have partnered to present a three-part webinar series called "Mother Mother." Attendees will participate in thought-provoking conversations with notable and expert panelists along other like-minded members of the Canadian and Ontarian independent music communities looking to acknowledge, learn, and gain inspiration from international music markets that have captured global attention. Participants of the "Mother Mother" series will benefit from exposure to new and emerging perspectives and the call to unify and rejuvenate the aspirations of the old and new generations that make up our industry. Following each panel session, we invite all of our participants to mix and mingle during an officially sponsored virtual DJ set hosted on Twitch.
Register for all three panel sessions here: https://mother-mother.eventbrite.ca/
Please note: this series has no affiliation with the band Mother Mother, who we're proud to have representing Canadian music on the world stage. We encourage you to check them out & explore their digital presence!
Day 1: Making a million in the Canadian music industry
January 28, 2021 – 6:00pm EST
Day 1 of the series will cover everything from, "dreaming in American," the politics of the industry, creating your team, and the realities of making money as an independent Canadian artist.
SPEAKERS:
City Fidelia - Recording Artist
Remi Louis Harris - Remix Project 14, Writer, Artist Manager
Keya Sanyal - Girl Connected 2020, Artist Manager, UX Designer
HOST:
DJ SET BY:
About CIMA:
CIMA is a not-for-profit national trade association representing English-language, Canadian-owned and controlled businesses of the domestic, commercial music industry. CIMA represents a diverse membership of small businesses, including record producers, record labels, recording studios, managers, agents, licensors, music video producers and directors, creative content owners, artist-entrepreneurs and other professionals from across the sound recording industry. CIMA represents over 320 Canadian companies and professionals and 6,200 Canadian artists including: Daniel Caesar, A Tribe Called Red, Tanya Tagaq, Serena Ryder, Terra Lightfoot, Tegan and Sara, Whitehorse, The Sheepdogs and METRIC.
About MusicOntario:
MusicOntario is a non-profit, membership-based provincial Music Industry Association (MIA), whose mission is to provide professional development, education, information, and support to the music industry of Ontario. The association's mandate is to nurture, elevate, and empower emerging companies and artists in Ontario's indie music sector. We help.
About StayOutLate:
StayOutLate is an arts & entertainment collective specializing in event production, and music management. SOL strives to facilitate iconic moments that constantly grow the global profile of the Canadian music scene and create paths and tools for current and future generations to utilize.
Keep Up To Date