MusicOntario & CIMA Live on IG with New Skool Rules & Northern Power Summit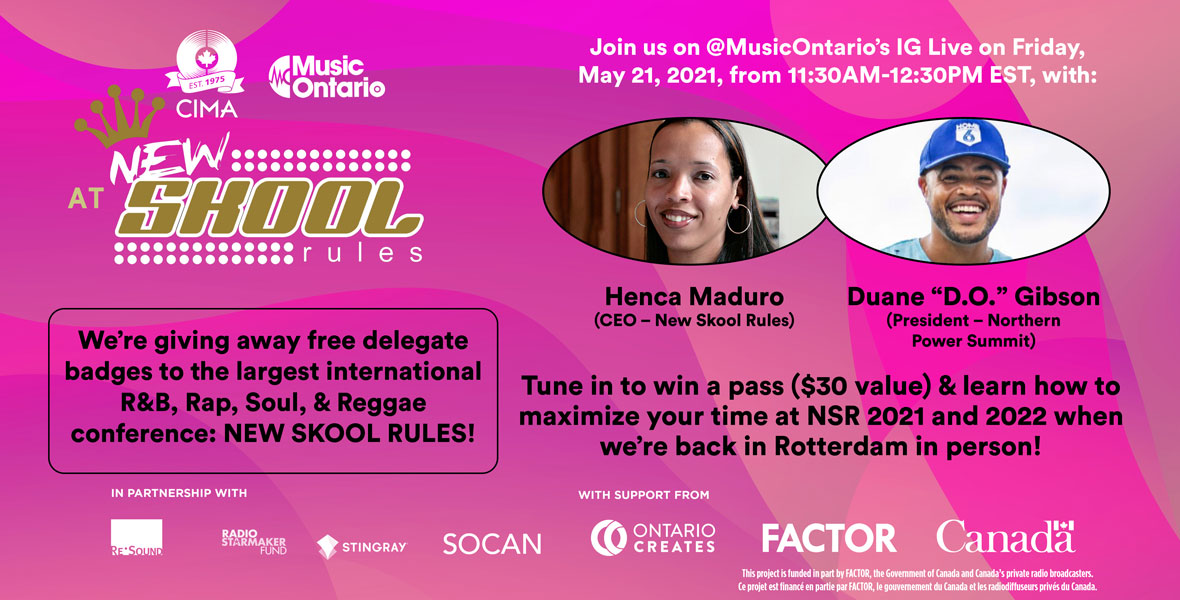 When

Fri 21st May 2021

Where

@MusicOntario's IG Live!

Web
We're giving away free delegate badges to the largest international R&B, Rap, Soul, & Reggae conference: New Skool Rules, which takes place from May 28-30, 2021, online!
If you're a CIMA or MusicOntario member in good standing and you're looking to further your international reach as an artist or industry professional within these genres, we've got you covered!
Get in touch with your Industry Development & Membership Coordinator, Sam Rayner (he/him): sam@music-ontario.ca, to secure a pass while quantities last, on a first come, first served basis.

You can also join us on @MusicOntario's IG Live on Friday, May 21, 2021, from 11:30AM-12:30PM EST to discuss how to make the most of this year's NSR, and to think ahead and start preparing for NSR 2022, when we're back in Rotterdam in person! Hear from:
Henca Maduro, CEO – New Skool Rules: Henca makes it all happen every year and works tirelessly year-round to connect with the best and brightest in Hip Hop from around the world to bring them to NSR.
Duane "D.O." Gibson, President – Northern Power Summit: D.O. is a New Skool veteran who has long-repped Canadian Hip Hop abroad and at home, and happens to know Rotterdam, Amsterdam, and Groningen like the back of his hand.
Non-members will be eligible to win passes by attending this IG Live!
See you there!