Tune Up Toronto: Composing for Film & TV, Pitching for Sync & Licensing, & the Artist-Publisher Relationship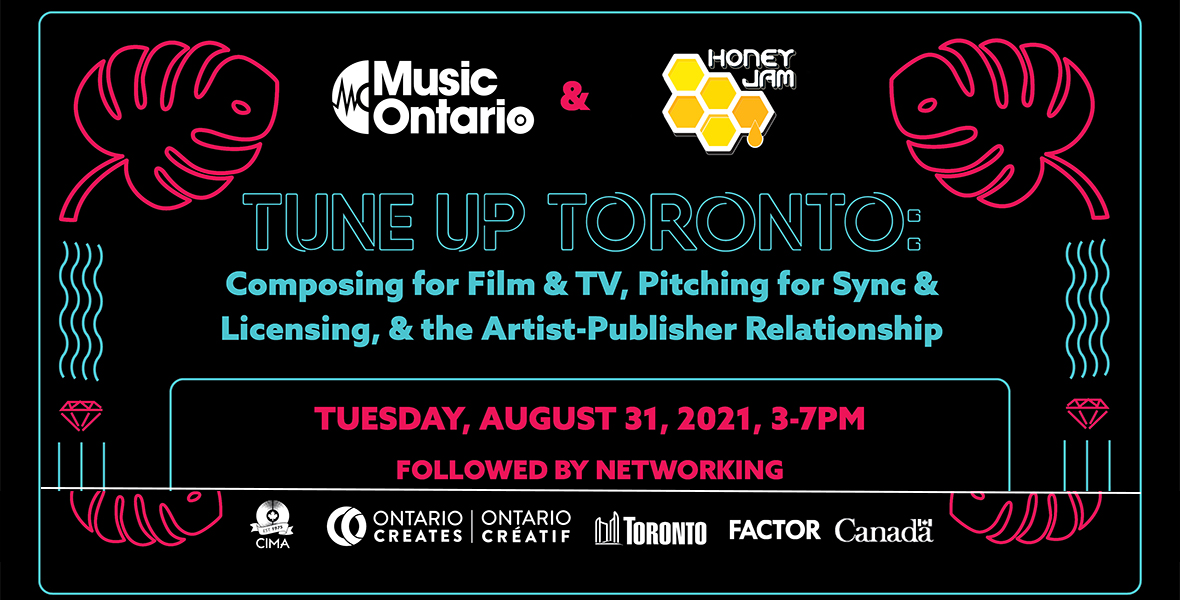 When

Tue 31st August 2021

Where

The Dive Shop / Toronto

Web
MusicOntario, HoneyJam, & the Guild of Music Supervisors Canada Present
Tune Up Toronto: Composing for Film & TV, Pitching for Sync & Licensing, & the Artist-Publisher Relationship
Tuesday, August 31, 2021, 3-7:30pm followed by networking
The Dive Shop (1036 Gerrard St. E., Toronto, ON)
MusicOntario, HoneyJam, and the Guild of Music Supervisors Canada are hosting an event – in person, while we still can! Join us to cover a variety of important topics that intersect at some point in every artist and songwriter's careers: publishing, licensing, sync placements, and composing for other projects and products.
These topics also happen to be where artists can make a living and earn renewable income, so it's important to know your way around best practices in order to protect and monetize your copyright and maximize how your music works for you in the background.
3:00pm: Doors
3:30pm: Meet the Guild of Music Supervisors Canada: The basics of sync, licensing, and pitching
4:30pm: Fireside Chat: The Artist-Publisher Relationship with Kim Temple (High Priestess), Witch Prophet, and Sun Sun
5:30pm: Keynote: TiKA Simone (Artist, Composter, Founder of StereoVisual) explores the world of composing for film, TV, and media through the intersectional lenses of artists who are Black, Indigenous, and People of Colour and/or identify as female
6:30: Performances by Witch Prophet, NEFE, & Yasmine Shelton over networking and refreshments!
$10 or FREE for MusicOntario members and HoneyJam alumnae
Discount codes have gone out by email. Contact your rep at MusicOntario or HoneyJam if you have not received it.
GUILD OF MUSIC SUPERVISORS CANADA
The Guild of Music Supervisors Canada is a non-profit organizations with the mission to promote the craft of music supervision for the mutual benefit of all media stakeholders in film, television, games, advertising, trailers, and emerging media.
www.guildofmusicsupervisors.ca

HONEY JAM CANADA
Honey Jam Canada is a non-profit artist development programme for emerging female artists from across Canada, that provides mentoring, educational, performance and networking opportunities. They recently celebrated their 26th anniversary!. Check them out on IG @thehoneyjam and their website.
KIM TEMPLE
Biography coming soon...
https://www.highpriestesspublishing.com/
NEFE
Adept listeners might be able to trace Nefe's genre-defying sound back to her endless influences from folk to pop or R&B to reggae but what listeners will actually hear is an idiosyncratic sound that can only be described as 3-dimensional - affecting the listener's heart, mind and soul. Nefe's power has been described as her ability to make you feel before you can think. Her vocal range and precision vibrates with the healing tradition of ancient wisdom that belies her youth. Nefe's voice is the salve that cuts through the pandemonium of the modern world.
Guelph Ontario native, Nefe is known for writing love letters to the soul. Releasing her debut EP ' Mama' in 2017 Nefe introduced her music to the world wearing her heart on her sleeve. "Over the course of the record's five tracks, produced by Timber Timbre's Taylor Kirk, Nefe flits nonchalantly between rock, reggae, classicist R&B and get-your-lighters-out piano-and-strings pop balladry like she's already been doing this forever and long ago moved past such petty, pointless distinctions as genre. And, man, can she sing." - Toronto Star. Early 2018, Nefe hit the road across Canada with Canadian Legend Bruce Cockburnon his " Bone On Bone' Tour.
Playing stages like ' The Center in Vancouver for Performing arts' All the way back to the infamous " Massey Hall' In Toronto Ontario,where Nefe resides. Currently, Nefe is taking lessons from heartbreak, the road, the unknown , love and putting them in her newest piece of work (insert album name here- Thinking ' Tasman') recorded out of coach house studios- an innovative, game changing analog studio that reverts back to the days of tape, which Singer/songwriter Nefe believes has really been able to capture the realness and soul listeners receive when they attend her live shows. With many accomplishments under her belt, Nefe Continues to take strides forward towards her ultimate vision healing the world through the power of music. And the power of vulnerability.
SUN SUN
SUN SUN is a queer, Toronto based, Italian Canadian producer, DJ, rapper and the Co-CEO of Heart Lake Records. As the producer and member of Above Top Secret and producer/DJ for alternative r&b act Witch Prophet, SUN SUN provides a diverse soundscape of hiphop, jazz, r&b, electronic, grunge and dub beats. She has had the opportunity to share the stage with and open for great acts like A Tribe Called Red, JPEGMAFIA, Lido Pimienta, Shabazz Palaces, Lal, Tasha The Amazon, METZ and Fucked Up to name a few. With her solo debut project ALTRO MONDO, SUN SUN experiments into the club/rave scenes of the '90s with soundscapes that flow, expand and travel into new dimensions throughout each (5min long) track. ALTRO MONDO is another world. A 32min, 6 track collection of house, jungle, and electronic beats with vocal samples created to make you dance. Past sync placements include songs on VICE, Inside Out Film Festival Trailer and CBC's Letter Kenny. Recently SUN SUN celebrated the Polaris Prize Short List nomination for Witch Prophet's sophomore LP 'D.N.A. Activation' which she co-produced alongside Witch Prophet.

Photo by Brianna Roye
www.instagram.com/sunsunbeats
www.twitter.com/sunsunbeats
www.SUNSUNBeats.com www.HeartLakeRecords.com

TiKA SIMONE
TiKA is an artist, DJ, model, film composer, actress, curator, cultural producer, TV/Online personality, and activist. TiKA makes an impression on everyone she encounters and is a strong advocate for female artists and creatives.
TiKA added film scoring to her repertoire in 2019 after graduating from the Canadian Film Centre in 2021. To date she has scored 2 short films, one feature film and a tv teaser. This year, TiKA started her first non-for-profit organization, StereoVisual, which aims to teach marginalized musicians and producers how to transition into making music for film in an effort to create equity in the film industry.
TiKA's love and passion for culture and music has led to the release of 2 EP's, "Some Things Are Better Left Unsaid" + "Carry On." With features in Complex, Noisey, MILK, Afropunk, Saint Heron, The Fader, CBC, The Source, among others, TiKA is receiving critical acclaim for her voice, her energy, her love. Her music. She has opened for major R&B heavyweights like John Legend + NAO and is listed by Complex Magazine as "One of the most prolific creatives in Toronto."
TiKA's debut album was released in Spring of 2021. Aptly titled "Anywhere But Here," it serves as a brilliant indication of her unique voice, as well as her distinctive resonance and personality as a developed artist. With many critics internationally hailing "Anywhere But Here" as one of the most powerful releases of 2021. In addition, TiKA was the only Canadian musician to model for Sephora 2 years in a row. Her billboards can be seen all across Canada. While her vocation as an ambassador and creator of music has been well established, her image and sound as a new artist is being unleashed to make a very durable impression in order to gracefully provide what this generation has been missing musically. 2021 will see the relaunch of the artistic side of TiKA.
WITCH PROPHET
Witch Prophet is a queer, Ethiopian/Eritrean, singer-songwriter, and the Co-CEO of Heart Lake Records. She provides her fans with a soundscape of vocal layers, loops, raps, and harmonies on a bed of hiphop, jazz, and soul-inspired beats. Think Erykah Badu meets Lauryn Hill meets Portishead. She finds depth and connection in creating music as a portal for self-growth and discovery, as she navigates and better understands her cultural and queer identity.
Witch Prophet has shared the stage with and opened for acts like THEESatisfaction,Shabazz Palaces, Lido Pimienta, A Tribe Called Red, Climbing Poetree, SAMMUS, Sean Leon, JPEGMAFIA, The Cliks, Rae Spoon, Zaki Ibrahim, Kae Sun, and LAL, to name a few.
Her vocals have appeared on Shad's "Flying Colours" LP (2013), 2009's Polaris Prize winner Fucked Up's LP "Dose your Dreams" (2018), as well as DillanPonders newest album "Because We're Alive" (2020). She has toured Europe independently twice; playing shows in Paris, Amsterdam, London, and Berlin, as well as performed at North American and European music festivals like: Black Women Rock, New Skool Rules, Soul Of Brooklyn, Allied Media Conference, Montreal Jazz Festival, Sappy Fest, Electric Eclectic, Summerworks, Ottawa Capital Pride, Pride Toronto, Pop Montreal, Halifax Pop Explosion and so many more!
In March of 2020, Witch Prophet released her Ontario Arts Council funded sophomore LP "D.N.A Activation". An ode to her Ethiopian and Eritrean ancestral roots, fusing Jazz, Hip-Hop, Soul and RnB with songs sung in English, Amharic, and Tigrinya. Co-produced by herself and her partner SUN SUN, praised by press and music lovers alike, DNA Activation was shortlisted for the 2020 Polaris Music Prize. She has since been signed to Ki An Projects, a new label in the UK for the release of a deluxe edition of DNA Activation. The video for her song Tesfay directed by Leah Vlemmiks was nominated for the 2021 Prism Prize and was an official selection at the 2021 SXSW Music Video awards. She was the only Canadian nominee and was alongside artists like Run The Jewels. A new video for Makda was released May 28th which debuted on FADER.
Photo by Francesca Nocera
YASMINE SHELTON
Yasmine Shelton is an emerging singer-songwriter based in Toronto. Growing up surrounded by the music of Nina Simone, Florence and the Machine, and The Ink Spots, Shelton's rich and energetic vocal style took shape. She has performed at festivals and venues around Ontario and Quebec as part of the folk-Americana duo Basset, and is preparing for the release of Basset's debut LP in Spring 2022. Shelton's songwriting is built around images of her home by the Humber River in Toronto. The factory buildings and the river burst through her work, tethering her songs to a mix of industrial and natural landscapes. In 2019 Shelton was the recipient of the Folk Music Ontario Taylor Mitchell Bursary and a SHINE music bursary. She recently completed the Artist Manager program at Canada's Music Incubator and is currently taking part in the Honey Jam artist development program and showcase.
Website: bassettheband.com