Tune Up Toronto: Beyond the Binary Part 2 - An Intersectional Guide for Working with Trans and Nonbinary Communities in the Music Industry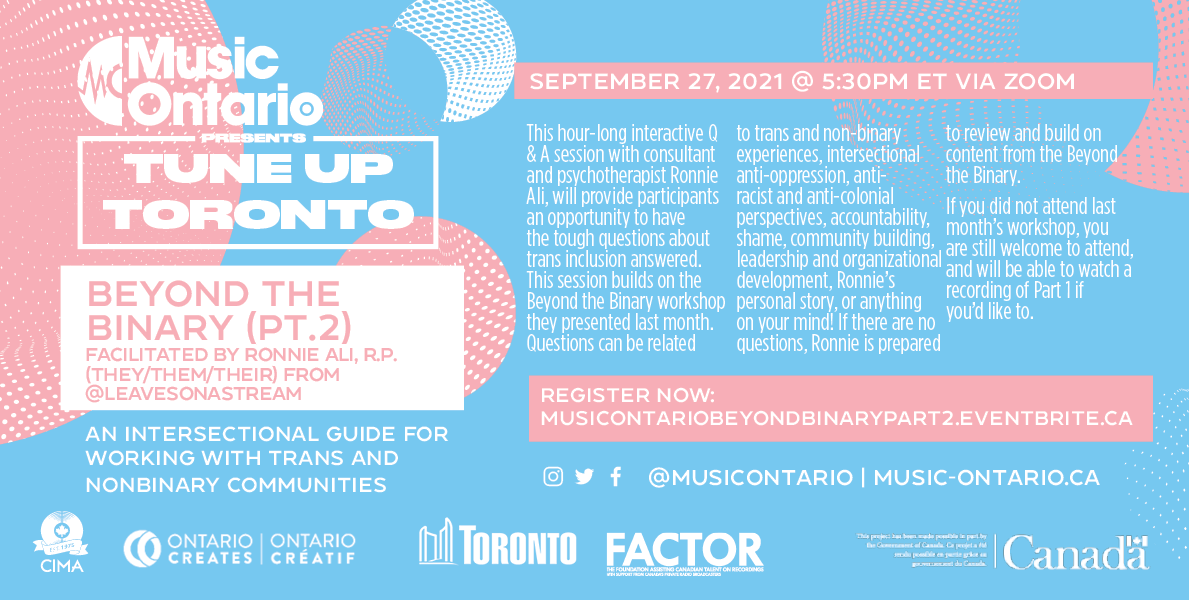 When

Mon 27th September 2021

Where

Zoom

Web
MusicOntario presents:
Tune Up Toronto: Beyond the Binary Part 2 - An Intersectional Guide for Working with Trans and Nonbinary Communities
September 27, 2021 @ 5:30-6:30PM ET via ZOOM
Facilitated by Ronnie Ali, R.P. (they, them, their) from Leaves on a Stream
Did you miss part one? Watch here.
This hour-long interactive Q & A session with consultant and psychotherapist Ronnie Ali, will provide participants an opportunity to have the tough questions about trans inclusion answered. This session builds on the Beyond the Binary workshop they presented last month. Questions can be related to trans and non-binary experiences, intersectional anti-oppression, anti-racist and anti-colonial perspectives, accountability, shame, community building, leadership and organizational development, Ronnie's personal story, or anything on your mind! If there are no questions, Ronnie is prepared to review and build on content from the Beyond the Binary.
If you did not attend last month's workshop, you are still welcome to attend, and will be able to watch a recording of Part 1 if you'd like to.
About Ronnie Ali:
Ronnie (they/them/their) is a psychotherapist and consultant serving intersectional communities in and around Tkaronto since 2010. Last year, they founded Leaves on a Stream, a consulting practice that is built on radical empathy, ethical process, mindfulness, and collective healing. Through Leaves on a Stream, they offer clinical consultation, trauma-informed coaching, and social programming. Ronnie identifies as an immigrant-settler, trans femme, non-binary, queer, able-bodied, person of colour.
About MusicOntario:
MusicOntario is a non-profit, membership-based provincial Music Industry Association (MIA), whose mission is to provide professional development, education, information, and support to the music industry of Ontario. The association's mandate is to nurture, elevate, and empower emerging companies and artists in Ontario's indie music sector. We help. www.music-ontario.ca
About MusicOntario's PRISM Advisory Committee:
In 2018, MusicOntario established the PRISM Advisory Committee in order to help direct
and shape the organization's outreach and programming for artists and entrepreneurs who identify as 2SLGBTQIA+, with the long-term goal of creating change-making awareness surrounding cultural and institutional barriers that are oppressive to those intersecting communities. The committee strives to address barriers within our sector through discussion, consultation, advocating for safer spaces, support, and programming, and will be composed of and driven by an ever-expanding group of artist and industry community leaders.