Communities Connect: Music Sync Summit at the Forest City Film Festival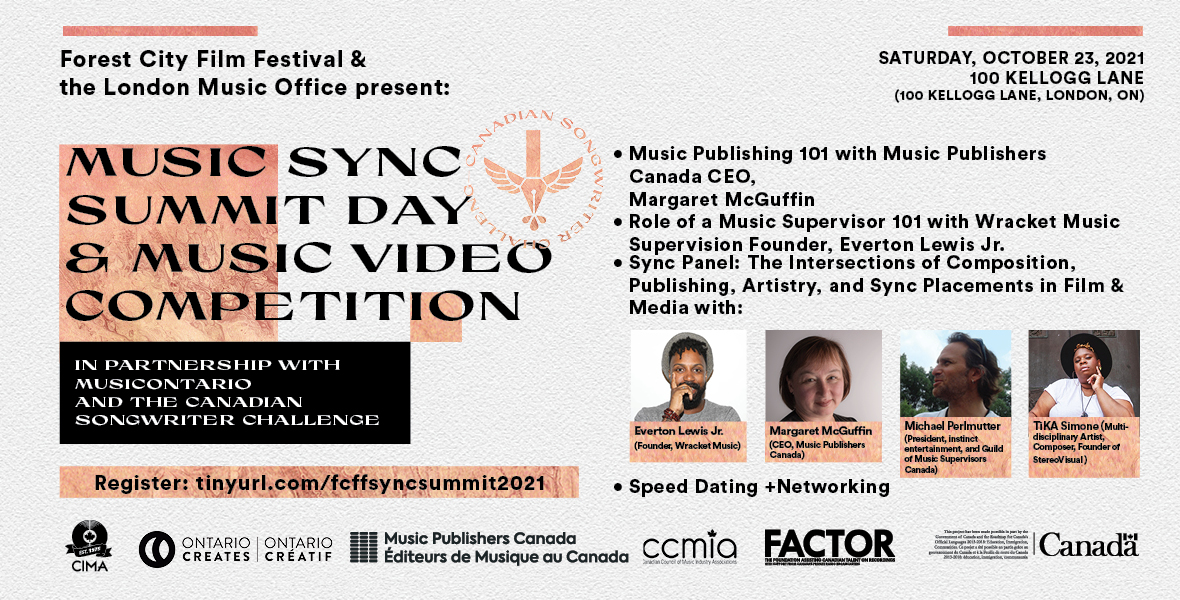 When

Sat 23rd October 2021

Where

100 Kellogg Lane, London, ON

Web
Forest City Film Festival & the London Music Office present:
Music Sync Summit Day & Music Video Competition
In Partnership with MusicOntario
Saturday, October 23, 2021
100 Kellogg Lane (100 Kellogg Lane, London, ON)
Music is tied so closely to the film and television sector. As London grows as a music and film city, the London Music Office is working to bring the two sectors together. The Sync Summit as part of The Forest City Film Festival will bring industry experts to London to discuss music publishing, sync licensing and song placement in movies and TV productions.
These topics also happen to be where artists can make a living and earn renewable income, so it's important to know your way around best practices in order to protect and monetize your copyright and maximize how your music works for you in the background.
SYNC SUMMIT SCHEDULE:
Music Publishing 101 with Margaret McGuffin
Role of a Music Supervisor 101 with Everton Lewis Jr.
Sync Panel: The Intersections of Composition, Publishing, Artistry, and Sync Placements in Film & Media.
Speed Dating +Networking
SPEAKERS:
Everton Lewis Jr.
Music Supervisor & Founder of Wracket Music
Everton Lewis, Jr. is the founder and Chief Music Supervisor at Wracket Music Supervision whose recent projects include CBC's Anyone's Game, Yo! MTV Raps, and Amazon Prime's All or Nothing. In 2010, this industry veteran founded EH! Side Music Supervision, a company solely dedicated to Canadian music syncs. Following the success EH! Side, Everton, Jr. became the Head Music Supervisor for VICE Canada and worked on projects including Dark Side of the Ring, Rat Park, and Tattoo Age.
Margaret McGuffin
CEO of Music Publishers Canada
Margaret McGuffin is the CEO of Music Publishers Canada. She loves diving into research and policy development related to the creative industries and has worked with a large number of music industry trade organizations and collective management organizations.
She currently is Chair of the Board at Work In Culture and a member of the advisory board at MusiCounts. She is also always happy to talk to you about copyright or how music publishers are leading the way in making sure Canadian songs are heard around the world.
Michael A. Perlmutter
Music Supervisor, President of instinct entertainment, President of the Guild of Music Supervisors Canada
Michael has placed thousands of songs in TV shows, films and documentaries, seen and heard around the world. Michael has been working in the music/film/TV industries for 20+ years.
Select TV credits: The Handmaid's Tale, ZONE, Moonhaven, Altered Carbon, From, Spinning Out, Ten Days In The Valley, Condor, Into The Badlands, Houdini & Doyle, Mary Kills People, Degrassi, Private Eyes, Beauty and The Beast, Haven, The LA Complex, Vikings, Queer As Folk
Select Film credits: Crisis(Gary Oldman, Evangeline Lilly, Armie Hammer), Arbitrage (Richard Gere, Susan Sarandon), Firestarter (Zac Efron, Gloria Reuben), The Baker (Ron Perlman, Harvey Keitel, Elias Koteas), Some Other Woman (Amber Crew, Tom Felton, Ashley Greene), Big Gold Brick (Andy Garcia, Megan Fox, Emory Cohen), The Marijuana Conspiracy (Julia Sarah Stone, Brittany Bristow), Castle In The Ground (Alex Wolff, Imogen Poots), Firecrackers (Michaela Kurimsky, Kareena Evans), The New Romantic (Jessica Barden, Hayley Law), The Kid Detective (Adam Brody), The Weekend (Sasheer Zamata), Little Italy (Hayden Christensen, Emma Roberts, Danny Aiello), Love Jacked (Amber Stevens West, Omar Epps), The Other Half (Tatiana Maslany, Tom Cullen), Across The Line (Stephan James)
Select Special Projects: Highlight reels for CTV's Olympic Broadcasts (Vancouver and London), curating the Canadian Music Café during The Toronto International Film Festival, licensing + administration for The National Music Centre in Calgary and Canadian Songwriter's Hall of Fame.
He has been asked to moderate and speak on panels around the world: Poland, Sweden, Finland, Norway, Miami, New York, Cannes, Calgary, Halifax, Toronto. Michael is the president of Canadian Guild of Music Supervisors, an avid Toronto Maple Leafs hockey fan and loves chocolate.
TiKA Simone
Multi-disciplinary Artist, Composer, Founder of StereoVisual
TiKA is an artist, DJ, model, film composer, actress, curator, cultural producer, TV/Online personality, and activist. TiKA makes an impression on everyone she encounters and is a strong advocate for female artists and creatives.
TiKA added film scoring to her repertoire in 2019 after graduating from the Canadian Film Centre in 2021. To date she has scored 2 short films, one feature film and a tv teaser. This year, TiKA started her first non-for-profit organization, StereoVisual, which aims to teach marginalized musicians and producers how to transition into making music for film in an effort to create equity in the film industry.
TiKA's love and passion for culture and music has led to the release of 2 EP's, "Some Things Are Better Left Unsaid" + "Carry On." With features in Complex, Noisey, MILK, Afropunk, Saint Heron, The Fader, CBC, The Source, among others, TiKA is receiving critical acclaim for her voice, her energy, her love. Her music. She has opened for major R&B heavyweights like John Legend + NAO and is listed by Complex Magazine as "One of the most prolific creatives in Toronto."
TiKA's debut album was released in Spring of 2021. Aptly titled "Anywhere But Here," it serves as a brilliant indication of her unique voice, as well as her distinctive resonance and personality as a developed artist. With many critics internationally hailing "Anywhere But Here" as one of the most powerful releases of 2021. In addition, TiKA was the only Canadian musician to model for Sephora 2 years in a row. Her billboards can be seen all across Canada. While her vocation as an ambassador and creator of music has been well established, her image and sound as a new artist is being unleashed to make a very durable impression in order to gracefully provide what this generation has been missing musically. 2021 will see the relaunch of the artistic side of TiKA.
www.withlovetika.com
www.stereovisual.org
About the Guild of Music Supervisors Canada:
The Guild of Music Supervisors Canada is a non-profit organizations with the mission to promote the craft of music supervision for the mutual benefit of all media stakeholders in film, television, games, advertising, trailers, and emerging media.
www.guildofmusicsupervisors.ca
About MusicOntario:
MusicOntario is a non-profit, membership-based provincial Music Industry Association (MIA), whose mission is to provide professional development, education, information, and support to the music industry of Ontario. The association's mandate is to nurture, elevate, and empower emerging companies and artists in Ontario's indie music sector. We help. www.music-ontario.ca
About Music Publishers Canada:
Music Publishers Canada is a membership-based organization, founded in 1949, that ensures the views of music publishers working in Canada are heard. It is our mission to create business opportunities for our members and to promote their interests and those of their song writing partners through advocacy, communication, and education.
Music Publishers Canada ensures that the value and contribution of music publishers, music publishing, and copyright management is understood by artists, the music industry, users of copyrights, governments, and the general public. www.musicpublisher.ca
MUSIC VIDEO COMPETITON:
7:30 – 9:00pm Music Video Competition. Free for Canadian Songwriter Challenge participants. Featuring videos by Lido Pimienta, Status/Non-Status, Babygirl and more, followed by nbetworking, games, drinks