MusicOntario @ New Skool Rules 2023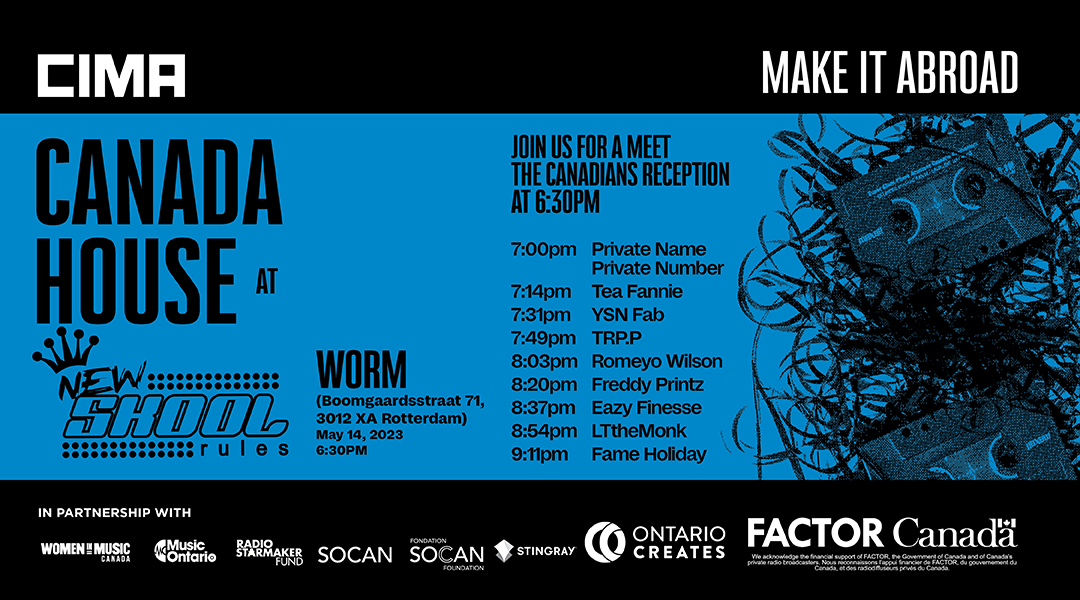 When

Fri 12th - Sun 14th May 2023

Where

Worm - Rotterdam, NL

Web
CIMA, MusicOntario, Music Nova Scotia/Nova Scotia Music Week & Women in Music Canada present:
Canada at New Skool Rules 2023
May 12-14, Rotterdam, Netherlands
Canada is heading back to New Skool Rules in Rotterdam this May, and we're bringing a fresh crop of incredible Canadian artists and music companies to showcase, do business, and network!
New Skool is the biggest conference and festival for Hip Hop, Rap, R&B, Reggae, and Soul in the world, so CIMA, MusicOntario, and Women in Music Canada are joining forces to build a comprehensive experience for Canadians ready to export to the EU.
We'll be hosting a showcase, networking session, and our legendary boat cruise for a chance to really get to know the international delegates and pros. Stay tuned for info about a post-New Skool Rules business event in Rotterdam to get to know the market that much better.
Private Name Private Number (presented by MusicOntario) -
www.instagram.com/privatename_privatenumber

A name like Private name Private number provides instant mystery, intrigue and engagement. Private is best known for his high energy performance and catchy songs. He's been making noise in Canada and wants to show the world his gift.

TRP.P (presented by Women in Music Canada & MusicOntario) -
https://www.wearetrpp.com/

TRP.P (pronounced "TRIP-ee") is an R&B/Hip-Hop duo hailing from Toronto, Canada. The duo consists of Truss (music producer on television show Sort Of) and Phoenix Pagliacci (featured artist on rapper Shad's album TAO). After meeting at a concert in 2015, the two became fans of each other, and have been collaborating in music and life ever since.
Their collective sound was introduced to the world in 2017 with the release of their self-titled EP, TRP.P. Since then, their unique voices and clever lyricism have continued to add a modern twist to their 80's/90's inspired repertoire.
In 2019, TRP.P released their first full-length album 2TRP.P, which garnered press from outlets which include Fader, Earmilk, Exclaim! Magazine and NOW Toronto. The album also caught the attention of Canadian booking agency Paquin, whose roster boasts heavyweights Buffy Sainte-Marie, BADBADNOTGOOD, The Reklaws and The Strumbellas. TRP.P's captivating and playful energy on stage has taken them across the country, performing at festivals such as Toronto Pride, POP! Montreal, Wavelength, and Hillside. They also opened for Kehlani, Mumu Fresh and Charlotte Cardin early in their career.The duo is heavily inspired by Black singer/songwriters, both old and new, including favourites Stevie Wonder, Chaka Khan, Lauryn Hill, Jazmine Sullivan, Ari Lennox and NAO. Whether in the studio or on the stage, TRP.P is determined to connect with others through their songwriting;TRP.P gains inspiration from the world around them, writing music based on their hopes, their dreams and their personal experiences.
Fresh off of their Western Canada tour, where they opened for Juno-award winning rapper Shad, TRP.P released their second full-length album entitled "Mirror Soul" in June 2022.

Romeyo Wilson (presented by MusicOntario) -
www.instagram.com/romeyowilson

Romeyo Wilson made his introduction into the industry in 2007, which produced an immense reaction to a now ever-growing fan base throughout Brampton, ON. Fast Forward 2016, Wilson released 8 music videos in that year alone, which led to the very much anticipated release of his first EP, 7/30 and eventually his first album Angela Vibes and sold out shows across the GTA including Lee's Palace and The Phoenix. With a multitude of playlists compiled with hits Including his biggest singles Why Lie, Flowers, Send Nudes and Dont Waste My Time. He has since collaborated with some of the most popular artist in the music industry from B5, Sammie and Jacquees and caught the attention of Eric Bellinger and Rotimi.
Freddy Printz (presented by MusicOntario) -
www.instagram.com/freddyprintz/

FREDDY (Further Reiterating Everyday Difficulties of Dilated Youth) is an acronym that fell into place when expressing what ideology and approaches I would like to take within the arts and cultural sector. I began writing music in 2010 and continued to dive into some of the origins of Hip Hop and R&B, finding great context for some of my own influences. Time spent learning song structure and the inner workings of a studio would allow me to release my first body of work in September of 2013, aptly titled "The Cold Capitvl Project".

LTtheMonk (presented by CIMA & MusicOntario) -
https://ltthemonk.com/

Originally from London, UK, LTtheMonk first fell in love with hip-hop at just eight years old, when the music captivated his young ears and ignited what would become a lifelong passion. Blended with constant exposure to reggae (via his Jamaican mother) and rock (via his Irish father), LT's adventurous love of music and performing onstage would only grow stronger.
That eclectic musical upbringing, coupled with discovering the music of Michael Jackson and becoming obsessed with the pop icon's music and dancing in parallel with his foundational hip hop exposure, set LT off on a journey to becoming a musician himself. It's also an intrinsic part of LT's toolkit, with bantamweight Gene Kelly-meets-James Brown footwork and immaculate sport socks both indelible signatures of his persona as an entertainer.
LT has since carved a reputation as a vibrant and compelling talent, moving to Canada in 2017, where he has since been furthering his career in the cities of Hamilton and Toronto. And taking all of his influences, LT aims to fuse dance music with hip-hop and pop, to create his own unique sound, which you can hear in songs such as 'Class Of '23' & 'The Lo'.
Full Canada House Schedule:
7:00pm - 7:09pm Private Name Private Number
7:14pm - 7:26pm Tea Fannie
7:31pm - 7:44pm YSN Fab
7:49pm - 8:01pm TRP.P
8:03pm - 8:15pm Romeyo Wilson
8:20pm - 8:32pm Freddy Printz
8:37pm - 8:49pm Eazy Finesse
8:54pm - 9:06pm LTtheMonk
9:11pm - 9:23pm Fame Holiday