Tune Up Toronto On the Water: A summer boat cruise on the harbour to educate and inspire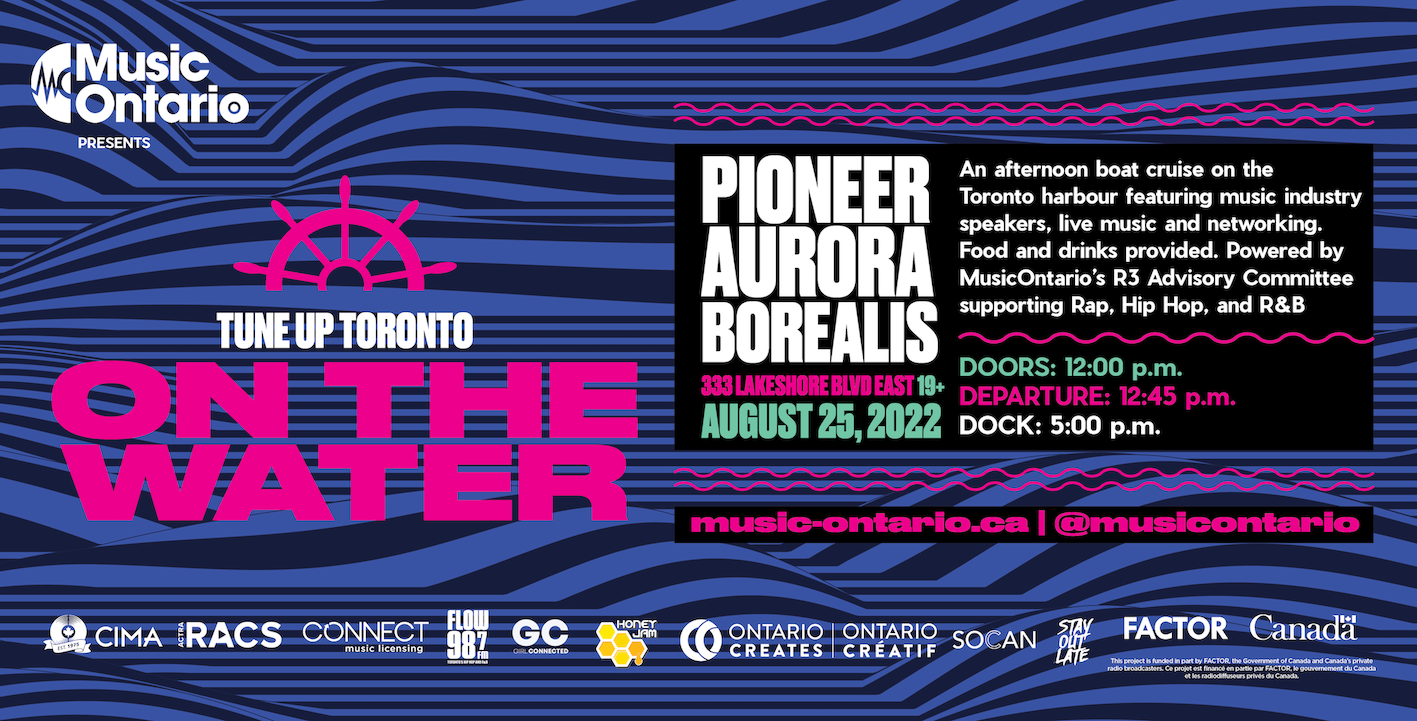 When

Thu 25th August 2022

Where

Pioneer Aurora Borealis (333 Lakeshore Blvd. E)

Web
MusicOntario is hosting an event – on a boat! Join us for a summer boat cruise on the Toronto harbour with networking, live music, and benefit from the expert insight of three globally-renowned guest speakers who've been doing ground-breaking work in rap music. Powered by MusicOntario's R3 Advisory Committee supporting Rap, Hip Hop, and R&B creators through community-led initiatives.
Our boat cruise event will feature conversations with Feyi Ekisola (Head of A&R - STURDY.), multi-instrumentalist Aaron Paris (Kanye West, Roddy Ricch, Alessia Cara), and Lord Quest (Creative Executive - Black Music, SOCAN) followed by an industry networking session, with a performance by Toronto's own DJ Playgirl. Food will be provided by Aunty Lucy's Burgers.
When: Thursday, August 25, 2022
Time: 12:00pm – 5:00pm
Where: Pioneer Aurora Borealis, 333 Lakeshore Blvd East, Toronto M5A 1B6
Price: $5 or FREE for MusicOntario members (complimentary drink included)
RAIN OR SHINE! We've got a contingency plan, so don't fret about the weather - we're literally covered!
Schedule:
12:00 p.m. Doors
12:45 p.m. Boat Departure (please arrive 30 minutes prior to departure)
1:15 -2:00 p.m. Speaker Feyi Ekisola
2:15-3:00 p.m. Speakers Aaron Paris and Houtan Hodania
3:00-5:00 p.m. DJ Playgirl Performance and Networking
5:00 p.m. Dock
Interested in attending for free? Join MusicOntario by contacting sam@music-ontario.ca
We would like to thank our partners - Flow98.7 FM, SOCAN, ACTRA RACS, CONNECT Music Licensing, Girl Connected, STAYOUTLATE and Honey Jam for making this happen.
This project is also funded in part by Ontario Creates and FACTOR, the Government of Canada and Canada's private radio broadcasters.
Contact Sam Rayner (samr@music-ontario.ca) if you are unsure about the status of your membership.
ABOUT THE SPEAKERS
Feyi Ekisola (Head of A&R, STURDY.)
Feyi Ekisola was born in Ogun State, Nigeria, and moved to Minneapolis, Minnesota when he was 13 years old. He began his career in music while in college at St. Cloud State University (St. Cloud, MN) working with a friend to promote his songs by throwing parties, events, and putting together marketing campaigns. In 2015, after graduating with an MBA in Marketing and Branding, he moved to Los Angeles to immerse himself in the music industry. Through mutual friend Channel Tres, he was introduced to South Central's own, Duckwrth, which led him to taking on the role of Tour Manager/Day-to-Day for Duckwrth's Malibu Tour with Anderson .Paak. Since then, Feyi has worked as an A&R/creative partner for artists and teams like AUGUST 08, 88rising, Rich Brian, Joji, Niki, GIVEON, Gavin Haley, JELEEL!, Tempest, Naomi Wild, Mannywellz and many others.
Publishing: In February 2021, Feyi joined forces with prolific manager/executive, Tyler Henry, at STURDY. as the Head of A&R to build out STURDY.'s stand alone publishing company and to continue developing emerging talent.
STURDY. : In 2018, Tyler Henry, Kevin Henry, Adrian Martinez, Connor Moy, Ben Wolin, and Jasper Heenan co-founded the multi-hyphenated creative company, STURDY. It includes a music division (now merged with Range Music), creative studio, production company, and newly announced NFT Marketplace.
Aaron Paris (Kanye West, Roddy Ricch, Alessia Cara)
Aaron Paris is a multi-instrumentalist, record producer, and composer from Toronto, Canada. Having worked with many major artists including Kanye West, Roddy Ricch, Alessia Cara, Russ, Latto as well as many of Toronto's upcoming talent, Aaron has built a strong reputation as a collaborator and strings composer/performer. An alumnus of the University of Toronto and the Toronto Symphony Youth Orchestra, Aaron is dedicated to bringing a "new classical" sound into the modern music industry. Through online videos of his composition and creative process, Aaron has rapidly grown his social media following since 2021. He has collaborated with many industry producers and songwriters including Rex Kudo, OZ, Ging (f/k/a Frank Dukes), Cubeatz, Kenny Beats, CVRE, and Jack Rochon.
Discography: Aaron Paris - Discography (Spotify Link)
Website: https://aaronparis.com/
Instagram: @aaronparismusic
TikTok: @aaronparismusic
Twitter: @CheungDynasty
Lord Quest
LordQuest is a Grammy nominated record producer and songwriter from Toronto, Canada. He most recently co-produced 2Chainz "Vlad TV", and has worked with the likes of Kelly Rowland "The Kelly Rowland Edition EP", Jordin Sparks "Unknown" & "Red Sangria", Juice Wrld "Run", Schoolboy Q"Blind Threats", SiR "Thats Why I Love You"(feat Sabrina Claudio) and Arin Ray "F*ck Ya'll & Zzz". His discography inclusive of Isaiah Rashad, Bosco, G-Unit, Alex Aiono, Jozzy, Joyner Lucas, Dom Kennedy, etc is ever growing. He was most recently apart of the Warner Music Canada A&R team overseeing their hiphop and RnB Talent . It's safe to say Quest has intentions of slowing down.
Tremayne (STAYOUTLATE)
Tremayne is a Toronto grown alternative hip-hop artist, event producer, host and part founder of STAYOUTLATE. He's known for his prolific performances, insane work ethic and events he throws around the city. Tremayne has hosted, performed or thrown events across North America with names like the A3C, Manifesto, NXNE, Tory Lanez, Bun B, NBA all star weekend, and TIFF to name a few. His music floats somewhere between the poetic, introspection of classic Chicago hip hop, and the contemporary trap sound waves of New Toronto. Tremayne takes a path rarely taken as an independent artist with his efforts to constantly create initiatives that support marginalized groups in their battles against injustice and inequality. Some examples are his food drives with his collective STAYOUTLATE and his 2019 single KIDZ BOP 41 where all profits from streaming are being donated to the innocence project. He also released a second version of the song in 2020 exclusively via bandcamp that donated all proceeds to Across Boundaries mental health (specializing in mental health for marginalized communities). Tremayne also started the STAYOUTLATE festival LATEFEST which provides paid opportunities to not only artists, but production professionals and DJs in the city. He and his collective STAYOUTLATE look to leave an imprint on the entertainment industry. Carving their own piece of the pie and sharing it with generations to come
Playgirl (DJ Performance)
Playgirl seamlessly combines different genres and eras of music from all over the globe. By blending sounds seamlessly together she's able to encourage people to get up and dance.
Sound cloud link https://soundcloud.app.goo.gl/AzJLvZuB9NNsV4iP9
Young Teesh (DJ/Curator)
"We STAN Young Teesh. Her infectious, positive energy, dry sense of humour, vampire-club-vixen style and musical taste have made her of the city's most exciting DJs just bubbling under the shiny surface of Toronto. She specializes in club sounds, rapid-fire beats, and samples of songs that have you suddenly finding your feet in the air up against a wall. There is no one like her. She's respected, she's hilarious and she's damn good." — Phillippe Villeneuve