​Canadian Reggae World with MusicOntario present Tune Up Toronto: Feel Reggae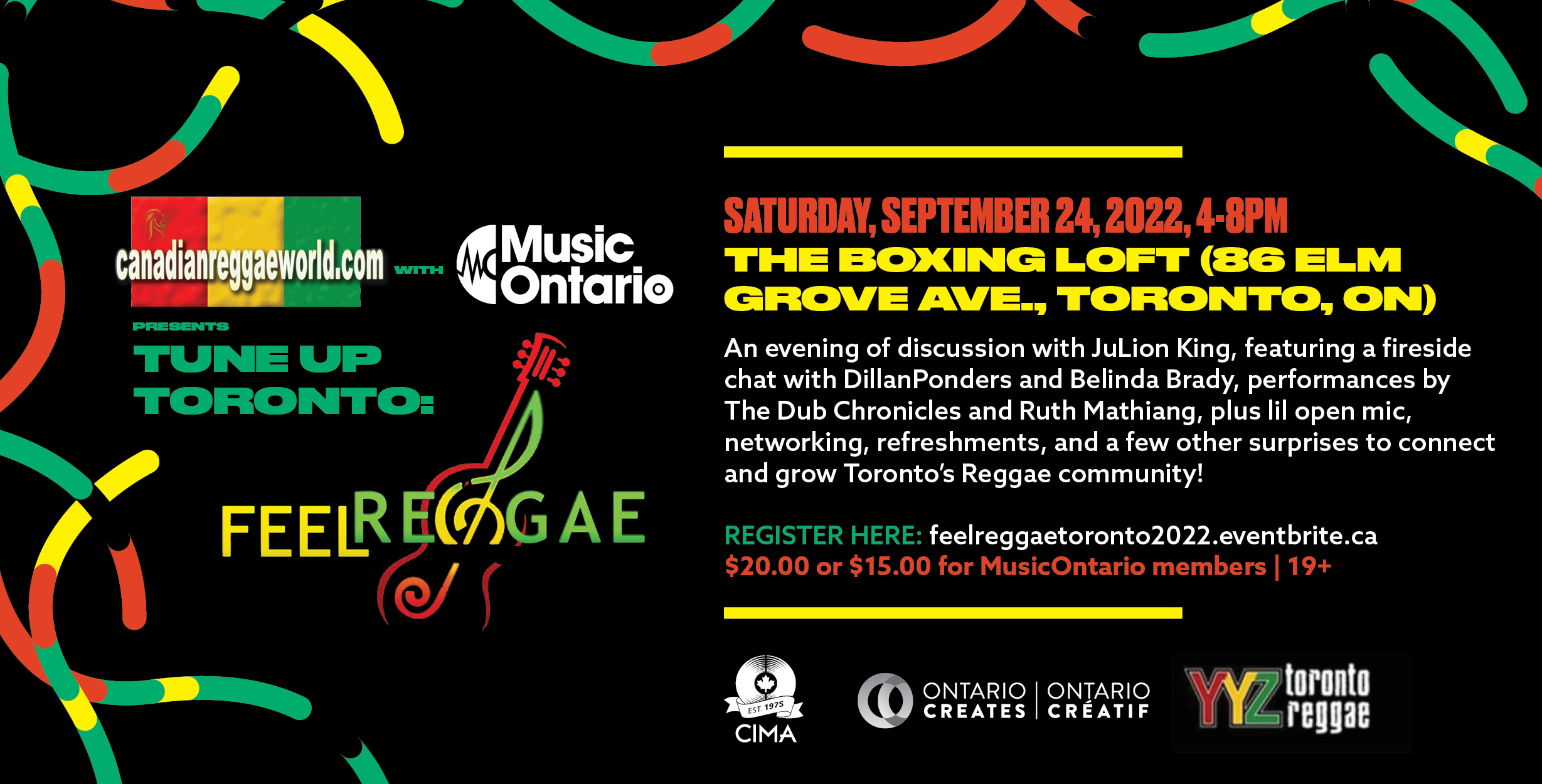 When

Sat 24th September 2022

Where

The Boxing Loft (86 Elm Grove Ave., Toronto, ON) - Queen and Dufferin

Web
Canadian Reggae World with MusicOntario present:
Tune Up Toronto: Feel Reggae
Saturday, September 24, 2022, 4-8pm @ The Boxing Loft (86 Elm Grove Ave., Toronto, ON)
An evening of discussion with Julion King, featuring a fireside chat with DillanPonders and Belinda Brady, a performance by The Dub Chronicles featuring Ruth Mathiang, and a lil open mic, networking, refreshments, and a few other surprises to connect and grow Toronto's Reggae community!
Register here: www.feelreggaetoronto2022.eventbrite.ca
$10.00 or $5.00 for MusicOntario members
19+
More details: http://www.canadianreggaeworld.com/blog/feel-reggae-seminar-september-24th
JuLion King / Canadian Reggae World
JuLion King is the "Canadian Reggae Defender," a long-time Toronto promoter of and advocate for all things Reggae, and the founder of CanadianReggaeWorld.com where for 20 years, he writes about local events, artists, and supports his community through awareness and togetherness.
http://www.canadianreggaeworld.com/
https://www.instagram.com/canadianreggaeworld/
DillanPonders
DillanPonders is a Canadian hip hop recording artist and rapper from Toronto, Ontario. Ponders has performed across North America, as part of festivals like SXSW, Mondo. NYC and on the Smoker's Club tours, as well as alongside some of hip hop's left field leaders, including Flatbush ZOMBIES, Pouya and Father. He's been featured in some of the genre's top publications, including Complex, Noisey, XXL and has headlined Spotify's Northern Bars and Hip Hop Central playlists.
www.instagram.com/dillanponders/
Belinda Brady
Belinda Brady, reggae pop sensation was born in the beautiful island of Kingston, Jamaica. Belinda was inspired at an early age to pursue her dream of becoming a professional musician/entertainer by her father Carl Brady; one of the original members of the iconic Byron Lee and the Dragonaires. During her career, Belinda has performed as a background vocalist and dancer for internationally renowned reggae artist, Shaggy, Julian Marley, and soca icon, Denyse Plummer.
Belinda is a passionate and energetic performer. She is a two-time Juno nominee for her hit singles "Flex" (1998) and "Gifted Man" (distributed in 2003 by EMI on the Master T Reggae Vibes Compilation). Belinda has also won the Canadian Urban Music Award for "Too Late" (1999) for best R&B single. She was awarded as a UN Women honouree in Canada and was their music ambassador for several years. She was honoured as one of the 100th Accomplished Black Canadian Women in 2018.
Belinda has enjoyed much commercial success across Canada and the Caribbean with radio hits: "Wishing You Were Here" (produced by Derek Brin), "Free Your Mind" and "Fall In Love" (produced by legendary duo Sly & Robbie), "Found The One" a collaboration with Chip Fu and "What We Need is Love – Let it Soar" (produced by DJ Marvin Prince) and "I Cried" (produced by herself and Peter Holung). Belinda has also collaborated with superstar Omi, known for his hit "Cheerleader". She collaborated with Omi on hit single, "Peaches" and "Show Me" with (GrooveGalore MuziK). Belinda's most recent release; "Family Love" (produced by GrooveGalore MuziK) is now available in all major online retail stores.
Belinda has a contemporary approach to songwriting and vocal presentations. The musical genres that have inspired her artistry include Pop, Folk, R&B, Jazz, Reggae and Electronic music. Belinda describes her style as a "Marcia Griffiths meets Sade blended in with Natalie Cole, Alanis Morissette, Joni Mitchell and India Arie."
Now Master Coach can be added to a new chapter in her career as she embarks on teaching young up and coming talent including mature artists the vast experience she has carried in her career at the Brady Arts Academy.
Ruth Mathiang
Poet, Singer, Songwriter. World Music, Reggae, Blues, and Music of the Nile.
https://www.instagram.com/ruth_mathiang
The Dub Chronicles
The Dub Chronicles are three brothers/musicians from the Toronto area that are heavily inspired by the golden era of reggae in the 70s/80s. Modern/vintage roots reggae sound; rooted in dub and blended with sparse flourishes of bebop jazz.