MusicOntario @ The Great Escape 2023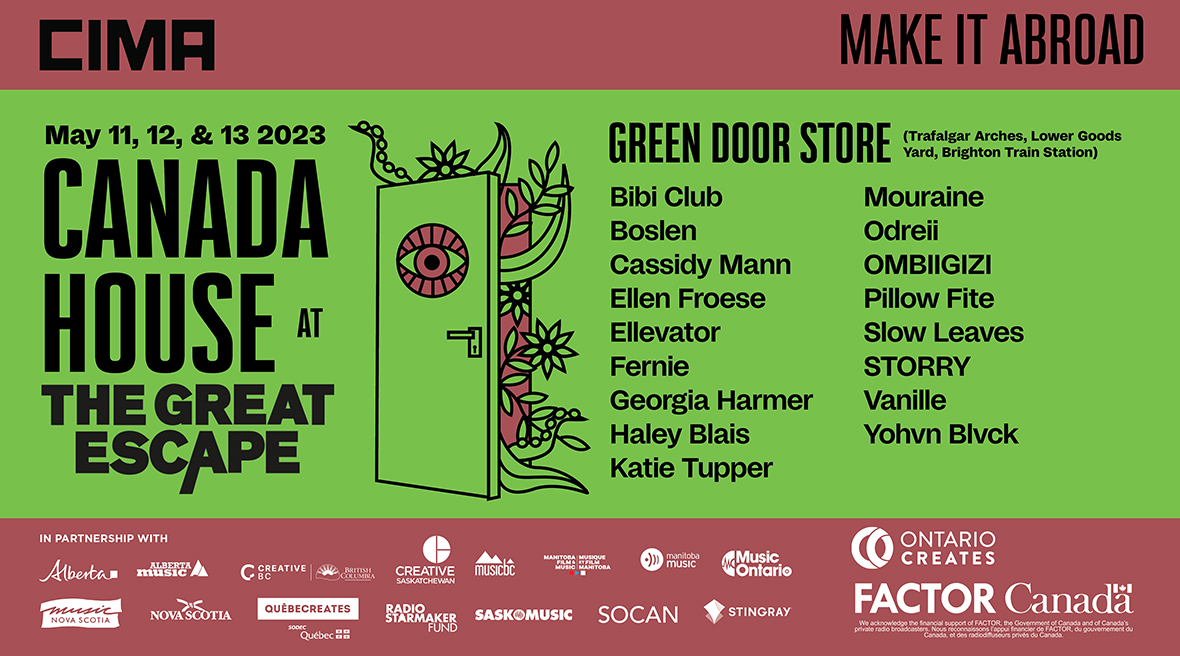 When

Wed 10th - Sat 13th May 2023

Where

The Green Door Store - Brighton, UK

Web
MusicOntario @ The Great Escape 2023
(May 10-13, 2023 in Brighton, UK)
MusicOntario will be partnering with CIMA to present Ontario artists at Canada House during The Great Escape (TGE) in 2023 in Brighton, UK!
The UK is the 3rd largest recorded music market in the world, according IFPI 2021, so TGE presents an important opportunity for artists and companies to showcase, make new contacts, network, and build their international profiles.
The Great Escape is the festival for new music in the UK, showcasing 500 emerging artists from all over the world in 30+ walkable venues across the city. Music industry professionals from across the globe descend on The Great Escape to discover new music and attend the conference run alongside the showcasing component which features panels, keynote speeches, networking opportunities and more. To learn more about The Great Escape, click here.
Read up on this year's Ontario lineup below!
OMBIIGIZI - https://www.ombiigizi.com/
OMBIIGIZI is a Canadian musical project, consisting of Adam Sturgeon of Status/Non-Status and Daniel Monkman of Zoon. Their debut album Sewn Back Together was released in 2022, and was longlisted for the 2022 Polaris Music Prize
ELLEVATOR - https://www.ellevatormusic.com/
Ellevator is a band from Hamilton, Ontario, Canada. Raised on the cool precision of late-aughts guitar music and the melodrama of post-rock, they hold lean hooks and sweeping crescendos in perfect tension. Frontwoman Nabi Sue Bersche wields her arresting lyricism with clear-eyed lucidity, drawing deeply personal reflections from big themes like power, love, and loss.
GEORGIA HARMER - http://www.georgiaharmer.com/
Georgia Harmer is an artist with an unforgettable voice. Born and raised in Toronto, Canada, Harmer has been making music since childhood, writing and recording her songs singe age 10 and touring the world as a backing vocalist while still a teenager. Across her debut album, Stay in Touch, Harmer captures ineffable moments with expressive detail: the euphoric memory of a summer's day so perfect you want to live inside it forever, the dusty heat of a Texas afternoon, a tingle of melancholy on a solo walk home after a party. With a wisdom and poise that belies her youthful age, Harmer has penned an emotionally resonant collection of songs that articulate the ways in which even the most fleeting experiences can forge bonds between strangers, create families out of friends, and one by one form the joys and sorrows that make up a life.
STORRY - https://www.storrymusic.com/
STORRY is a multidisciplinary artist who writes and produces her music, and is intrinsically involved in all aspects of her career from designing album covers to directing award-winning music videos. Her debut concept album 'CH III: The Come Up' was produced and released independently, and was nominated for a 2021 JUNO award for Adult Contemporary Album alongside Celine Dion and Alanis Morrissette. Though rooted in R&B Soul, STORRY is at home in many genres from opera to reggae.