MusicOntario @ BIPOC hArt Music Series 2022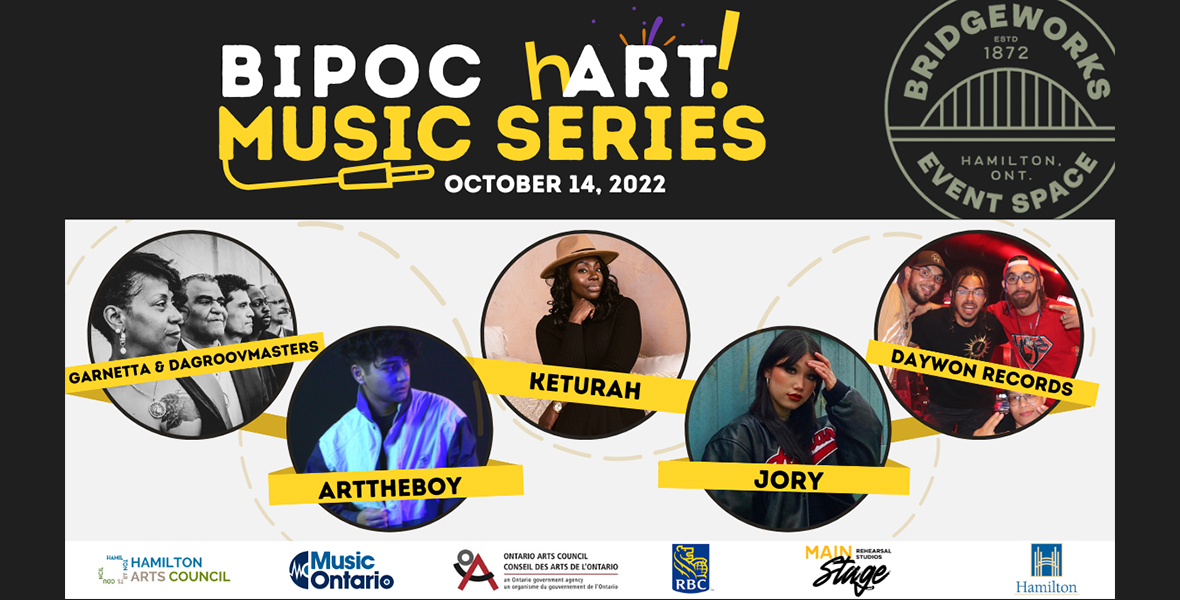 When

Fri 14th October 2022

Where

Bridgeworks, Hamilton, ON

Web
HAMILTON ARTS COUNCIL ANNOUNCE FEATURED ARTISTS FOR BIPOC HART MUSIC SERIES PERFORMANCE AT BRIDGEWORKS, SPONSORED BY MUSICONTARIO
MusicOntario is thrilled to participate in the Hamilton Arts Council (HAC)'s third instalment of BIPOC hArt Music Series! Featured artists and groups from across the Greater Hamilton Area and Six Nations of the Grand River will be performing live on Friday, October 14, 2022. Performances begin at 7:00 P.M. at Bridgeworks, 200 Caroline Street North in Hamilton.
arttheboy (aka Arturo Jiminez) delivers high-energy alternative pop with influences of beat-based music of the late 80's to early 90's. Keturah Morris is a Gospel, Jazz, and Neo-Soul artist who will 'excite and inspire' audiences as she performs with an 8-piece band. DayWon Records (Wes Gray, Gary Walsh, Bryson McDon, Jemma Neal, and Angus Mitchell) are a rap collective, who bring lyrical hip-hop with a fun and thought-provoking high-energy set. Jory is a Canadian-Korean alternative pop singer and songwriter, a former winner of YTV's 'The Next Star' Jory's harmonic influences inspire intensity, smokiness, and fervor. Garnetta & Dagroovmasters deliver powerhouse vocals from Garnetta Cromwell with the Dagroovmaster's soulful blues, their style of upbeat music is sure to bring 'pure joy' to the audience.
Artists were selected by a panel of music industry experts including; DeShaun Jones returning to work with HAC in his role as the music series host and curator; Lisa LaRocca, Director of Operations at local independent label Sonic Unyon Records; Zahra Habib, Award winning DJ, producer, radio host, and music community builder; and Brad Machry, Music management and royalties & licencing specialist.
"These five extraordinary artists are all on a path of professional growth and development" says HAC Programs & Community Engagement Coordinator, David Hudson. "The impact of the BIPOC hArt Music Series is not just limited to an exceptional night of music for audiences, but also professional relationships that are forged by the artists in preparation for (and follow-up from) the show."
The featured artists performances will be professionally filmed and edited to produce valuable resources in their respective career development. The BIPOC hArt Music Series is made possible with funding from Ontario Arts Council, sponsorship provided by MusicOntario, Royal bank of Canada, Mainstage Rehearsal Studios, and support from the City of Hamilton.
For more information about the BIPOC hArt Music Series, including tickets please visit www.hamiltonartscouncil.ca/bipoc-music-series.