​Ask a Lawyer: Legal Questions for Performing Musicians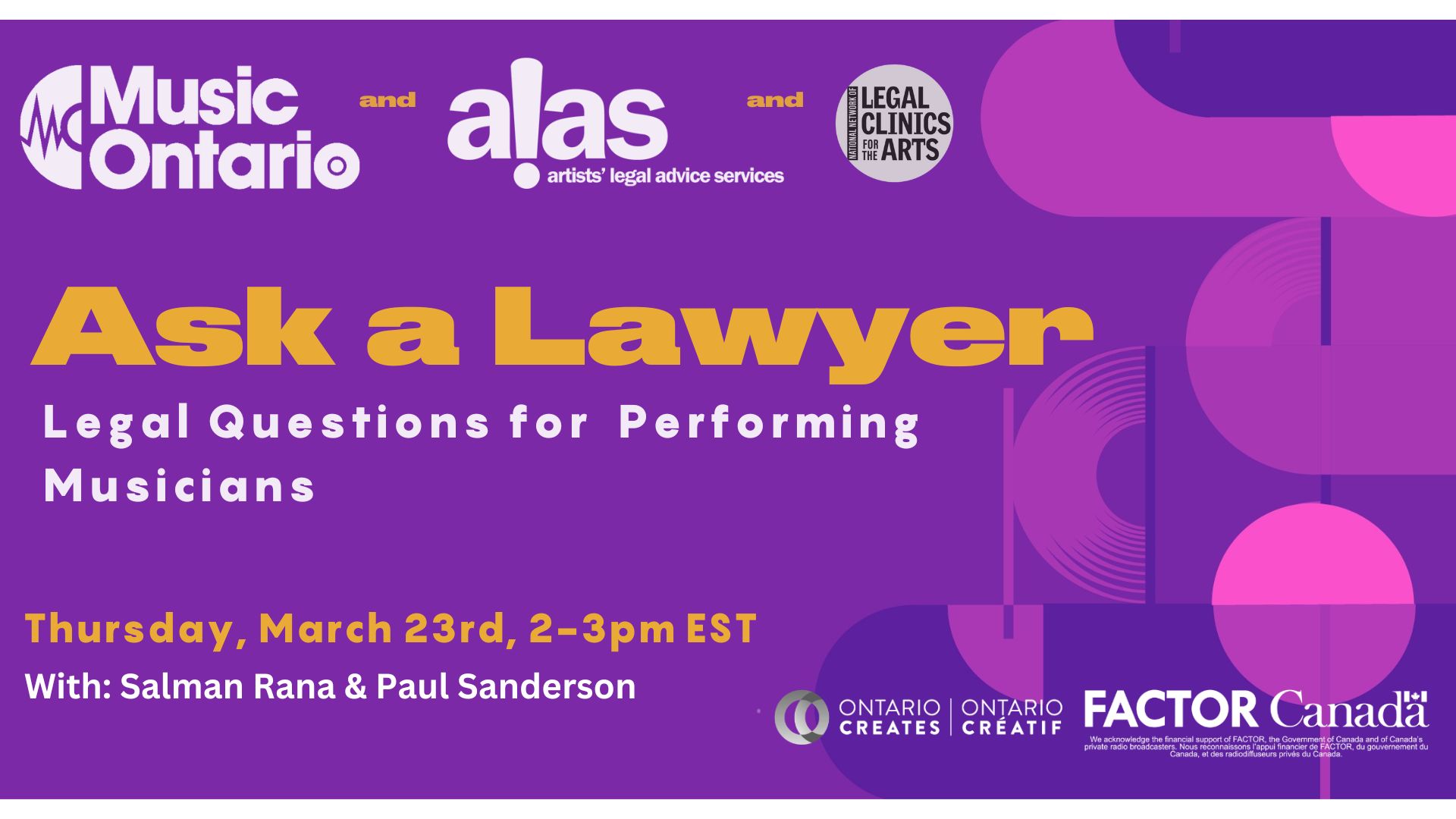 When

Thu 23rd March 2023

Where

Zoom

Web
Ask a Lawyer: Legal Questions for Performing Musicians
Thursday, March 23rd, 2-3pm EST (Zoom)
MusicOntario and Artists' Legal Advice Services(ALAS),in partnership with the National Network of Legal Clinics for the Arts, invite you to join a legal Q&A session with lawyers Paul Sanderson and Salman Rana, on Thursday, March 23rd, from 2-3pm EST.
This educational session will focus on legal issues facing live performing musicians and will give participants the opportunity to ask legal questions related to their careers. This event is being organized to strengthen and support the performing arts sector in music, especially for artists who have been historically underserved and/or discriminated against, and who have lacked access to legal resources.

SPEAKERS:
SALMAN RANA


Salman Rana is an Assistant Professor in the School of Creative Industries and the School of Professional Music. He's a lawyer and legal theorist. His practice based research focuses on law and culture, socio-legal theory, legal pluralism, Hip Hop culture, music law, copyright and human rights. As a lawyer, Salman continues to work on projects ranging from independent releases to major label projects, licensing and music synchronization deals for film and advertising. Salman was a performing artist and a founding member of the Hip Hop artist collective, The Circle, along with celebrated artists Kardinal Offishall, Saukrates, Choclair and Jully Black. He's the co-owner of an experimental Hip Hop label, focusing on both digital and analogue recording and distribution.
PAUL SANDERSON


Since being called to the Ontario bar in 1983, Paul has been in private practice and has practiced entertainment and arts law exclusively. He is currently a sole practitioner in the firm Sanderson Entertainment Law which is located in the upper beaches district in Toronto. For more information visit the firm website at www.sandersonlaw.ca.
Paul is the author of the legal texts "Musicians and the Law in Canada" (Carswell Legal Publications), now in its fourth edition, Music Law Handbook for Canada (Seraphim Editions) and Artists' Contracts: Agreements for Visual and Media Artists (CARFAC Ontario) now in its 2nd edition.
Paul is a co-founder of ALAS (Artists' Legal Advice Services), Canada's first summary advice legal service which offers free legal advice for artists of all disciplines.
He is an instructor at Metalworks Institute of Sound and Music Production and in this position he provides education on such areas as Entertainment Agreements, Contractual and Legal Aspects of Live Show Production, and Intellectual Property.
Paul is also a frequent guest lecturer and speaker on legal aspects of arts and entertainment law. See sandersonlaw.ca for a list of lectures/guest speaking engagements.
ABOUT ALAS
For 35 years, Artists' Legal Advice Services (ALAS) has worked to empower Ontario's creative community by providing access to summary legal advice, information, and education. ALAS is operated by volunteer entertainment and intellectual property lawyers, fellow creators, and law students who generously donate their time to help provide advice to those who may not be able to access more expensive alternatives. ALAS assists creators in three main ways: our educational sessions, our bi-weekly legal clinic, and our legal database.
www.alasontario.ca/

ABOUT MUSICONTARIO
MusicOntario is a non-profit, membership-based provincial Music Industry Association (MIA), whose mission is to provide professional development, education, information, and support to the music industry of Ontario. For 0 nurture, elevate, and empower emerging companies and artists in Ontario's indie music sector. We help.