MusicOntario @ the CMAOntario Festival & Awards - R2i Conference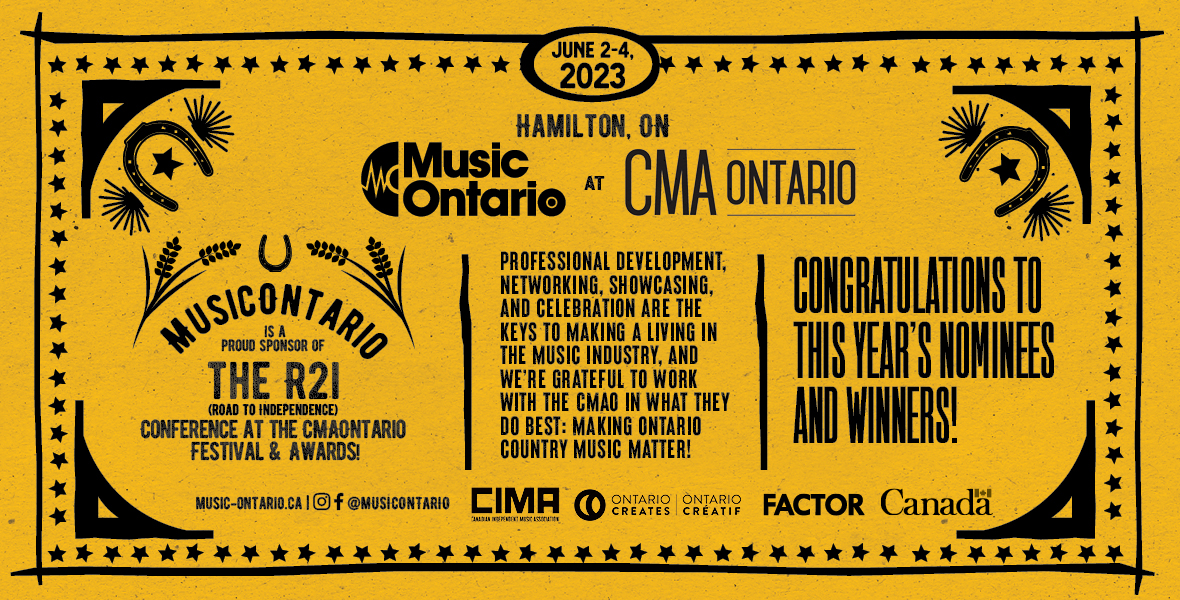 When

Fri 2nd - Sun 4th June 2023

Where

Hamilton, ON

Web
SATURDAY JUNE 3
9:00AM REGISTRATION
9:50AM – 10:00AM WELCOMING ADDRESS
10:00AM – 11:10AM THE POWER OF PRODUCTION: HIT PRODUCERS TALK TRACKS
Great production is as essential to a song's success as a great lyric and melody. It's the result of a producer capturing the idea of the song perfectly and bringing it to life. Our brain trust of producers will explain how they help turn a song into a recording that's more than the sum of its parts and how your favourite music is transitioned from demo to final mix.
Rick Hutt, Cedartree Recording Studio - Moderator
Jeff Dalziel, Producer
Mitch Merritt Producer
Colin Linden Producer
11:15AM – 12:20PM HOW TO MAKE IT IN THE NEW MUSIC BUSINESS
Success in the music industry today isn't measured the same way as it was 10 years ago. Artists are doing more for themselves and making returns on their creative investments without the traditional trappings of a record deal. In this session, experts from diverse areas of the business will weigh in on different aspects of the industry and offer eye-opening insights on building a more profitable career - from mastering the digital landscape, to conquering social media, embracing authentic fan connections and more.
Samantha Pickard, Strut Entertainment - Moderator
Mike Denney, MDM Recordings
Ron Kitchener, RGK Entertainment Group
Mark Schroor, Workshop Music Group
Amanda Kingsland, Universal Music Canada
1:45PM – 2:50PM OLD ROOTS, NEW ROUTES
With modern country bleeding into the pop, rock and even hip-hop landscape, the genre's vital roots have also pushed the boundaries and taken on their own stylistic shift. The rise of streaming services has given the genre accessibility and mainstream visibility. Panellists will examine today's description of a Roots artist, discuss the most effective exposure platforms and consider how to capitalize on the momentum.
Shane Guse, The Western Swing Authority - Moderator
Scotty Kipfer, Artist
Callie McCullough, Artist
The Redhill Valleys, Artist (Chelsea and Tim)
3:00PM – 4:00PM SO YESTERDAY: WHY IS RADIO STILL IMPORTANT?
The past decade has seen a shift in audio consumption and streaming has revolutionized the music business. Despite the change, radio remains an important vehicle for new artists to be discovered and established artists to stay relevant. In this session, professionals from radio and promotion will discuss getting programmers' attention, considerations for airplay, influence of streams, demographics, and more.
Anya Wilson, Anya Wilson Promotion & Publicity - Moderator
Dani Strong - Taylor Entertainment
Jon Pole, President, MBC/Country 89
Wendy Boomer, Country 92.3
Jeff Leake, SiriusXM
4:15PM – 5:15PM DEMORAMA: A LIVE FEEDBACK SESSION
A perennial favourite, the Demorama Listening Session provides you with the captive audience you've always wanted. Here, seasoned music professionals will play and review selected recordings from the CMAOntario audience, share their reactions to your work and discuss what makes a strong first impression and why.
Brian Allen, Amplus Productions - Moderator
Dwave Thomson, Producer/Songwriter
Mitch Merritt, Producer/Manager
Jeff Dalziel, Producer/Songwriter
SUNDAY JUNE 4, 2023
10:00AM – 11:10AM MEET THE FESTIVALS
The festival experience can be a boon to exposure-hungry talent looking for a break in front of the biggest crowds of their career. We've assembled programmers from various festivals to offer insight on how to break into the festival scene and what to do with the opportunity.
Paul Biro, Sakamoto Agency - Moderator
Brooke Dunford, Boots & Hearts
KT Timmermans, Manitoulin Country Fest
Myles Rusak, Sound of Music
11:15AM – 12:20PM MAKING GOLD FROM INK: WHAT MAKES A JOURNALIST PAY ATTENTION TO (OR IGNORE) YOUR STORY?
What to approach a music journalist? Before you hit "send" on that next email, hear our expert music journalists and PR dish on etiquette, and why it's essential to understand what they do and don't do. They will address best methods for approaching them, material to be considered newsworthy, impacts of viral content and more.
Samantha Pickard, Strut Entertainment - Moderator
Nick Krewen, Freelance Journalist
Jessica Lemmon, Lemmon Entertainment
Adam Gonshor – Collabo PR
12:30PM – 1:30PM SOCAN: THE INS AND OUTS OF RIGHTS AND ROYALTIES
(Luncheon Presentation) Every day audiences engage with music in a variety of ways; streaming on the way to work, attending a concert, theme music from their favourite tv show, or background music while you shop or hit the gym. In each case, the music creators/rights owners are entitled to royalties. SOCAN tracks millions of micro-transactions every day through specialized software and systems that match the songs being used to the license fees being paid by our music business partners like Spotify, Netflix, YouTube, and Live Nation to name only a few. SOCAN licenses more than 100,000 businesses across Canada. In this session, SOCAN Creative Representative, Houtan Hodania, Creative Executive, East Coast will cover royalty administration, performing and reproduction rights management, sync placements, how to register your songs, how your music is licensed, and why SOCAN is an important first step in ensuring you are paid the royalties you've earned whenever your music is performed, reproduced or used in any way, in Canada and around the world.
Houtan Hodania, Creative Executive, East Coast - Presenter
1:45PM – 2:50PM ON THE MOVE: TOURING STRATEGIES FOR INDEPENDENT ARTISTS
A tour creates opportunity. If planned out strategically in advance, a tour can reap many positive benefits beyond the likes of revenue, including building audiences, gaining media attention, building industry connections, and carving out performance experience. During this session, panellists will discuss strategies for market and venue selection, boosting visibility to agents and offer tips for thriving on the road.
Dani Strong, Taylor Entertainment - Moderator
Kathleen Reid, The Feldman Agency
Paul Biro, Sakamoto Agency
Erik Fintelman, The Workshop Group