​NFTO, Crypto Chicks, & MusicOntario present: Futurist Kickoff Party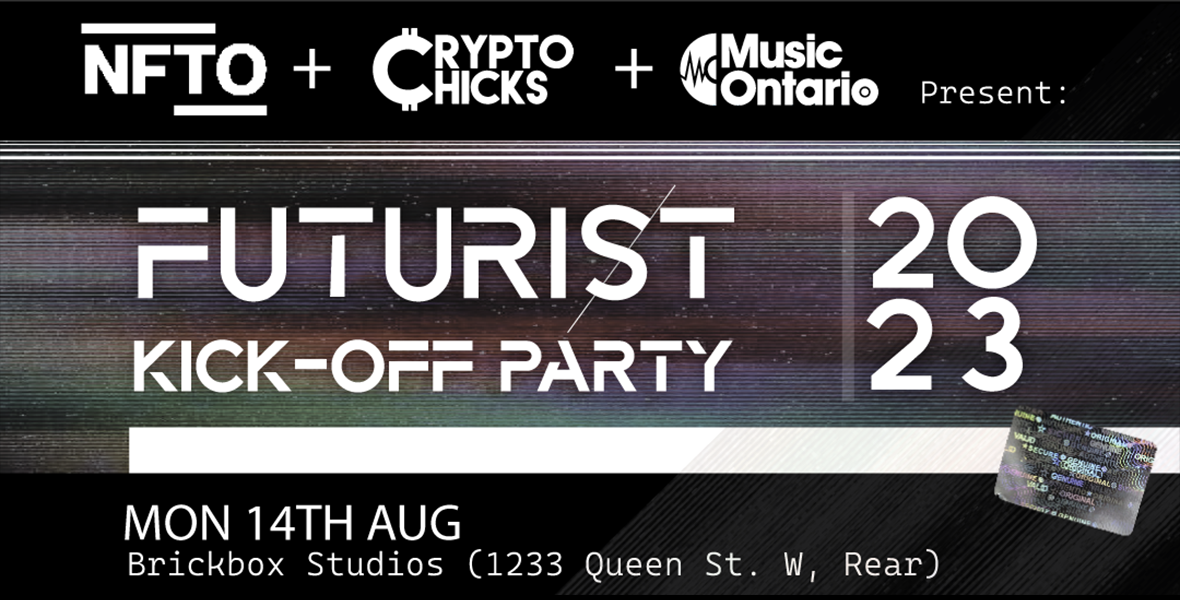 When

Mon 14th August 2023

Where

Brickbox Studios (1233 Queen St. W, Rear, Toronto, ON)

Web
NFTO, Crypto Chicks, & MusicOntario present: Futurist Kickoff Party
Monday, August 14, 2023 @ Brickbox Studios (1233 Queen St. W, Rear, Toronto, ON)
Blockchain Futurist 2023 is back in TO for Canada Crypto week, and NFTO, Crypto Chicks, and MusicOntario have partnered with community leaders from Crypto Babes, and the Telos Foundation for a day of tech talks, networking, and good times to explore where the worlds of Web3, music, and crypto converge.
Our day begins with Web3 educational sessions tailored for the independent music and arts sectors, offering a deep dive into blockchain, NFTs, and AI, exploring the possibilities they open.
This is a welcoming space for newbies and pros alike from both the music and tech sectors. Don't be shy if emerging tech is foreign to you – there's no time like the present to start learning the basics and networking with peers to build a strong foundation across both industries as an artist or biz professional!
As day turns to night, dive into an immersive networking and party experience featuring live DJ, local NFT art, music, and drinks. Engage with a diverse crowd of artists, innovators, and blockchain enthusiasts while savouring the best of local culture.
Join us on this exciting day, be part of the future of art, music, and finance, and witness the disruptive potential of blockchain.
3:00pm: Doors
4:00pm: Emerging Tech & Music
5:00pm: Music NFTs 101
6:00pm: Marketing in Web3
7:00pm: Networking & DJ till late!