MusicOntario @ Folk Music Ontario 2023 - Showcase Lineup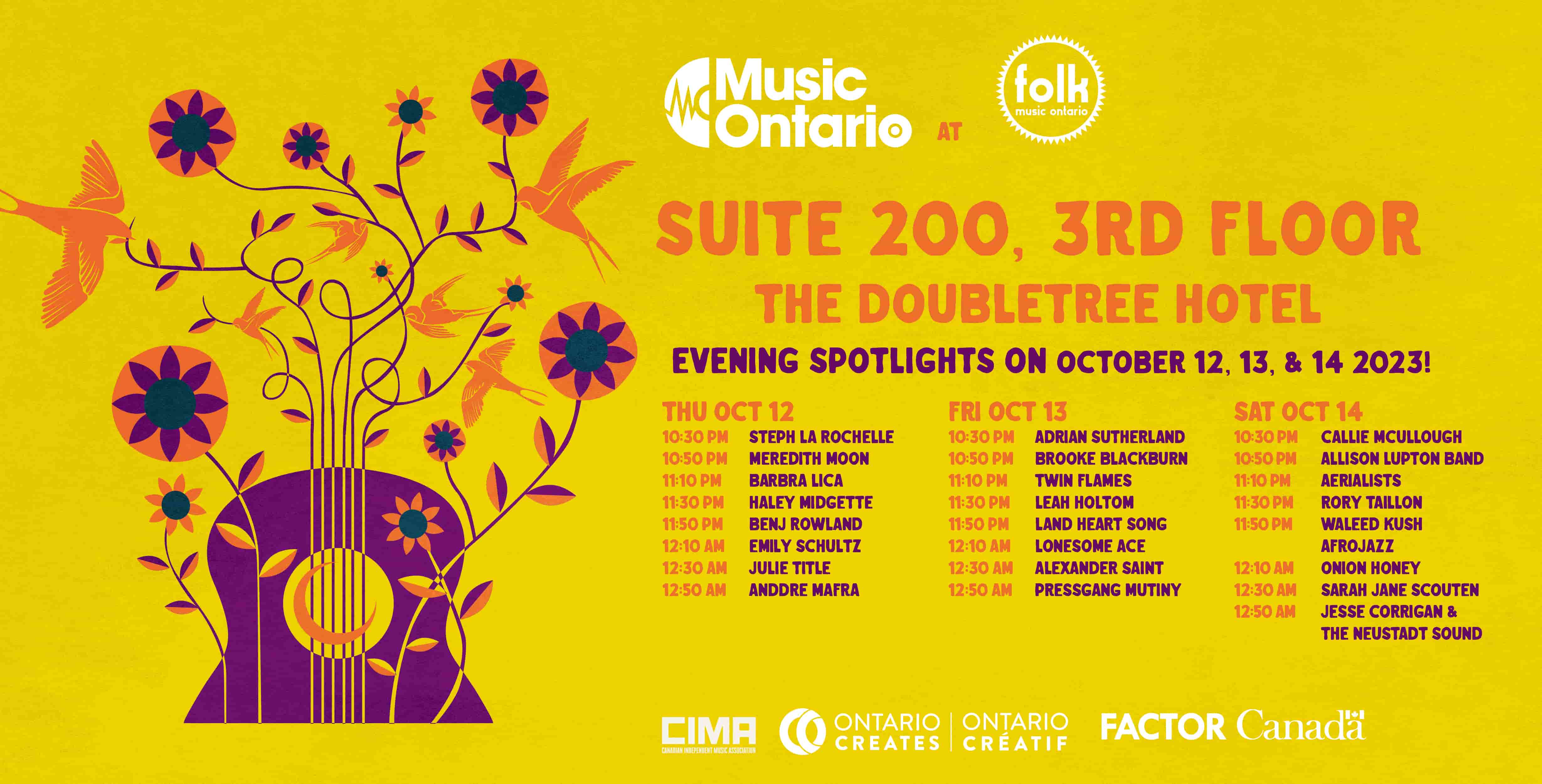 When

Thu 12th - Sat 14th October 2023

Where

The DoubleTree by Hilton Hotel London Ontario (300 King St, London, ON N6B 1S2)
MusicOntario is pleased to present 3 days of showcasing at this year's Folk Music Ontario Conference, October 12, 13 & 14 2023! Meet the artists/bands performing at the Doubletree by Hilton Hotel in London,Ontario next weekend.
THURSDAY
10:30 PM - STEPH LA ROCHELLE
Breathtaking vocals, heart warming guitar playing, Steph La Rochelle is making her mark. A CCMA Discovery finalist and CCMA award nominated. Most recently starred in Toronto, National Tour, and appeared in UK WestEnd productions of Broadway hit, DearEvanHansen where she collaborated with Alex Lacamoire at The Bluebird in Nashville. An old soul with a gift to share, this songstress will always leave a captivating performance. Factor-funded EP, Wildflower, available now.
10:50 PM - MEREDITH MOON
Meredith Moon has spent the last decade travelling her home of Canada, and the world, by multiple means, finding inspiration for her unique style of songs which are crafted in a true storyteller's fashion. She has been described as a 'gem' among the Old-Time music scene for her unusual expression of the genre, combining influences of folk-punk with traditional Appalachian sound.
11:10 PM - BARBRA LICA
Barbra Lica is a JUNO-nominated singer-songwriter based in Toronto who has headlined on stages around the world. Her 2018 album, You're Fine, a cross-genre project combining elements of jazz, folk, and indie pop, has amassed over 5.4 million streams to date on Spotify. She is currently promoting her first ever self-produced EP "Imposter Syndrome".
11:30 PM - HALEY MIDGETTE
Haley Midgette is a Toronto-based actor and singer-songwriter from Scarborough, Ontario. Combining a classic folk sound with modern atmospheric elements, Haley's music is driven by vulnerable, introspective lyrics, and melodies both elegant and catchy. She's appeared in indie films and national commercial broadcasts in the US in Canada.
11:50 PM - BENJ ROWLAND
Benj Rowland is the singer-songwriter and instrumentalist behind the well loved Canadian folk duo Mayhemingways. Having toured across Canada many times as part of a band, Community Garden is Benj's first solo album released under his own name. Recorded and produced by Joel Plaskettat his Dartmouth Studio, the album features a collection of songs that speak to small town Ontario.
12:10 AM - EMILY SCHULTZ
Recognized by David Foster as a world-class, up-and-coming talent, Emily Schultz's honest songwriting, dynamic voice and raw onstage presence is highly inviting, invoking nostalgia, hope and light with her fresh take on folk.
12:30 AM - JULIE TITLE
Julie Title is a singer-songwriter based in Toronto, Canada. Her style is influenced by 70s folk as well as the wave of confessional women songwriters she grew up with in the 90s. In 2021, she received the Colleen Peterson Songwriting Award from the Ontario Arts Council and Folk Music Ontario for her song "Ghost". In 2022, "Four Horsemen" was nominated for Folk Music Ontario's Song of the Year Award. Her original music has been featured on ABC's hit TV show "The Fosters" as well as the popular CBC drama "Burden of Truth". Title's music has also been featured regularly on SiriusXM's "North Americana", CBC Music, and roots stations across Canada, the US and the UK. Nashville's "Music Mecca" recently described her songwriting as "lucid and poetic... open-ended and timeless." Title's debut full length record "After the Sun" was released in August 2022.
12:50 AM - ANDDRE MAFRA
Anddre Mafra and The Reflections are a folk collective from London. Anddre was a Spotlight Showcase performer at the Folk Music Ontario Conference (2022). Nominated for the EMAC Studios Band of the Year at Fanshawe (2023), "Anddre and The Reflections" portray the feeling of an intimate living room at each show.
FRIDAY
10:30 PM - ADRIAN SUTHERLAND
Adrian Sutherland is a roots-rock recording artist with heart from Attawapiskat on James Bay. He?s a singer, songwriter, speaker, author, advocate, entrepreneur, and the fascinating founder and frontman of all-Cree rockers Midnight Shine. He's also a traditional knowledge keeper and respected cultural leader, fluent in Mushkegowuk Cree. After constructing his own recording studio inside a shipping container during the pandemic, Adrian worked remotely with producers Colin Linden (Nashville) and Tim Vesely (Toronto) to record debut solo album "When The Magic Hits " earning nominations at the 2022 JUNO Awards and 2023 Canadian Folk Music Awards.
10:50 PM - BROOKE BLACKBURN
Brooke Blackburn Canadian Singer Songwriter Guitarist for Juno nominated band The Blackburn Brothers formed The Bentley Collective as an Acoustic Soul solo project. As a songwriter and a descendent from enslaved peoples that came to the north to search for freedom there is a focus on a historical events on many compositions. With the release of TBC's solo album, Songs, the band has been performing throughout Toronto and have established a few weekly residencies that keeps the vibe fresh. Through the shutdown the to opportunity to write and record at home set-forth a single release, "Heroes" and another 2 albums worth of material that will be released in 2023/ 2024 and could be heard presently on stage during the bands live performances. I recently perforfomed in Memphis at the International Blues Competion (IBC) and reached the semi finals. The music has a message and a groove.
11:10 PM - TWIN FLAMES
Critics have tried to label the music of Twin Flames and It isn't an easy task, and really, labels only serve the needs of those who choose to employ them. From the beginning, husband and wife duo Chelsey June, have decided to let their music speak for itself. It's beautiful to see they've got something special going on 4x Canadian Folk Music Award recipients, 3x Native American Music Award Winners, 3x Summer Solstice Indigenous Music Awards Winners.
11:30 PM - LEAH HOLTOM
With her tender, yet powerfully soaring vocals, Leah has always had a gift to impact people with her music. Born and raised in Brampton, 22 year old Leah truly embodies and embraces the storytelling nature of country, folk and bluegrass music, aiming to bring connection and authenticity through her artistry.
11:50 PM - LAND HEART SONG
Land Heart Song is Tiiu Strutt (she/her), a songwriter and educator, passionate about supporting families and children in nurturing their love for the land through song. With catchy melodies and endearing stage presence, Land Heart Song's performances spark wonder and joy, inspiring everyone in the family to sing along and deepen their relationship with the natural world.
12:10 AM - LONESOME ACE
The Lonesome Ace Stringband is an old time trio with bluegrass chops that plays really good folk music. With trio vocals over fiddle, banjo and bass, they draw the listener in with a sound that ranges from sparse fragility to a joyous bellow that sounds like a much bigger band.
12:30 AM - ALEXANDER SAINT
Alexander Saint is an artist with bloodlines, deeply tied to the Toronto music scene through his Guyanese-Canadian father. Saint's music is a mature take of honest storytelling about loss, love, and getting off your damn phone.
12:50 AM - PRESSGANG MUTINY
Pressgang Mutiny is a Toronto-based quartet of dynamic musicians and tall ship sailors, dedicated to discovering shanties and work songs and the people who sing them. They have toured extensively across Canada, the US, UK, and Europe, showcasing the world's first truly multicultural music. They are currently producing a record and documentary film with traditional shanty singers and sailors from St. Vincent and the Grenadines.
SATURDAY
10:30 PM - CALLIE MCULLOUGH
A modern songwriter inspired by timeless bluegrass and old-school country music, Callie McCullough has chased her unique muse for years, making contemporary roots music that nods to the legends who came before her. It's a sound anchored by intimate ballads and McCullough's gorgeous voice, whose Alison Krauss-worthy tone and Dolly Parton-sized beauty stand in contrast to her dry humor and larger-than-life personality. McCullough's Debut album has quickly put her on the map garnering a Canadian Country Music Association CCMA Nomination for Alternative Country Album of the Year, two CMAO Nominations for Rising Star and Songwriters of the Year, National Television Appearances, and glowing features from Industry giants Billboard Magazine, American Songwriter, and CMT. Emotional and eclectic, After Midnight features first-class picking from members of the Grammy-winning bluegrass band Union Station and western-swing super-group The Time Jumpers.
10:50 PM - ALLISON LUPTON BAND
Acclaimed singer/songwriter, flutist and multiple CFMA nominee, Allison Lupton delights listeners with story songs and tunes that take you away to another time and then dance you home again. She has released 4 solo albums, touring here at home and across the UK with members of her all-star band featuring Andrew Collins, Shane Cook, Tony McManus, Joseph Phillips and Ivan Rosenberg. Her most recent release "Words of Love" earned Allison a CFMA nomination for "Traditional Singer of the Year".
11:10 PM - AERIALISTS
JUNO nominated neo-folk group Aerialists take a distinctive hybrid approach to tradition, combining deep roots in Scottish Gaelic, Norwegian, and Irish folk music with a unique post rock bent. On harp, fiddle, guitar, bass, & drums, Aerialists are ethereal yet precise, technical yet visceral.
11:30 PM - RORY TAILLON
Ottawa-based singer/songwriter Rory Taillon is a road warrior, touring across the country and back again. He has the soul of the East coast but the sound of the West in his songs with a voice to match the majesty of the Rockies. Because Rory Taillon is not just an entertainer he is a performer. It's just that simple, when Rory Taillon sings everything stops and when it starts again it has all changed. It's just that simple, like folk.
11:50 PM - WALEED KUSH AFROJAZZ
The Waleed Kush African Jazz Ensemble takes the improvisational qualities of jazz and the beat of ancient African rhythms to literally move, excite and inspire new and old audiences alike.
12:10 AM - ONION HONEY
Onion Honey makes music like an old-fashioned string band - sweet and sharp and savoury, mountain music fresh from the Grand River Valley. The Kitchener-based quartet play retrofitted traditional tunes and original songs with old souls; they have been heard on radio stations across Canada and gig regularly around Southwestern Ontario.
12:30 AM - SARAH JANE SCOUTEN
Four-time Canadian Folk Music Award nominee, Sarah Jane Scouten is a songwriter of rare quality, combining sounds of early country music, ballad singing, folk rock and 60's soul. It?s modern indie Americana that knows exactly where it comes from, with confidence and sophistication only bought by time. Surrounding herself with top-notch musicians, the live show is as dynamic as her four (soon to be five) albums: at any moment making feet move or eliciting laughter or tears. She is dry, funny, irreverent yet generous. She has a job to do and she takes it very seriously: to entertain, to inspire and to be cathartic. An ever expanding palette and a warbling iconic country voice honed over many a campfire brings a freshness to her brand of ambient indie Americana. It's as relevant today as it is rooted in the music of her forebears.
12:50 AM - JESSE CORRIGAN & THE NEUSTADT SOUND
Jesse Corrigan & The Neustadt Sound bring energy, enthusiasm and experience beyond their years to all their shows. From foot-on-the-floor funky country burners to harmony heavy heart break ballads, these cats are always sure to deliver.