The Listening Party: Music Producer Showcase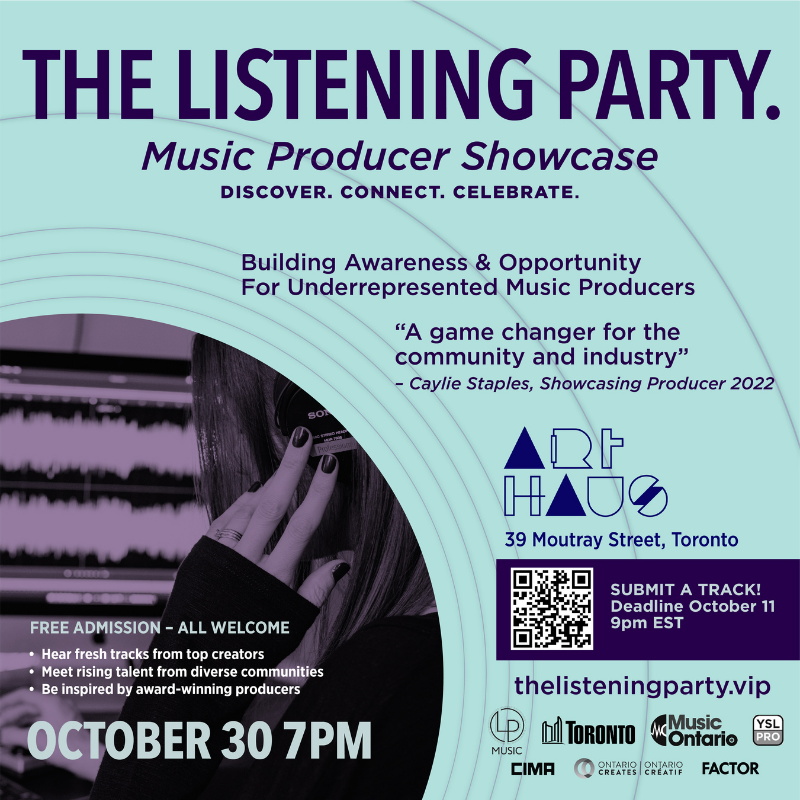 When

Mon 30th October 2023

Where

30 Moutray St, Toronto, ON M6K 1W2

Web
WHAT & WHY
Monday October 30th, 2023, 7PM
Art Haus, 39 Moutray Street, Toronto, Ontario.
The Listening Party is a not-for-profit curated event series building awareness and opportunity for underrepresented music producers. All are welcome to join creators, fans, public, industry and media in an informal gathering with pro studio monitors to discover, celebrate & elevate the profiles of talented producers. By extension the series also raises the profiles of all the workers involved in making a recording: songwriters, engineers, musicians, singers, lyricists, rappers, studios. The event closes with friendly networking and community building hang. FREE ADMISSION.
"A game changer for the community and industry" - Caylie Staples, showcasing producer 2022
Awareness is the first step to increasing professional work opportunities and collaborations that boost careers. You can't hire a producer you don't know exists. The industry has made strides in recent years towards inclusion, however marginalized communities continue to face unique challenges. This showcase is more than a one night celebration: it will create lasting impressions that result in empowerment, opportunity, community and legacy.
Please note: If selected your presence is required at the event.
CALL FOR SUBMISSIONS!
Are you a woman, non-binary, BIPOC music producer? Submit a track you produced over the past 18 months to be considered for a feature in the upcoming October 30th 3rd edition of The Listening Party Music Producer Showcase!
SUBMISSIONS NOW OPEN UNTIL OCTOBER 11, 9PM - Visit: www.thelisteningparty.vip