MusicOntario @ MaMA 2023 - Canada as a music market to discover: the essentials for a better understanding of the country and its regional specificities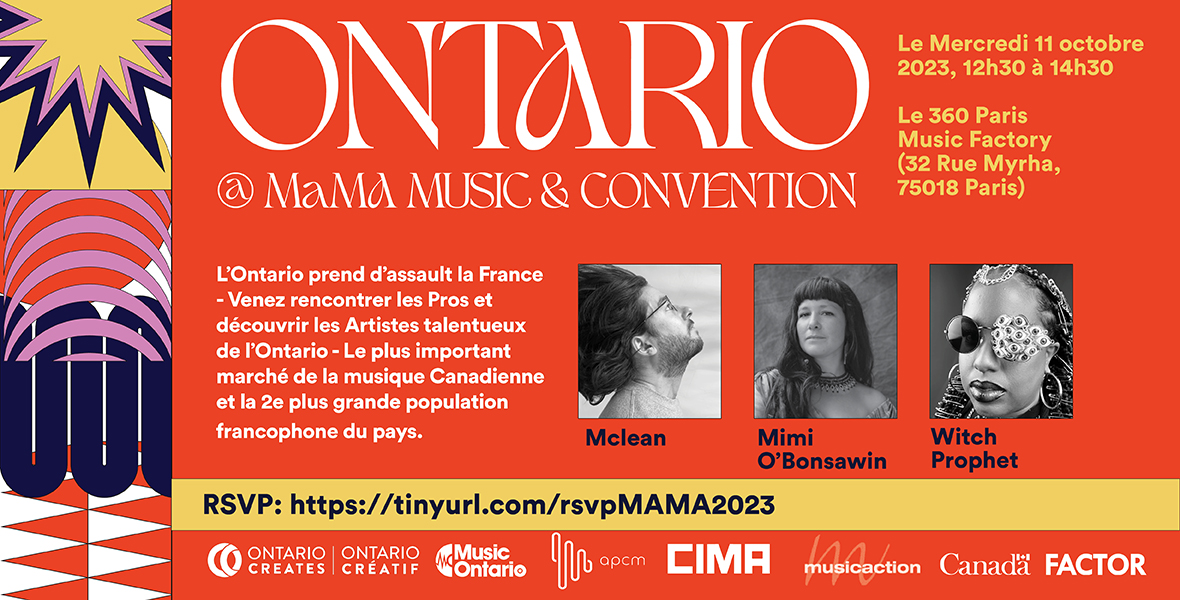 When

Wed 11th October 2023

Where

Paris, FR

Web
Le canada comme marché musical à découvrir : l'essentiel pour mieux comprendre le pays et ses spécificités régionales
11 Octobre 2023, 16:00 - 17:00 @ Élysée Montmartre - Stage
Proposé par : MUSICACTION x SODEC x FACTOR x MUSIC BC x MUSIC ONTARIO x MUSIC NOVA SCOTIA x FÉCANE x ANIM x MA CABANE À PANAME
Bien que le Canada soit un des plus importants marchés de la musique, il reste relativement méconnu en Europe et recèle des réalités fort différentes d'une région à l'autre. Cette conférence s'adresse aux professionnel.le.s de la musique qui songent à développer le Canada comme marché d'export et qui veulent parfaire leurs connaissances du pays.
Intervenants:
Jean-Phillippe Sauvé (SODEC) – Modérateur
Trevor Murphy (Music Nova Scotia)
Stephen Franke (Blue Crane Music)
Catherine Simard (Maison Fauve)
Andre Guerrette (Paquin)
Sandy Boutin (FME)
Canada as a music market to discover: the essentials for a better understanding of the country and its regional specificities
October 11, 2023, 16:00 - 17:00 @ Élysée Montmartre
Presented by: MUSICACTION x SODEC x FACTOR x MUSIC BC x MUSIC ONTARIO x MUSIC NOVA SCOTIA x FÉCANE x ANIM x MA CABANE À PANAME
Although Canada is one of the world's most important music markets, it remains relatively unknown in Europe, with very different realities from one region to another. This conference is aimed at music professionals who are thinking of developing Canada as an export market, and who want to learn more about the country.
Panelists:
Jean-Phillippe Sauvé (SODEC) – Modérateur
Trevor Murphy (Music Nova Scotia)
Stephen Franke (Blue Crane Music)
Catherine Simard (Maison Fauve)
Andre Guerrette (Paquin)
Sandy Boutin (FME)