MusicOntario & JAZZ.FM91 present Tune Up Toronto: Focus on Jazz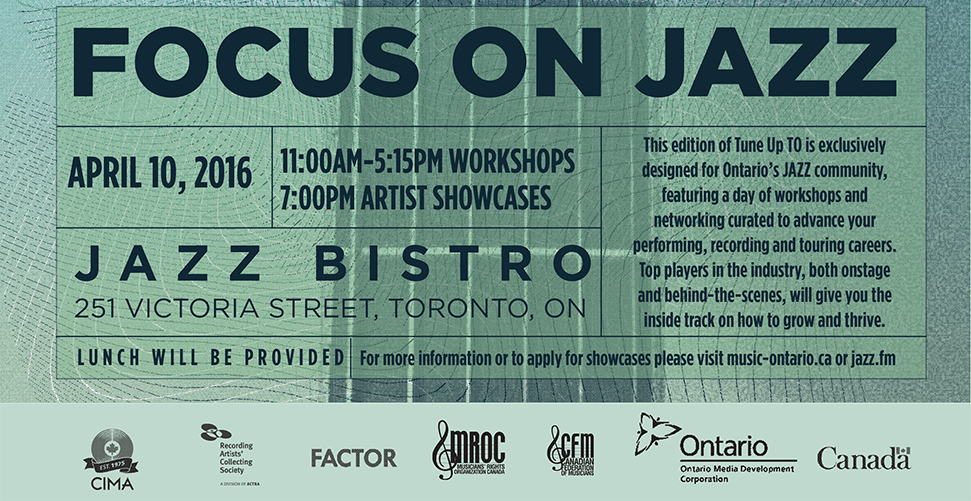 When

Sun 10th April 2016

Where

JazzBistro, 251 Victoria Street, Toronto, ON

Tagged as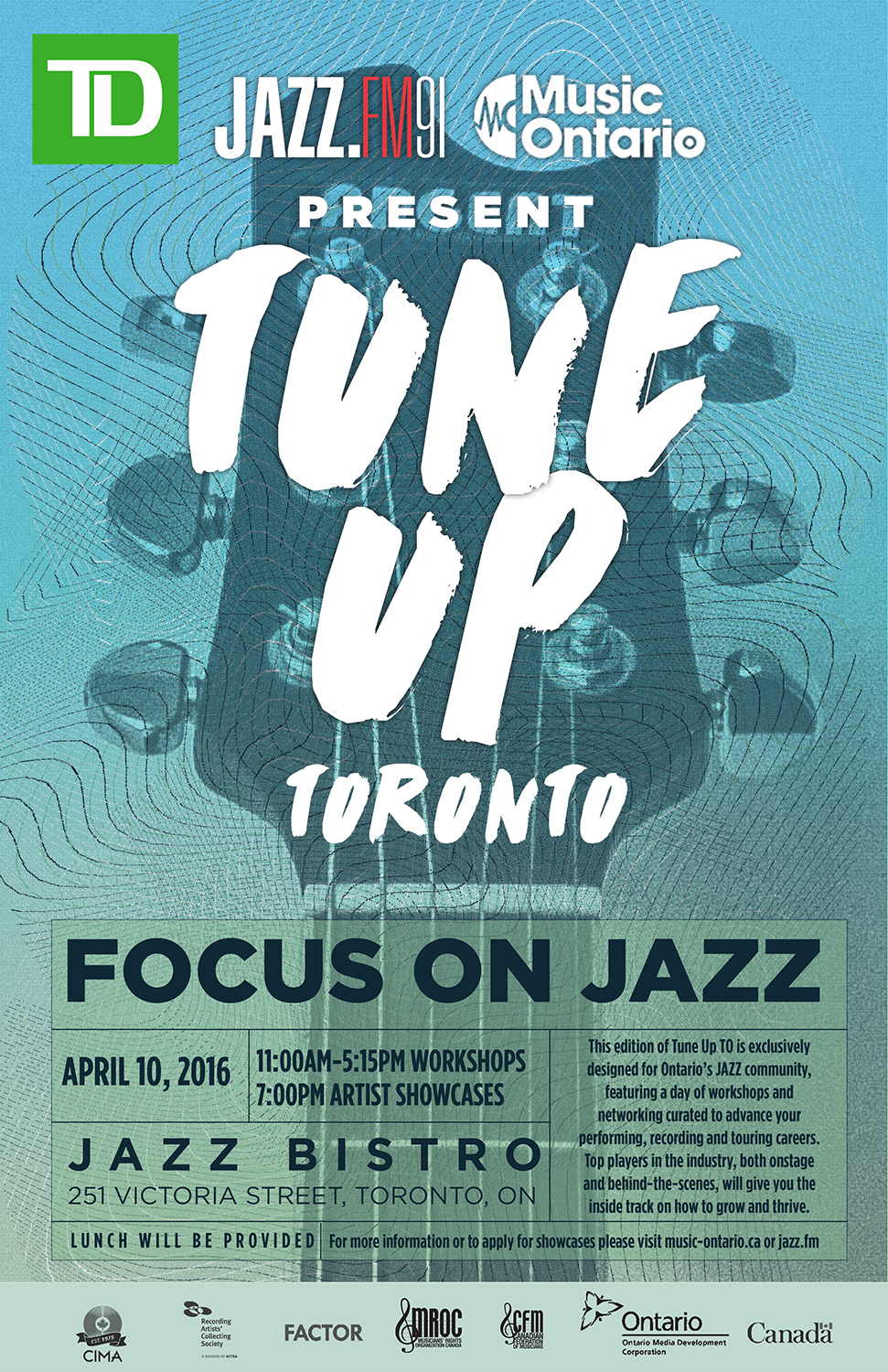 This edition of Tune Up TO is exclusively designed for Ontario's JAZZ community, featuring a day of workshops and networking curated to advance your performing, recording and touring careers. Top players in the industry, both onstage and behind-the-scenes, will give you the inside track on how to grow and thrive.
We are offering a full day of workshops, followed by a networking session, and showcase. Space is limited, so register now to guarantee your spot 
http://tuneuptojazz1.eventbrite.ca 
MusicOntario & Jazz.FM present Tune Up Toronto: Focus on Jazz
April 10, 2016 at the Jazz Bistro, 251 Victoria St, Toronto, ON
FULL SCHEDULE ANNOUNCED!
11:00AM
OPENING REMARKS
11:30AM
 PRESENTATION -
Risky Business: Taxes, Finances, and Risk Management for Musicians - 
"Finance professionals weigh in on the dos and don'ts of how to manage your money." Panelists:
Chris Case, Jae Gold, Sam Arraj 
12:45PM
PANEL –
Get heard! Tools and tips for getting your music publicized, marketed, and on the airwaves
. Panelists:
Jane Harbury, Marilyn Gilbert, Brad Barker, Richard Underhill 
1:45PM
LUNCH
3:00PM
 PANEL - 
The Art of Making a Living
- "The self-managed artist has to play many roles as their career progresses. When do you ask for help, and from who? This panel will focus on the for, and not-for profit businesses and organizations such as managers, publicists, agents, unions, music industry associations, and how artists can monetize their music to make a living in todays ever-changing musical climate." Panelists:
Aaron Davis, Shakura S'Aida, Andrew Craig, Sophie Millman
4:15PM
PANEL –  
Which Way To The Gig? Tours, Gigs, Festivals, and Getting Out There With Tips From The Pros. - 
"We've assembled an expert team of agents, artists, festival and venue bookers to share their experiences in booking independent artists." Panelists:
Ralph James, Josh Grossman, Derek Andrews, Lara Farcasan 
5:30PM NETWORKING SESSION
6:30PM
BREAK
7:00PM SHOWCASE 
Lunch will be provided Submissions to showcase are now closed. Selected artists will be notified April 1, 2016. For more information feel free to contact 
rosalyn@music-ontario.ca