OMDC & MusicOntario @ SXSW 2017 - Bring It ONtario!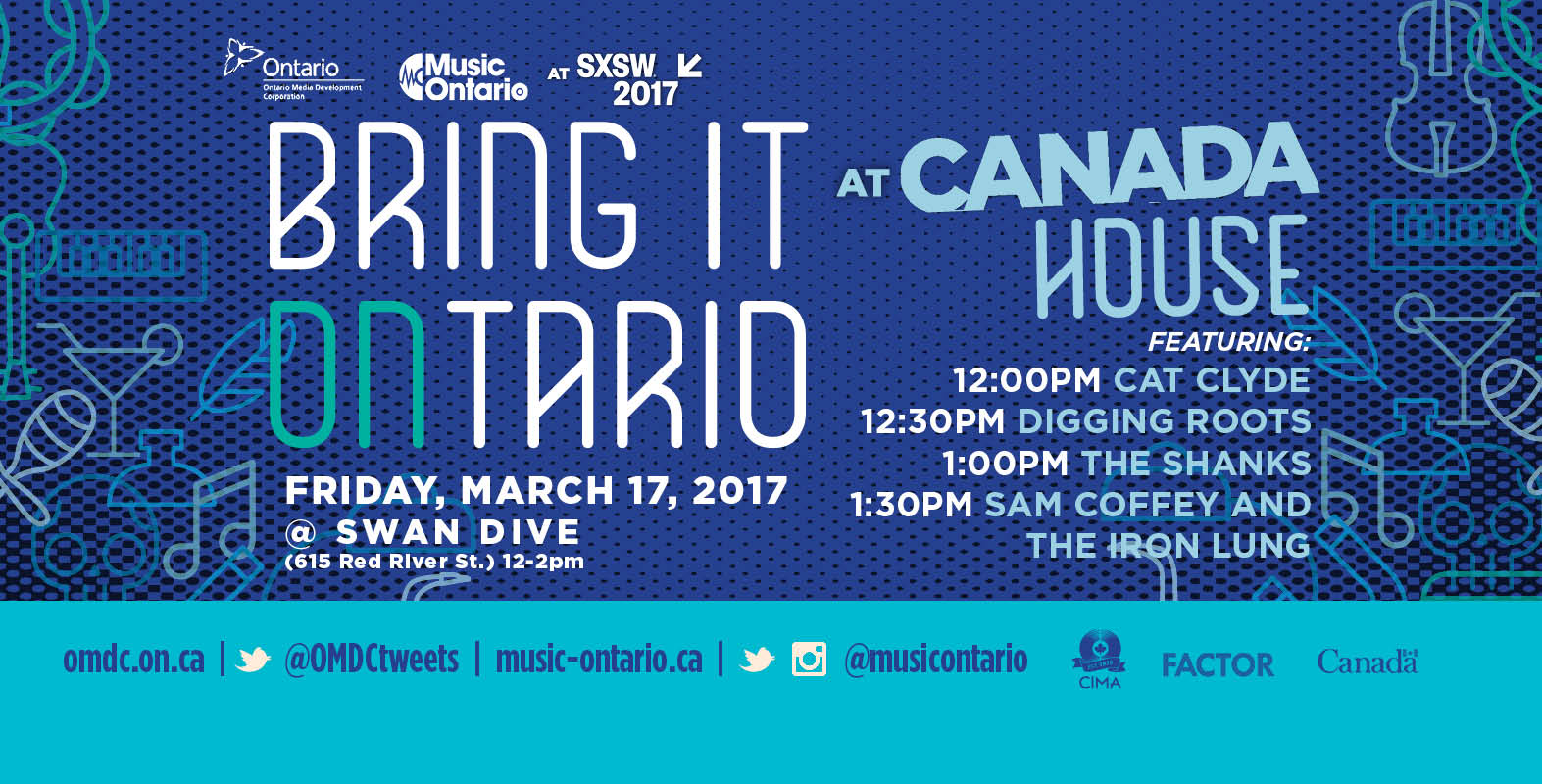 When

Fri 17th March 2017

Where

Swan Dive, Austin, TX

Tagged as
OMDC & MUSICONTARIO @ SXSW 2017 – BRING IT ONTARIO March 17, 2017, 12:00PM-2:00PM @ Canada House (Swan Dive) (615 Red River St., Austin, TX)
The Ontario Media Development Corporation (OMDC) and MusicOntario are joining forces once again to present some killer Ontario artists in the heart of Austin, Texas at Canada House! Join us for breakfast burritos, snacks and the remedy of all remedies/Canada's favourite breakfast beverage: Caesars! Loaded with Matt & Steve's Extreme Beans and salt rim, our Caesar station put an extra bit of zip in your step with Dine Alone's signature hot sauces.
BANDS
Cat Clyde (Stratford, ON) web: www.catclydemusic.com // twitter: @catclyde About: Cat Clyde is a brand new artist out of Stratford, Ontario. A fresh take on the classic sounds of yesteryear; breathing new life into the velvety vocal, tack-piano, slide-guitar-style that can instantly walk you through the swinging doors of a packed saloon.
Digging Roots (Toronto/Ottawa, ON & Winneway/Kahnawake, QC) web: www.diggingrootsmusic.com // twitter: @_DiggingRoots About: Imagine an AK-47 that shoots love. The notion is audacious, to say the least. But audacity is Digging Roots' stock in trade. Juno-winning First Nations power couple Shoshona Kish and Raven Kanatakta have built their sound on a unique musical marriage of unvarnished truth and unconditional love. Digging Roots' new song and video AK-47 has both, in spades.
The Shanks (Mono, ON) web: theshanks.ca // facebook: @shanksmusicAbout: Founded in 2005, the SHANKS are the rocknroll palatinate of songwriter/vocalist/bassist Ian Donald Starkey (Pistolwhip von Shankenstein), along with drummer/vocalist Jody Brumell (Colonel Crankshaft). Their new album, "Prisons of Ecstasy", was recorded in Sweden by none other than the Hellacopters' mainman Nicke Andersson. The Shanks have previously earned an EXCLAIM! Magazine "Album of the Year" nomination, and are looking to break Texas at SXSW earning more stateside accolades heralding the upcoming US release of "Prisons of Ecstasy".
Sam Coffey and the Iron Lung (Toronto, ON) web: www.samcoffeyandtheironlungs.bandcamp.com // twitter: @coffeyandlungs About: Sam Coffey & The Iron Lungs opened up for Flamin' Groovies before. Do you know who else did that? The Ramones.