Check Out the 2015 Hamilton Music Award Winners!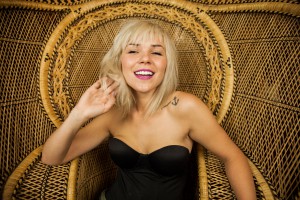 Posted on

May 27, 2015

Tagged as
MusicOntario would like to congratulate all the winners and nominees for the 11th Annual Hamilton Music Awards!
The gala event will be broadcast on CHCH on June 11, 8PM and features Ian Thomas as the host, with performances by Laura Cole (pictured above), Dinner Belles, Sumo Cyco, Justin Dunlop and Katie Bulley. The show will also feature a special tribute to Corporal Nathan Cirillo and the Argyll and Sutherland Highlanders of Canada which will include a performance by the Argyll's Pipe and Drum Band.
Presenters for this year's show include members of The Trews, Mickey De Sadist (Forgotten Rebels), Edgar Breau(Simply Saucer), Rita Chiarelli and many more.
Check out this years winners:
Hamilton Music Award Winners
Female Artist of the Year: Laura Cole — Dirty Cheat
Male Artist of the Year: Harrison Kennedy — This Is From Here
Local Group of the Year (Peoples Choice): Live How You Live
New Artist/Group of the Year: Laura Cole — Dirty Cheat
Jazz Recording of the Year: Diana Panton — Red
Roots Recording of the Year (Group): Harlan Pepper — Take Out A Twenty And Live Life To The Fullest
Roots Recording of the Year (Solo): Katie Bulley — Sun Wolf
Alternative/Indie Rock Recording of the Year: The Dirty Nil — Smite
Folk/Traditional Recording of the Year: The Vaudevillian — Salty Dog
Artist Lifetime Achievement Award: Brian Griffith
Artist Lifetime Achievement Award: Bob Doidge
Industry Lifetime Achievement Award: Graham Rockingham
Rock Recording of the Year: Arkells — High Noon
Loud/Metal Recording of the Year: Sumo Cyco — Lost in Cyco City
Punk Recording of the Year: Simply Saucer — Baby Nova
Adult Alternative Recording of the Year: Laura Cole — Dirty Cheat
Blues Recording of the Year: Harrison Kennedy — This Is From Here
Alt/Country Recording of the Year: The Dinner Belles — The River And The Willow
New Country Recording of the Year: Billy J White — Damn Fool Thing
Rap/Hip Hop Recording of the Year: Canadian Winter — The Snowball Effect
Pop Recording of the Year: Kojo "Easy" Damptey — Daylight Robbery
Songwriter of the Year: Arkells — High Noon
Record of the Year: Arkells — High Noon
INDUSTRY AWARDS
Music Teacher of the Year (elementary school) by People's Choice: Kate Quigley — Dundas Valley Montessori School
Music Teacher of the Year (secondary school) by People's Choice: Jonathan Abel — Westdale Secondary School
Music Teacher of the Year (post-secondary school) by People's Choice: Jamshed Turel — Mohawk College
Music Teacher of the Year (independent school) by People's Choice: Kate Quigley
Artist Manager of the Year: Madeline Wilson — Lee Harvey Osmond, Harlan Pepper, The Vaudevillian, Blackie and the Rodeo Kings
Instrument Retailer of the Year: Long & McQuade
Studio Engineer of the Year: Nick Blagona — Mississippi Bends, Allotrope, Harrison Kennedy, Jamsquid, Tongue Fu, Gruve
Producer of the Year: Steve Bigas — Laura Cole
Recording Studio of the Year: Porcelain Records — Laura Cole, Tongue Fu, Jamsquid, Mississippi Bends
Website/Online Publication of the Year: www.blueshamilton.blogspot.ca
Artist Website of the Year: www.jeremyfishermusic.com
Video of the Year: Yitka Karlik — Wonderbus #2
Best Album Artwork: Jeremy Fisher — The Lemon Squeeze
Record Label of the Year: Six Shooter Records — Whitehorse, Harlan Pepper
Music Retailer of the Year: Dr. Disc
Music Director (Radio) of the Year: Ben Robinson — CFMU
Publicist of the Year: Jen Cymek/Listen Harder — Monster Truck
Radio Show of the Year: Lullabies in Razorland — CFMU
Media Person of the Year: Kristin Archer — ihearthamilton.com, CFMU
Radio Station of the Year: 93.3 CFMU
Print Publication of the Year: View Magazine
Major Concert Venue of the Year: First Ontario Centre
Live Club of the Year: This Ain't Hollywood
Theatre of the Year: The Pearl Company
Talent Buyer of the Year: Lou Molinaro — This Ain't Hollywood
Booking Agent of the Year: Spherical Productions
Tour Manager of the Year: Duke Foster — Blue Rodeo
Live Sound Engineer of the Year: Shaun Shuell — LIGHTS(FOH), Hedley, Billy Talent
Sound and Lighting Company of the Year: Bates Audio
Event Photographer of the Year: Kyle Weir
Piano/Keyboard Player of the Year: Greg Brisco — The Dinner Belles
Special Instrumentalist of the Year: Hachey the MouthPEACE — Beatbox
Guitarist of the Year: Brian Griffith — Harrison Kennedy, Mimi Shaw
Drummer of the Year: Nick Burson — Rae Billing
Bassist of the Year: Justin Bozzo — the Zilis
Instrumental Record of the Year: Strat Andriotis — Liars Incorporated
Classical Composition of the Year: Strat Andriotis — Liars Incorporated
Ethnic Recording of the Year: Kenny C — Live Life
Classical Recording of the Year: Strat Andriotis — Liars Incorporated
Dance Recording of the Year: The Byran Sorensen Groove Trio — Stealing from the DJ
Female Vocalist of the Year: Ginger St. James — Diesel and Peas
Male Vocalist of the year: Harrison Kennedy — This Is From Here
Electronic Recording of the Year: Caribou — Our Love
Musical Event of the Year by People's Choice: Supercrawl
Canadian Recording of the Year By People's Choice: Arkells — High Noon