MusicOntario @ Pop Montreal 2018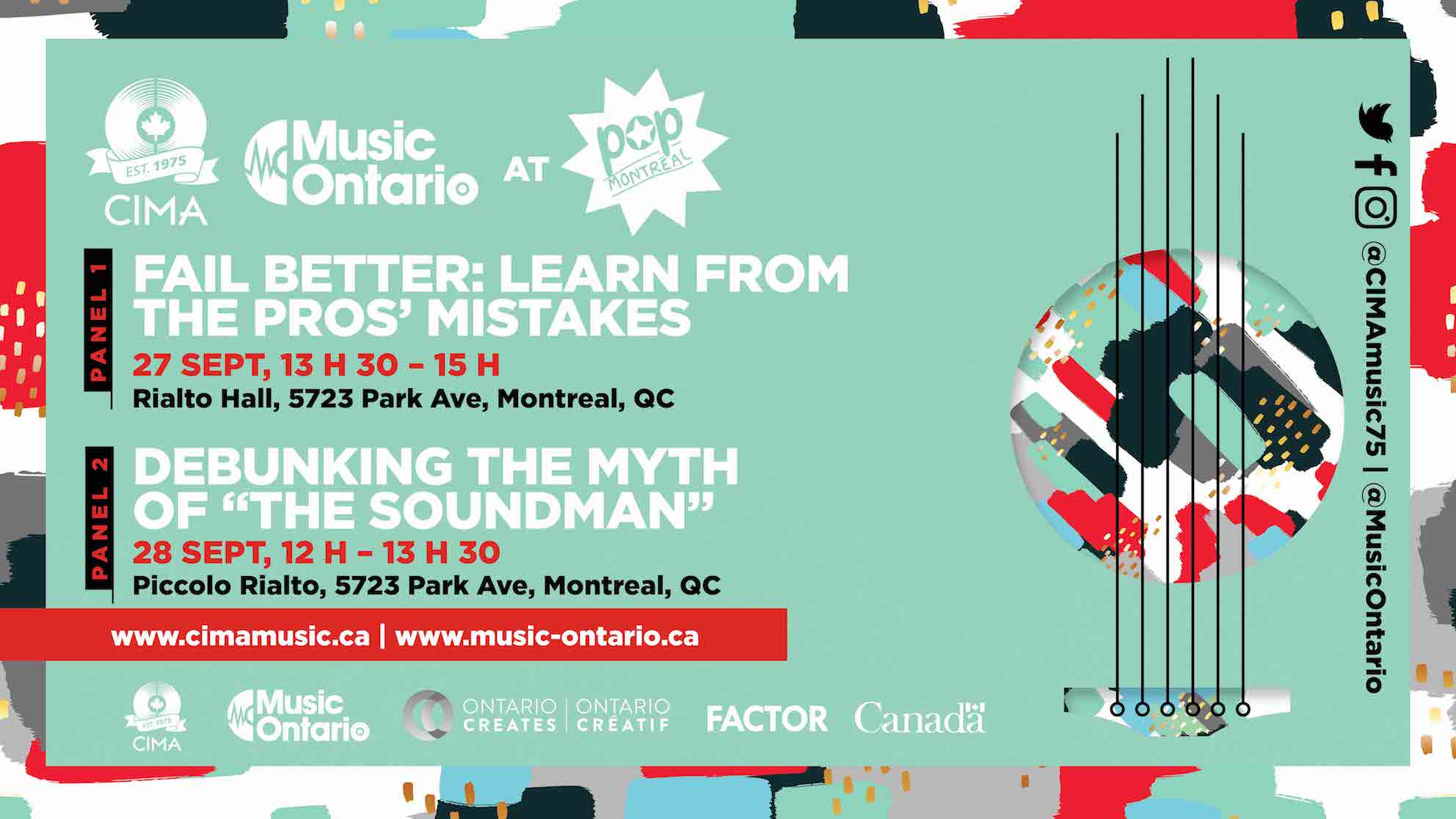 Posted on

September 17, 2018

Tagged as
MusicOntario and the Canadian Independent Music Association (CIMA) are pleased to be sponsoring two panels at Pop Montreal this year!
Panel 1: Fail Better: Learn from the Pros' Mistake:
Where: Rialto Hall: Salle Seventh Heaven Gin
When: September 27, 2018: 1:30
Co-presented by CIMA and MusicOntario
About:
There's a lot to be said for learning directly from the pros, and with that in mind we've assembled a collection of music industry veterans to talk candidly about the mistakes they made early in their careers. Expect a series of insightful, and often hilarious, narratives aimed at providing fledgling artists and industry workers with first-hand knowledge from the pros.
Mark Kates is a music manager who works with MGMT and The Cribs among others and has a 30 year background at labels including Geffen and Grand Royal.
Former Bratmobile drummer Molly Neuman is the Global Head of Business Development at Songtrust, the world's largest global royalty collection service and publishing administrator. Prior to Songtrust, Molly was Head of Music at Kickstarter, Interim President and Vice President of the American Association of Independent Music (A2IM) and held senior roles at Rhapsody International and eMusic.
Nancy Ross has been the head of operations at Greenland Productions for over 20 years, overseeing the booking, marketing and promotions departments. Greenland Production is a leader in independent booking in Montreal producing over 300 shows a year at venues ranging in size from Casa del Popolo to the Bell Centre.
Jeff Waye: A&R / Owner of independent music publisher Third Side Music. 30 + year music business lifer.
Tom DeSavia: longtime A&R executive (currently with Concord Music Publishing), co-author of the bestselling, Grammy-nominated "Under the Big Black Sun: a Personal History of L.A. Punk" with punk rock legend John Doe.
https://popmontreal.com/en/calendar/enspectacle/rater-mieux-apprendre-des-erreurs-des-pros-fail-better-learn-from-the-pros-mistakes/2018-71272/
Panel 2: Debunking The myth of "The Soundman"
Where: Piccolo Rialto
When: September 28, 12:00pm
Co-presented by CIMA and MusicOntario
About:
The sound tech world has traditionally been very male-dominated, but over the past decade the number of women and non-binary people working in the field has increased significantly. They face specific challenges, though: finding mentorship, dealing with dominant egos, and gaining the trust of artists who don't acknowledge their expertise. This panel of seasoned techs and artists will break down these issues and provide concrete advice on succeeding in the sound world.
Pamela Hart is a feminist, sound technician and Vocalist on a mission to pay her bills and make the world a bit better. >> Maxime Brunet is a FOH engineer who has worked with Wolf Parade, The Rural Alberta Advantage, Operators and KEN mode, amongst others. She is based in Toronto.
Madeleine Campbell is a studio and touring sound engineer and editor of Women in Sound Zine, dedicated to amplifying the voices of women, queer and trans* people in her field.
AKUA is a musician currently based in Los Angeles. Canadian-born with Ghanaian roots, AKUA has moved beyond the experience as Solange's former backup singer to establish her own, intimate sound. Her new record, 'Them Spirits', which she wrote and produced between Toronto and Los Angeles, will be released this fall.
Award-winning entrepreneur and founder of one of Toronto's most influential creative spaces, Sandbox Studios, Kiana 'rookz' Eastmond is an activator of businesses, ideas and people.
More info: https://popmontreal.com/en/calendar/enspectacle/de...
https://popmontreal.com/en/calendar/enspectacle/de...