Submissions Open! H.E.R. Studio Sound Production Series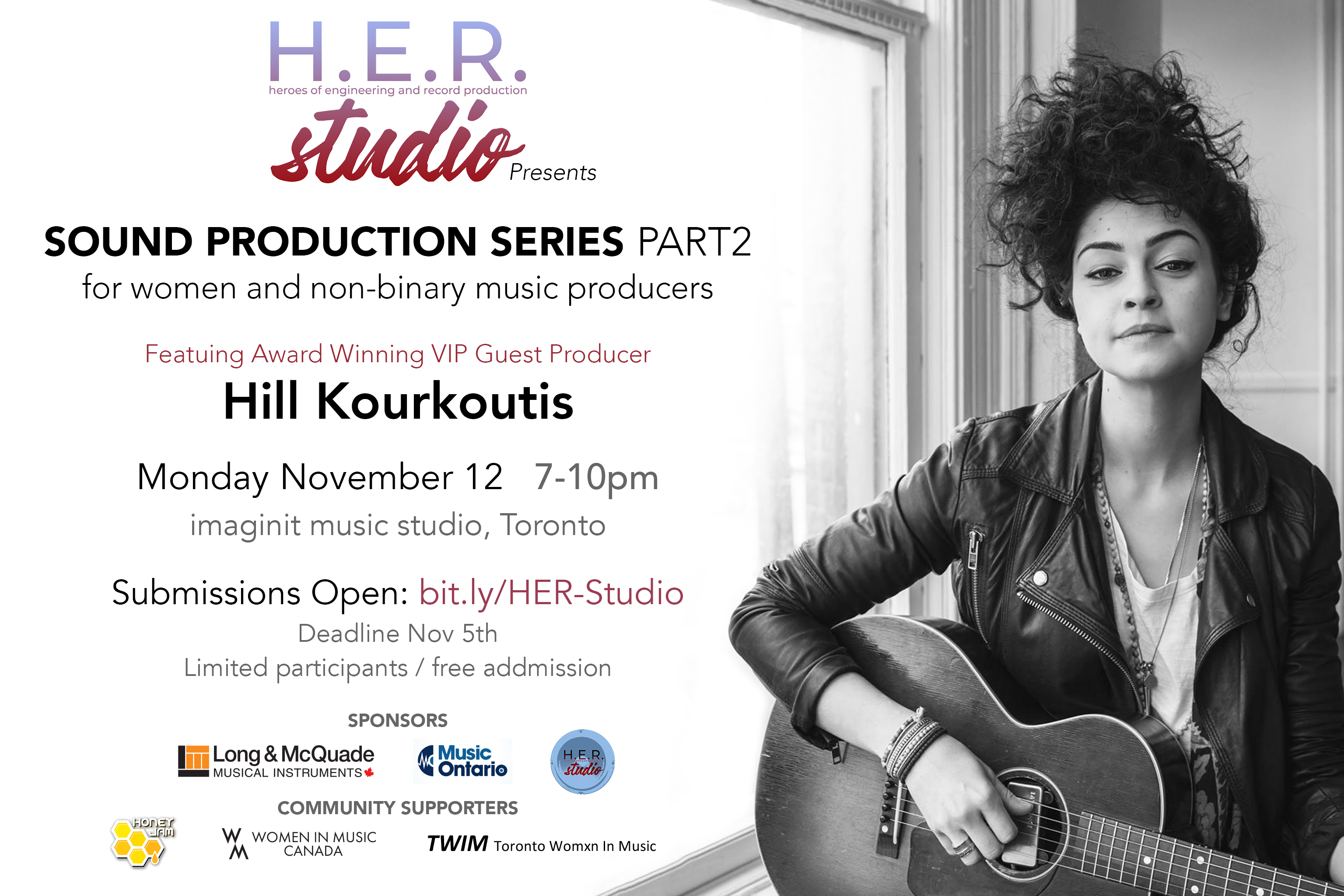 Posted on

October 26, 2018

Tagged as
MusicOntario is pleased to support the H.E.R. Studio Sound Production Series for women and non-binary music producers.
This ground-breaking new in-studio series will provide opportunities for emerging* women and non-binary music producers** to develop skills, build confidence and network in a female owned & operated studio in downtown Toronto.
With an award-winning VIP guest mentor and a small peer group, this 3-Part Fall series will address specific topics and include listening, feedback, discussion and hands-on learning. Thanks to the generosity of sponsors we are thrilled to be able to offer each session at no cost to participants.
DATES: Monday October 15th, Monday November 12th, Monday December 10th
TIME: 7 - 10pm VIP
GUEST PRODUCERS: Erin Costelo www.erincostelo.com Hill Kourkoutis www.hillkourkoutis.com Karen Kosowski www.karenkosowski.com
SESSION TOPICS: Song Arrangement & Mix Critique; Building a Track From Scratch; Vocal Production.
SPONSORS: HHb Canada / Universal Audio; Slaight Music Foundation; MusicOntario; Long & McQuade.Music.
STUDIO: imaginit music, Leslieville studio district, Downtown Toronto imaginitmusic.com
PARTICIPANTS: Limit of 12 to ensure high level of interactivity & impactful take-away.
HOW TO APPLY: CLICK HERE
Submissions close at 11:59PM on deadline dates Oct 1st, Nov 1st, Dec 1st. Complete the form including a link to a track exampling your in-progress or completed production work (Soundcloud etc). Unmastered preferred.
APPLICATION PROCESS: Participants are chosen by a committee of professional producers. All applicants will be notified of their results by email.
WHAT TO DO IF YOUR APPLICATION IS DECLINED: Apply again! This session is part of a series and there will be plenty of more opportunities to participate. ACCESSIBILITY: These sessions are provided at no cost to participants. We are unable to cover travel costs from outside Toronto. If you have other accessibility issues please enquire.
ENQUIRIES: Questions, feedback and accessibility requests: herstudio@imaginitmusic.com