Meet the Pros for the Ontario edition of the 2019 Canadian Songwriter Challenge: Adrian X, Adaline, Julian Taylor, & Tomi Swick!!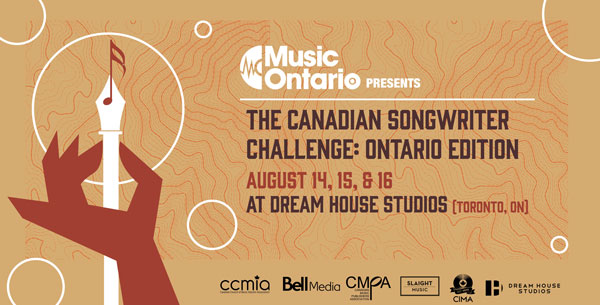 Posted on

August 8, 2019
ADALINE
www.adalinemusic.com
A successful and prolific composer of music for film and television the Canadian-born now Los Angeles-based artist has been featured on over 80 television shows and films including Grey's Anatomy, 90210, Rookie Blue, Lost Girl, Ringer, Royal Pains, Flashpoint, Degrassi,The Listener, Heartland, Bomb Girls, Killjoys, The Samaritan and more. She worked with Brendan Canning of Broken Social Scene on the score for the Bret Easton Ellis written film, The Canyons, directed by Paul Schrader, starring Lindsay Lohan, and on the documentary feature Youth Ustoppable which features music from Radiohead and Moby.
Adaline's sophomore release "Modern Romantics" earned a nomination for Pop Recording of the Year at the Western Canadian Music Awards and was deemed by CBC Radio "A visionary classic; A breathtaking in depth journey of the imagination". She was selected to do a 10 month composer residency at Norman Jewison's Canadian Film Centre where she collaborated with Canada's up and coming film talent. She is also the voice behind the Cineplex successful short film "Lily and The Snowman" which features her cover of "Follow You Follow Me" by Genesis. The film went viral online garnering over 55 million views and was seen by 40 million people in theatres.
Adaline's latest release "Aquatic" received critical acclaim from Paste Magazine, Highlight Magazine, The Line of Best Fit and Pop Dust saying, "Adaline is pop music's best-kept secret". The music video for the single "Nostalgia" features Grey's Anatomy star and fellow CFC alumni Giacomo Gianniotti. Her upcoming release "Dear Illusion" is a collection of music inspired by the Californian landscape. Breezy pop hooks infused with stories of disillusionment, addiction, and a journey into a revelatory love. Largely produced by Maximilian Jaeger (Diplo, Big Sean) there is a noted shift from the moody sound we would normally expect from Adaline. Lyrically still dark and reflective but with a sonic lightness that feels dreamy, ethereal and bright - a heavy heart standing in the sun.

Adrian X
www.musicisageless.com
Adrian X Eccleston is a guitarist/producer/songwriter from Toronto Canada. He currently tours all over the world with the Grammy Award nominated PARTYNEXTDOOR. Previously, you may have seen Adrian X performing alongside Drake and pop icon Kylie Minogue.

JULIAN TAYLOR
www.juliantaylorband.com
Julian Taylor is an artist whose work has created a lot of buzz over the years. He's a unique and versatile musician and staple of the Toronto music scene. Taylor has performed with his band and solo at major festivals throughout Canada including Mariposa, CBC Music Festival, Festival D'ete, Ottawa Bluesfest, Blue Skies Festival and many more, all to rave reviews. The National Arts Centre described Taylor has having the ability to create, "…beautifu,l blended, soulful vibes, rhythmic R&B, modern rock riffs and roots folk make the Toronto-based Julian Taylor Band experience something worth putting your busy life on hold for; even if it is just for a few moments."

TOMI SWICK
www.tomiswickmusic.com/
Hamilton's own Tomi Swick has written, toured and played with many great bands and artists such as Julian Lennon, The Barenaked Ladies, The Goo Goo Dolls, Stabilo, Collective Soul, Tom Cochrane, Tom Wilson, Sam Roberts, Big Wreck, Feist , Jeremy Fisher, Blue Rodeo & Ron Sexsmith. As the winner of the 2007 juno for best new artist, 2 Canadian radio music awards, the Socan A/C song writing award and multiple Hamilton music awards, since 2015 Tomi Swick has certainly grown as an artist, branching out with with Slaight music with his Title release the Yukon Motel, filled with true authentic Canadian feel, elements of country and rock . A new record for 2020 is in the works.
HELI DEL MORAL
www.cdbaby.com

Heli Del Moral has served in leadership positions at some of the most influential brands in the media industry. For more than a decade, Del Moral worked at Disney as director of international marketing and promotion for ESPN, driving profitability for the Latin America region and developing the European market and supporting business growth in Australia, Africa, Asia and the Middle East.
Prior to his tenure at Disney, Del Moral served 8 years as national director of marketing and promotion at Univision Network, working closely with high-profile celebrities and music artists in the Hispanic market, building relationships and promotional content for artists, television programs, and as executive producer of network image.
Heli Del Moral is the recipient of three Emmy awards and numerous Telly, Promax and other honors for his creative efforts. He is passionate about the music industry and has profound admiration and respect for artists and their craft.
VINCE DEGIORGIO
www.cymbamusic.com
Vincent Degiorgio's career reads like a journey around the world of the music industry with no set destination.
He is the president and founder of Chapter 2 Productions Inc., which houses the publishing entities CYMBA Music Publishing, InterCym Music and The Billy Ray Louis Music Publishing Company. In his former role as Vice-President of International A&R at RCA, Degiorgio was responsible for signing NSYNC in the US and is the owner and operator of the oldest dance music label in English speaking Canada, Power Records Inc., further cementing his place as one of Canada's music industry stalwarts.
Degiorgio's passion has always been a great song, and his formation of CYMBA Music Publishing is what he calls 'a determined defiance to conventional publishing'. CYMBA, an acronym for 'Crushing Your Music Business Apathy' houses a unique, boutique roster of some of Canada's most creative and artful professionals, with a roster that includes platinum songwriter Davor Vulama, award winning singer/songwriter Dennis Ellsworth, EDM topliner and pop vocalist Amy Kirkpatrick, hip hop master tracksmaster B. Morales and the catalogue of the prolific Juno nominated producer, Ari Rhodes. To date, Cymba has secured over 150 synch licenses. Cymba's newest addition is soulful songstress Reeny Smith.
Vincent's own collaborations has been recorded in 14 different languages in innumerable countries around the world. Ranging from Canada all the way to Korea, Sweden and South Africa, he has amassed sales have in the millions of units. He has written for international superstars including both of Caro Emerald's blockbuster debut album 'Deleted Scenes From The Cutting Room Floor', and # 1 follow up album, "The Shocking Miss Emerald". "Deleted Scenes" is the longest running # 1 album in the history of the Netherlands, remaining on the album chart for over 100 weeks.
He is currently in his second term as chair of Canadian Music Publishers Association, and is a board member on the Canadian Songwriters Hall of Fame.
MARGARET MCGUFFIN
www.musicpublisher.ca/

Margaret McGuffin is the Executive Director of the Canadian Music Publishers Association.
Previously, Margaret has held management positions with the Canadian Musical Reproduction Rights Agency , Musicians' Rights Organizations Canada and Access Copyright and has served on the Board of Directors for Re:Sound and the Canadian Private Copying Collective. She started her career at Music Canada and Connect Music Licensing and later worked as a consultant with a wide range of cultural organizations and collective management organizations including the JUNOS.
Margaret holds a BA from the University of Western Ontario and an MBA in Arts and Media Administration from York University's Schulich School of Business. Margaret volunteers extensively and currently is Vice Chair on the Board of Directors of Work in Culture and the Advisory Board of MusiCounts.