Meet the Songwriters for the Ontario edition of the 2019 Canadian Songwriter Challenge!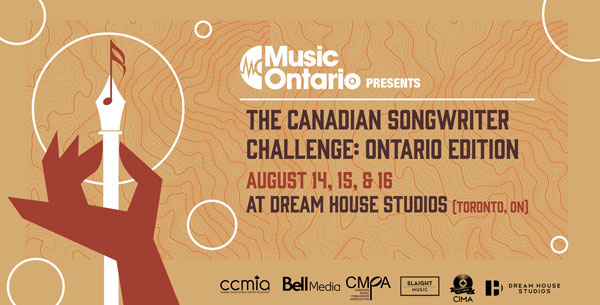 Posted on

August 8, 2019
ANDREA BASTIEN
www.m.soundcloud.com/deejayariel

As a relentless collector of music, the entry point to DJing was in place early for Ariel. Classically trained in dance, she found herself immersed in vinyl records, since she could better find the music she was drawn to choreograph to in a high quality sound that she demanded. Her connection to interrelated music became a natural extension of her tastes. Now a consistent explorer of the sounds of different eras, cultures and genres, Ariel often finds the convergence between songs that most would find little connection in. Ariel applies this distinct signature to her search, saying she is "looking for music that isn't constrained by time." Drawing from a sizeable record library and unconventional digital sources, Ariel moves between vinyl and Serato with apparent ease. Being an empathic room reader, the shared experience between DJ and audience is her compass and guides her choices. She selects music in the moment, and this uniquely personal approach allows Ariel to communicate with those present, resulting in a refreshing transformation through sound. Having been influenced by pioneering DJs like: Jazzy Joyce, Pam The Funkstress, Ebony, and Kuttin Kandy, Ariel connects with a rich lineage of women who do incredible things with turntables. Through her start in Vancouver and the last number of years in Toronto, she has shared stages and booths with a number of like minded artists. She has an extensive, continuous and evolving relationship with music and community engagement, one that brings her to a variety of cultural and educational events. Ariel has played sets at venues such as the Art Gallery of Ontario, The Vancouver Art Gallery, and Yonge and Dundas Square, at events including Manifesto and imagineNATIVE, as well as opening for artists like Anderson .Paak, Kaytrananda, Daniel Caesar, and Tanya Taqaq. The next phase for Ariel is to cultivate her production and songwriting abilities. Ideally this will culminate into an independently released ep in the very near future.
www.instagram.com/hautesauvage

CHRIS EARL
www.chrisearl.ca
A PROUD Algonquin native, Corus Entertainment Rising Star winner and current serving member of our Canadian Armed Forces, Chris has been sharing the stage with some of the world's greatest performers for over 20 years. Through Chris' passion for music and his culture, he is able to share his stories and songs to inspire all who listen. As a Singer/Songwriter, his newest venture brings light to the struggles of mental health issues within indigenous communities and society in general. Recent writing has led him to create a profound stage show, merging his aboriginal heritage and military life into his performance, entitled "The Singing Soldier."
www.singingsoldiers.com
www.chrisearl.ca
www.instagram.com/singingsoldiers
www.instagram.com/chrisearlmusic
ELLIE PARTRIDGE
https://elliepartridge.bandcamp.com/

Ellie is an Inuit-Scottish singer-songwriter located in the Ottawa, Ontario area.
She's been writing songs since she was 16 and has mostly kept them private, playing them only for herself.
Her music style ranges from alternative to and pop rock.
www.facebook.com/elliepartridgemusic

EVAN REDSKY
www.evanredsky.com/
Evan James Redsky is a singer/songwriter from Blind River, ON by way of Toronto. Having spent five years on the road with Juno-nominated rock group Single Mothers - he has since left to finish writing and recording his debut effort. Produced and recorded with John Dinsmore (Kathleen Edwards, Donovan Woods) at Lincoln County Social Club - the Danny Wolfe EP is a return to Redsky's indigenous story telling roots. As recent as this years National Indigenous People's Day the song 'No Man's Land' was released as a poignant response to the history of colonization from an indigenous perspective."...an unfeigned country ballad about his indigenous bloodline and life on the reserve...an allusion to the residential-school system and its effects on his kin. Warm acoustic tones are cut with Redsky's sandy drawl...a record showcasing a rugged sound that's interspersed with whining lap steel and palatable twang." - The Globe & Mail "Though the songs' content is rooted in Redsky's Indigenous heritage, the sound is pure Americana, equal parts Springsteen and Petty..." - CBC Now Magazine Toronto Singer/Songwriter To Watch 2018
https://www.instagram.com/evanjamesredsky/
https://twitter.com/evanredsky
JAMES WILSON
www.jamesnwilson836.wixsite.com/jnw-music
James Wilson is a Mohawk Singer/songwriter musician from the Six Nations of the Grand River territory. He has performed at many venues and competitions around Canada and the United States. In 2017 he had the great opportunity to sing back-up for "Lorde" at the MMVA's (Much Music Video Awards). He is currently working on a full length album with Jace Martin that will be released Summer 2019.
www.instagram.com/jameswilsonmusic_
www.facebook.com/jameswilsonmusic145/
JAYLI WOLF
www.instagram.com/jayliwolf/?hl=en
Jayli Wolf Mixed blood, big dreams. Toronto based artist, Jayli Wolf, left a cult to pursue music and heal her soul. She is one half of the duo band Once A Tree and is now getting ready to roll out her solo project.

MARY BRYTON NAHWEGAHBOW-HOLDER
Mary Bryton Nahwegahbow-Holder is a 17-year old aspiring First Nations singer, songwriter, and musician who is a member of the Whitefish River First Nation and a Grade 12 student in the Vocal Arts Program at Canterbury High School in Ottawa, Ontario. Mary is a recipient of a 2018 SOCAN Foundation and SiriusXM Young Canadian Songwriter Award for her original song "Clegg Street". Mary is a multi-talented artist who sings as a soloist and in a choir, as well as plays drums and guitar. In 2014, Mary appeared in APTN's documentary series "Dream Big" that featured Aboriginal youth experiencing a "day in the life" of their dream career where she shadowed an Indigenous singer. Recently, Mary sang the National Anthem in three languages (English, French and Anishnaawbe) at the 2017 North American Indigenous Games in Toronto and a 2019 Ottawa Senators game in honour of Reconciliation. In summer of 2019, Mary attended NYU Steinhardt's intensive two-week Contemporary Vocal Workshop in New York where she completed intimate masterclasses and learned from luminaries in the Department of Music and Performing Arts Professions and the music industry.
MYA GOMEZ
www.myagomezmusicofficial.com
Mya Gomez is an Algonquin singer songwriter with Mayan Yaqui and Settler roots. Her first memories of music began when she and her mother would sing together and would sing with women's hand drum groups throughout her childhood. Her love of story telling, and connection to music grew from there. It progressed into her picking up an acoustic guitar and teaching herself to play at 14. As a songwriter she draws from personal experience and reflections of many themes, including substance abuse, racism, self confidence, and above all else love. Growing up with music inspirations of rock and roll as well as raw, honest, songwriters, Mya strives to achieve both elements of these genres in her own music when performing either solo or with her band, to tell her personal stories, in hopes to connect with her audience.
www.youtube.com/channel/UClYibxphvLS2HB2zK...
www.instagram.com/myagomezmusicofficial/
www.facebook.com/myagomezmusicofficial/
THEA MAY
www.theamaymusic.com

Thea May hails from Atikameksheng Anishnawbek located on the Robinson Huron Treaty in Sudbury Ontario. Her vocals encompass a vintage sound of singers from before her time, with an added new pop sound flare. Her music embodies the new sound of future pop music, hip hop vibes, electronic dance feels, and at times some tropical waves. Thea is a partner of Harmonix Productions, located out of Sudbury, with her producer/ engineer and three other artists. Thea grew up with artistic roots, a competitive dancer from a young age, Her love for music started very early in her life. Thea has written and performed music for films directed by Darlene Naponse. Her music comes from a real place, bringing light with dark times, creating up- beat melodies, and new experiences. Thea is working hard on a series of singles to be released over the next year.
www.instagram.com/theamaymusic?r=nametag
www.open.spotify.com/artist/6xLGFcntYI6WZdy54Q...
www.music.apple.com/ca/artist/thea-may/1470372...
TROY JUNKER
www.troyjunker.com/
Troy Junker is a hip-hop artist; who by looks you wouldn't expect what you'll get. A high school dropout - turned Uranium miner, who picked up and moved from Saskatchewan to Toronto to pursue music and follow his dreams. From appearing on tracks with Belly and Joey Stylez to completing a Music Business Management course at Durham College, Troy's inspiring story is one in the making. Troy plans to release his new EP, Journeys in early 2020.
https://www.instagram.com/troyjunker/
https://www.facebook.com/troyjunker
https://www.facebook.com/troyjunker
https://www.youtube.com/troyjunker