The Lineup for MusicOntario's Folk Music Ontario 2019 showcases has been announced!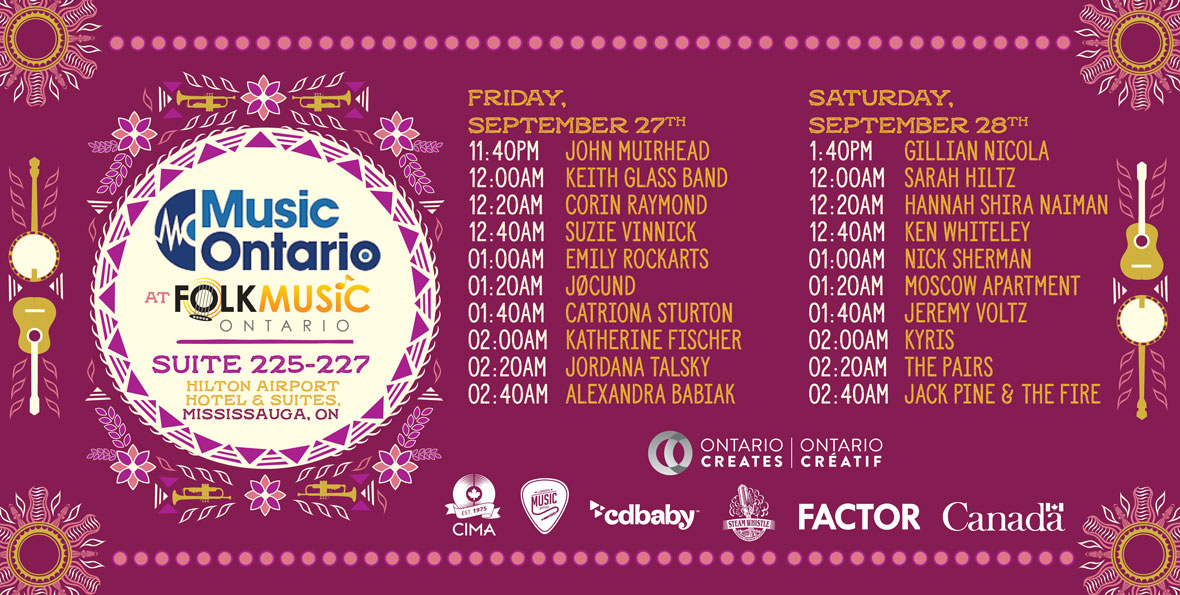 Posted on

September 11, 2019
ALEXANDRA BABIAK


Alexandra Babiak is a singer songwriter from Toronto, Ontario. Her songs are reflective and ethereal, like nostalgic memorabilia, reminiscent of something you may have known once. Her voice offers a glimpse into her memories, losses and desires. It all unfolds as if in a dream. Alexandra's invitational melodies creep under your skin, whispering lyrics that are endlessly relatable.

CATRIONA STURTON
Big Heart, Big Lungs. Sings like an angel, plays like a beast. One woman, multi-instrumental, harmonica-driven band. Was the bassist for Halifax teen-rockers, Plumtree (who inspired the cult-favourite, Scott Pilgrim), toured with Hiroshima-based garage rockers, The Secret.
Her biggest claim to fame, she "May have written the best song to date about butt-dialing — "Calling From My Pants" - Nashville Scene (Critics pick), Catriona writes tender songs about crushes, poutine and crushes on poutine. She's an engaging performer and has also taught workshops for Folk Festivals across Canada and will be teaching a masterclass this year with Jerry Portnoy (Muddy Waters)
www.soundcloud.com/catrionasturton/sets/catriona-s...
www.youtube.com/watch?v=MGx1HWcdb08
CORIN RAYMOND
Corin Raymond is a legendary Canadian songwriter whose songs are covered by a far flung community of established roots musicians and campfire enthusiasts. Acoustic Guitar calls Raymond's latest JUNO award-nominated album Hobo Jungle Fever Dreams "a hypnotic, literate collection of dark tall tales.... Romantic, immediate, and narcotic", while The Globe and Mail says "Corin Raymond is a storyteller who by the end of the night you'll have known your whole life."
EMILY ROCKARTS
Emily Rockarts circles pop music like an artisan storyteller. Her EP "Mapmaker" garnered critical acclaim from taste-making reviewers, with nation-wide tour dates and festival appearances. A strong composer and lyricist, Emily was singer-songwriter in-residence at the Banff Centre (2018), where she wrote the bulk of her new record Little Flowers, set for release Spring 2020.
GILLIAN NICOLA
Hamilton's Gillian Nicola took an unusual route to becoming a folk/Americana singer-songwriter: trained in classical voice, Nicola spent her teens gigging in a classic rock cover band, singing Janis Joplin and Led Zeppelin before launching herself into alt-country when she began writing songs. Nicola's music centres around her chameleonic vocals - at one moment with a hint of tobacco in her voice, the next outright rocking - strummed and finger picked guitar, and versatile, melodic songwriting. Nicola's songs are often built around open and alternate guitar tunings that allow her to throw her music theory upbringing out the window. Nicola released her debut full-length album, Dried Flowers, on May 3, 2019. Produced by John Dinsmore (NQ Arbuckle), the album reached number 3 on the earshot! Folk/Roots/Blues Charts and has received CBC airplay nationwide.
Dried Flowers is "an alt-country-folk-rock masterclass in the affairs of the heart" - Hamilton Magazine.
www.facebook.com/gilliannicolamusic
www.instagram.com/gilliannicola
HANNAH SHIRA NAIMAN
Named "Traditional Singer of the Year" (2017) by the CFMAs, Hannah Shira Naiman's banjo- grounded songs dance the listener into the Appalachian mountains and eras back in time, drawing on her roots in Ontario's 'old time' folk music community to share powerful tales of hope and loss. With a sound that's been described as a cross between Gillian Welch and Sarah Harmer, Naiman crafts original songs that ring with influences of Ola Belle Reed, The Carter Family, American oldtime, and traditional English ballads.
JACK PINE AND THE FIRE
CFMA and JUNO nominated Jack Pine plays acoustic guitar and mandolin and spits wry words while the sound of upright bass, dobro, pedal steel, fiddle and drums hammer out heavy grooves behind him. Jack writes folk songs and The Fire sets them ablaze, beating their string-band image in to the ground.
Their sophomore full-length, Left To Our Own Devices maintained the frantic energy that Jack Pine and The Fire is known for while sinking deeper into steady new grooves and exploring all our relations... with ourselves, with each other, and with the earth. Written in his grandfather's island cabin, recorded in his mother's cottage, mixed in Jack's own studio, and finally nominated for a Canadian Folk Music Award (Emerging Artist of The Year) and a JUNO Award (Best Artwork), the album draws inspiration from Jack's family traditions, his country's heritage, and the human condition.
www.jackpinefire.com www.facebook.com/jackpinefire
www.instagram.com/jackpinefire
JEREMY VOLTZ
Indie-folk artist Jeremy Voltz has a voice that is powerful and haunting, reminiscent of Jeff Buckley, Stevie Wonder, and Hozier. His lyrics are universal and heartfelt, and his songs have been featured in film and television. Currently playlisted on Spotify's Discover Weekly, his uplifting folk-song "One Day at a Time" has millions of worldwide listens and has won or placed in several songwriting awards, including The Great American Songwriting Contest.
As a vocalist, Voltz has performed for huge crowds on some of Toronto's greatest stages, including the Sony Centre, NXNE, and live on the CBC at the Glenn Gould Studio. Voltz's 2018 album, "Bend the Tracks", published by Nightingale Music, was editor's choice and pick of the month for October on APM Music. Voltz is currently working on his new Toronto Arts Council supported album, "Running Away", to be released early 2020.
www.instagram.com/jeremyvoltzmusic
www.facebook.com/jeremyvoltzmusic
www.open.spotify.com/artist/1Zu7L8siS7ugY35pTS6Wgw...
JØCUND
Jøcund was born in 2018 in Paris, she's a 24 years old singer songwriter. After a first demo EP, called "Bloom", released in 2018 in Paris - France, she decides to settle down in Toronto - Canada to pursue a career in music. In July 2019, her first Canadian release, "Strangers", introduces her to the Toronto music scene…
From funk to rock, Jøcund draws on her influences codes that allow her to offer a music that is warm, touching and in harmony with her personality. On stage, it's a passionate and exciting energy that she will share with you. Her universe is diverse to reach an eclectic audience. Her purpose is to bring together and unite people from different backgrounds, ages and countries.
www.open.spotify.com/artist/7fC6HCjeRSABhP8JU4uRtC
www.instagram.com/callmejocund
JOHN MUIRHEAD

With stories and songs that kindle late-night Canadian campfires, John Muirhead's heartfelt indie-folk sound will move you in more ways than one. From fingerpicked folk confessionals to upbeat roots-rock jams, John's award-winning song collection reflects the highs and lows of love, ambition, and living on the road. While he is based in London ON, John is a troubadour by nature and has played in living rooms, theatres, moving trains, and folk festival stages from coast to coast in Canada.
www.facebook.com/johnmuirheadmusic www.twitter.com/johnpmuirhead www.instagram.com/johnpmuirhead/ www.johnpmuirhead.com www.open.spotify.com/artist/5LbFyIkuT9CraXUmsARWX0
* Presented with support from the London Music Office
JORDANA TALSKY

Jordana Zahava is a singer, songwriter and loop artist who integrates acapella live looping into ensemble performance. Her music fuses pop, acapella, jazz, and alternative influences into a unique crossover sound. Listeners cite Imogen Heap, Sara Bareilles and KT Tunstall as references. Her show weaves original material along re-imaginings of standards, often drawn from the great songwriters of her native Canada. She has toured across Canada, the U.S. and Europe with notable festival appearances, including Summerfest (Milwaukee), Winnipeg Jazz Festival, Live at Heart (Sweden) and Folk Alliance International. Achievements include finalist placements in the John Lennon Songwriting Competition (2018, 2014), CBC Searchlight (2018 top 10), Toronto Independent Music Awards (2015) and Julian Award for Emerging Canadian Artists. She has enjoyed widespread airplay for both of her releases Neither of Either and Standard Deviation.
www.facebook.com/Jordana.T.Music
www.soundcloud.com/jordana-talsky
KATHERINE FISCHER

"Katherine Fischer's unique folk confessionals are the medicine for when our hearts get sick, served with an eccentric dose of sugar to help it all go down."
To see her play, is to know her story and end the night as if parting from an old friend. Sharing songs from festival stages at Winnipeg Folk to living rooms with SOFAR sounds, Katherine has already played over 150 shows in her short, yet momentous, musical career. Come to listen, stay to connect and, if anything, know that Katherine Fischer's songs are her gift to you.
* Presented with support from the London Music Office
KEITH GLASS BAND

An award-winning singer/songwriter, multi-instrumentalist, producer, and founding member of Prairie Oyster - often cited as the country's foremost roots/country band - Keith has earned much critical acclaim, including multiple Juno and CCMA awards, and toured extensively in Canada, the U.S. and Europe over a career that has spanned almost four decades. In 2008, he was inducted into the Canadian Country Music Hall of Fame for his work with Prairie Oyster, and is a recipient of a SOCAN Songwriter's Lifetime Achievement Award
www.facebook.com/KeithGlassBand
www.twitter.com/keithglassband
KEN WHITELEY

Ken Whiteley has won a Canadian Folk Music Award, a Genie Award for Best Original Song in a Canadian film, Lifetime Achievement Awards from Folk Music Ontario and the Mariposa Folk Festival and has been nominated for 7 JUNO Awards and 17 Maple Blues Awards. Called a "roots music master", he's performed at major folk and blues festivals throughout North America. Ken has recorded and performed with such legends as Pete Seeger, John Hammond Jr., Tom Paxton, Blind John Davis, Penny Lang, Raffi and countless others. A prolific songwriter, a gifted and versatile instrumentalist and a powerful singer, as well as very successful record producer, one critic has said, "with Ken Whiteley our enjoyment is virtually assured." He's currently working on a new recording that will be released on Borealis in 2020. He says, "I sing, write songs and perform to touch people's hearts and minds and bring them together."
www.ken whiteley.com
www.soundcloud.com/ken-whiteley
www.youtube.com/user/kenwhiteleymusic
www.facebook.com/KenWhiteleyMusic
KYRIS

Kyris is a singer-songwriter, originally from France, who draws his inspiration from his experiences along the roads where he developed his guitar playing, sharpened his pen and mastered the secret to engage people.
Based in Toronto since 2013, his world lies across a backpack folk and a chameleon pop, vibrant and colorful with gathering lyrics.
Noticed at "Les Rencontres Qui Chantent" program in Petite-Vallée (Quebec) in 2016 and APCM's (Association of Music Professionals) "Rond Point" program in 2017, Kyris reveals us the facets of a unique universe, where music rhymes with "Nous" ("Us"), the title of his first EP released in June 2018.
His first single "Le Coeur Du Monde" (The World's Heart), a true anthem to the living together, is still regularly aired on CBC/Radio-Canada across the country.
Tinged with contagious optimism, Kyris has already won many hearts on the planet.
Will you be next?
MOSCOW APARTMENT

Recent winners of Slaight Music's national 'It's Your Shot' songwriting contest and the grand prize of a $100,000 Artist Development contract, teenage Toronto folk-propelled duo Moscow Apartment is as instinctive as they come.
The naturally-engrained chemistry between singers-and-songwriters Brighid Fry and Pascale Padilla is evident on the five-song, self-titled EP that has earned them extensive airplay on CBC and NPR and also reflected in a performance style that has made them the darlings of the Winterfolk, Winnipeg Folk and Guelph Hillside festivals.
Currently recording an EP with six-time Grammy winner Vance Powell (Chris Stapleton, Jack White) and several other notable producers for Hidden Pony Records, Moscow Apartment's fresh, genuine and candid perspective through the window of their adolescent world speaks to the masses as only they can. Organic music at its finest.
www.instagram.com/moscowaptband/
www.facebook.com/moscowapartment/
www.youtube.com/channel/UC1ehQQOn12aDw9Ev3ympS9w/f...
NICK SHERMAN

Singer-songwriter, Nick Sherman, gives new meaning to "the voice in the wilderness," or rather, the voice from the wilderness. His gentle voice is rich with honesty and the vitality of youth, but tempered with world-weariness, atop his strong, simple guitar.
While he still calls his rural birthplace of Sioux Lookout home, Nick spent much of his youth out on the land, moving between his hometown, the small First Nation community of Weagamow Lake, and his family's trapline on North Caribou Lake. It was here in the depths of the Northern Ontario forest that his family members would play guitar as they tended their trapline, and Nick found himself soaking in songs and lyrics.
Made Of, out this fall, explores Indigenous issues in contemporary and evolving Canada.
www.instagram.com/nickshermanmusic
www.facebook.com/nickshermanmusic
THE PAIRS

The Pairs are a female fronted folk pop quartet with deep roots in London, ON. Powered by 3 classically trained vocalists and a former punk rock drummer, their unique blend of harmony and rhythm will hug your eardrums and inspire you to dance. Their storytelling and honest songwriting provides an uplifting audience experience you won't want to miss.
With 3 unique songwriters at the helm, The Pairs are able to create a diverse repertoire using their individual lives as inspiration for their writing. Employing music as a tool for sharing stories of life's challenges, personal growth, hope and hilarity, The Pairs inherently connect with the audience through their emotion full performances.
* Presented with support from the London Music Office
www.youtube.com/watch?v=W9m8K0u9XBA
SARAH HILTZ

Sarah Hiltz is a contemporary folk artist based in Toronto. Her current project has her researching the ways Canadians experience, express and suppress anger in modern society, especially women, and creating a song cycle in response.
Sarah's last album, Beauty In The Blue, compiled songs and stories culled from her multiple journeys across Canada as a travelling musician on VIARail's passenger train, "The Canadian". Beauty in the Blue features lush, nuanced vocals and jazz-influenced songwriting.
Sarah has independently released three full-length albums and two EPs since 2009. Her work over the last decade as a talented singer-songwriter has landed her opening slots for Canadian icons Gordon Lightfoot and Ron Hynes, Top 3 placement in a nation-wide music competition (She's The One), a Best Folk Album nomination (Toronto Independent Music Awards) and earned her an invitation to give a TEDx talk in 2014.
SUZIE VINNICK

A Saskatoon native transplanted to the Niagara Region of Ontario, Roots and Blues singer Suzie Vinnick is a 3X Juno Nominee, CFMA Award winner, and a 10-time winner of the Maple Blues Award for songwriting, female vocalist, acoustic act and more. Suzie has a voice you've heard a thousand times and one you'll never forget. It soars, it growls, it whispers and it shouts from a deep, deep well of emotion. The pure joy she exudes when she picks up that guitar is so worth the show.
Suzie has toured nationally with Stuart McLean's The Vinyl Café, the John McDermott Band, and she has performed for Canadian Peacekeepers in Bosnia and the Persian Gulf. She was also the voice of Tim Horton's for 5 years.
Suzie's latest album is a full band roots and blues extravaganza entitled Shake The Love Around.
www.soundcloud.com/suzie-vinnick
www.facebook.com/suzievinnickmusic
www.instagram.com/suzievinnick/
www.open.spotify.com/artist/2sMmcyVPI1JbcagQFS4dZg