ONTARIO @ SXSW 2020 - Canada House takes over The Venue in Austin, TX!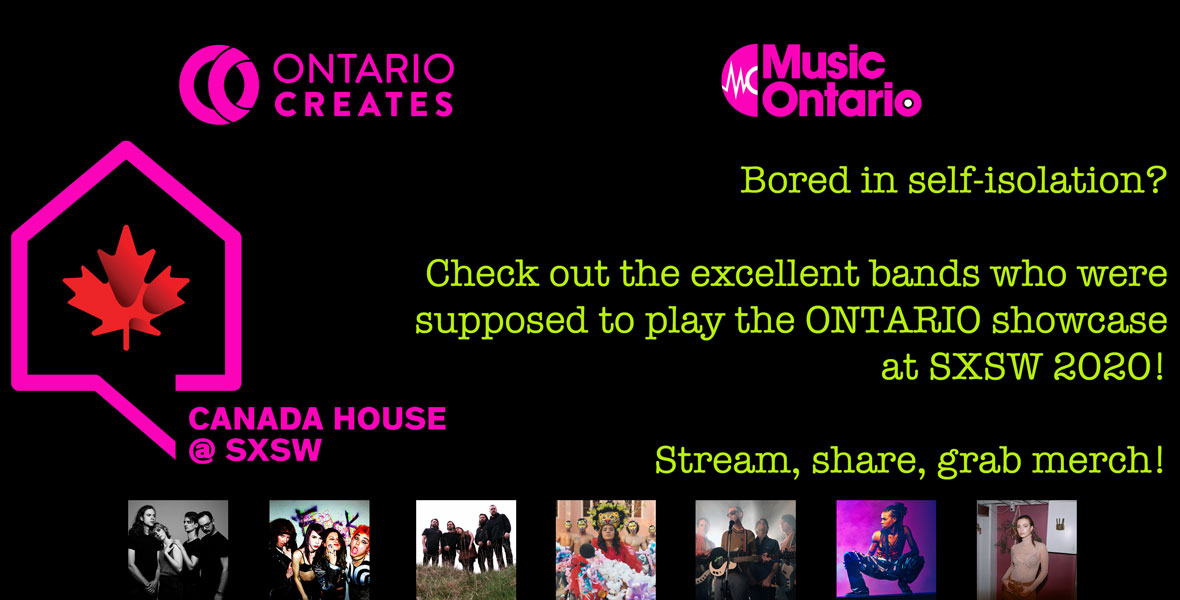 Posted on

March 4, 2020
Ontario Creates and MusicOntario were thrilled to present seven incredible artists from our fair province at SXSW 2020 during Canada House festivities at The Venue (516 E 6th St), March 18th & 19th. With great sadness, SXSW was cancelled due to the outbreak of COVID-19. We still think you should take time to listen to these stellar bands and artists. To make it easier for you, we created this playlist on Spotify. Check it out as you social distance!
---
BAD WAITRESS - Wednesday, March 18 @ 1:30PM

Bad Waitress is a four-piece punk rock band from Toronto, ON. Starting their musical adventures as The Nude Dogs, Bad Waitress was recently signed to Royal Mountain Records. They incorporate heavy licks, intense energy, and strong satire. They put out their first EP as Bad Waitress called "Party Bangers: Volume 1" on 4/20/2018 and are currently working on their first full length. As a collective they strive to create an empowering, inclusive and positive environment for people to rage out.
https://www.instagram.com/badwaitressband/
https://www.facebook.com/badwaitressband
https://twitter.com/badwaitressband
https://open.spotify.com/album/0JM4lsF31jRVkpuG4Ek...
https://music.apple.com/ca/artist/bad-waitress/136...

*Co-presented by the City of Toronto
---
CARYS - Wednesday, March 18 @ 2:00PM
With a voice as powerful as her personality, CARYS is well on her way to becoming Canada's next pop sensation.
The proof is all over CARYS's recent singles "Bad Boy" and "Some Of You" that established her as a musical force in 2019. But it was her third single, "Princesses Don't Cry," that propelled CARYS to a new level by going viral on TikTok. Over 1.4 million videos on the latest social media platform have been created using the song, totaling over 18 million views. The numbers don't lie; CARYS's approach to music as a vessel for unfiltered emotions has clearly connected with young audiences around the globe. The reason why she chose to record under the name CARYS, meaning "love" in Welsh is her belief that it is from love that other emotions are derived—both positive and negative—and they are all present in CARYS's music. In keeping with her approach to songwriting, CARYS is constantly tapping into those emotions in her live show to bring her music to the masses, and her U.S. partners at Atlantic Records are always pushing her to go further on her own terms.
"I naturally write lyrics from a place of sadness and hurt," she says. "At the same time, I hope my music can empower the listener. For example, when I wrote 'Princesses Don't Cry' I was feeling that I was expected to behave in a certain way in my relationship because I'm a girl, so the song became a big 'f.u.' to that. As I've grown and become more self-aware, it's been easier to write from a place of strength—and send myself and anyone who's listening the message that you are valid to feel upset with your place in the world sometimes, but that should never stop you from being who you are meant to be, and doing the things you are meant to do."
Before firmly honing her focus on music, CARYS established herself as an actress under her given name Aviva Mongillo, starring in the Family Channel series Backstage, playing the role of Juniper in CBC's Workin' Moms, and appearing in the Seth Rogan/Charlize Theron feature film Long Shot.
Now as she sets out on the leading edge of a generation of female artists redefining what pop music is, CARYS is unapologetically authentic and ready to take on the world. In the end, you can't run from the truth, and the truth is all that CARYS intends to offer.
https://www.carysofficial.com
https://www.facebook.com/carysofficial/
https://www.instagram.com/carysofficial/
https://www.youtube.com/channel/UCtHoTrH0GgJ9fBrzm...

---
ELLEVATOR - Wednesday, March 18 @ 3:30PM

Good music seems instantaneous: a decisive rush of expression and dopamine. Hamilton, Ontario band Ellevator captures that direct hit of immediacy, with a closer listen revealing the meticulous design of their rock songs. Frontwoman Nabi Sue Bersche delivers raw lyricism with quiet power. Her nimble melodies anchor the electric hooks and cinematic timbres Ellevator has refined on countless stages. Their striking self-titled debut EP - recorded in Hamilton with Michael Keire (Arkells, The Dirty Nil, Wildlife) - was released in the Spring of 2018 by Arts & Crafts and supported by tour dates with Arkells, Dear Rouge, Matthew Good, Our Lady Peace, The Franklin Electric, Banners, and Amber Run. Brick by brick, Ellevator has built a reputation as a band to watch.
In summer 2019, the band began working new material with producer Chris Walla (Death Cab for Cutie, Foxing, Tegan and Sara). Stay tuned for new music in 2020!
http://www.ellevatormusic.com
@ellevatorband
https://www.youtube.com/watch?v=qbHnxIW2Ke4
*Photo by Vanessa Heins
---
HAVIAH MIGHTY - Thursday, March 19 @ 4:30PM


Haviah Mighty didn't need to change her birth name when she decided to dedicate her career to music. In fact, Mighty couldn't be more accurate a word to describe the 26-year-old artist, named one of XXL's 15 Toronto Rappers You Should Know in 2019.
Raised in a musical household in Brampton, Ontario, Mighty started singing at the age of 4, rapping at 11, and producing at 15.
Well-known for being one of the three MCs who make up The Sorority — a hip-hop group born during an all-female cypher on International Women's Day in 2016 — Mighty is making equally large waves as a solo artist. Haviah has been releasing music independently since 2009, but it was her project, Flower City (2017), that propelled her solo career into further success. In 2018, Mighty's track "Vámonos" appeared on HBO's hit series, Insecure. That same year, Mighty was declared winner of the prestigious 2018/2019 Allan Slaight JUNO Master Class. Haviah's explosive live show, filled with in-your-face intensity and her fast, technical flows, has also quickly developed her reputation as one to keep an eye on, earning her opening slots for acclaimed artists like Ice Cube, Snoop Dogg, Rick Ross, Redman and Method Man, Sheck Wes, Nelly, Desiigner, and Kranium.
To date, Mighty recently released Polaris Prize-winning album, '13th Floor', her most fully-realized project to date. Garnering overwhelming praise from the likes of Pitchfork, Hot New Hip Hop, and Lyrical Lemonade to name a few, Haviah continues to carve out spaces that boldly defy gendered expectations for women in hip hop.
https://haviahmighty.ca/
https://www.instagram.com/haviahmighty/
https://www.facebook.com/haviahmightymusic/
https://www.youtube.com/watch?v=-jZCyf39b9Y
*Co-presented by the City of Toronto
---
KIWI JR - Thursday, March 19 @ 3:00PM

PITCHFORK: 7.7 rating "With easy hooks, surprise structural twists, and a gift for non-sequiturs, the Canadian quartet's debut is a vivid portrait of the big-city struggle...Gaudet has such a witty way with one-liners, and the band is so effervescent in their execution, that it's easy to overlook the elevated level of craft at work."
MOJO: **** 4 stars "With a vim and focus that recalls early Strokes… tautly tuneful jangle channels the Modern Lovers, the Cars and Pavement with hooks that dig in deep and stay there."
https://kiwijr.bandcamp.com/album/football-money
**Photo by Padrian Mcleod
---
LIDO PIMIENTA - Wednesday, March 18 @ 4:00PM

Lido Pimienta is a Toronto-based, Colombian-born musician, interdisciplinary artist, and curator. She has performed, exhibited, and curated around the world since 2002, exploring the politics of gender, race, motherhood, identity and the construct of the Canadian landscape in the Latin American diaspora and vernacular.Her new album Miss Colombia takes her ecstatic hybridity to a new level, building on the "nu" intersection of electronica and cumbia established by her first two albums, Color, released in 2010, and the 2016 Polaris Prize-winning La Papessa as Canadian album of the year. Produced with Matt Smith, a/k/a Prince Nifty, Miss Colombia overflows with the kind of understated genius that promises yet another breakthrough and continues to chart Pimienta's evolution into an independent woman and artist who refuses to fit into pre-conceived notions of what a pop Latina artist ought to be.
*Photo by Daniella Murillo
http://lidopimienta.com/
https://www.facebook.com/Lido.Pimienta.Musica/
https://www.instagram.com/lidopimienta/
https://twitter.com/LidoPimienta
*Co-presented by the City of Toronto
---
WHOOP-SZO - Wednesday, March 18 @ 3:00PM

WHOOP-Szo is a force of nature, sprung from a mixed-blooded experience of Canadian history with deep Anishinabek roots. Thunderous and ground-breaking, harmonious and generative—a WHOOP-Szo show envelops audiences in an emotional weather-storm that dances conscientiously between anger and discipline, frustration and hope. They tell us about colonial injustice loudly and punishingly, with haunting chord changes and monolithic distortion. They explore the possibility of wisdom and empowerment, with acoustic melodies that calmly find space within crushing layers of politics and sound. On stage and off, WHOOP-Szo engages communities with a powerful synchrony that invites people to feel and to heal. They are passionate storytellers that knock loudly on the door, and reward you tenfold for inviting them in.
https://www.youtube.com/watch?v=KS477ZbkZJA
https://www.instagram.com/whoopszoband/?hl=en
https://www.facebook.com/WHOOPszo/
https://twitter.com/WHOOPszo
---
Make "The Venue" Your Home Away From Home at SXSW with 2 Days of Canada House Showcases & Business Events!
The Canada House BBQ @ SXSW Wednesday, March 18 and Thursday, March 19 at new location The Venue!
In just under two weeks our legendary BBQ will be returning to Austin, TX for SXSW but this time will span over two full days as the Canada House BBQ! This year the BBQ will move to a brand new location – The Venue (516 E 6th St, Austin, TX 78701)! The showcases will be presented by Alberta Music, CIMA, the City of Toronto, Indigenous Music North, Manitoba Music, Ontario Creates/MusicOntario and SaskMusic. A special thank you to our main partner and Canada House organizer Telefilm.

For 15 years, the Canada House showcase and B2B initiative has traveled the globe bringing vibrant and trend-setting talent and industry from Canada to international export markets through festivals, conferences, trade shows and independent missions in the US, Europe, Latin America, Asia and Australia.
Come grab a bite, mingle with some of Canada's best and brightest and listen to your future-favourite artists on Wednesday, March 18 and Thursday, March 19 from 1PM-530PM while thawing out in the Texan sunshine. Canada House is open to all SXSW badge holders.
The Canada House lineup on Wednesday, March 18 features:
1:00PM: Port Juvee
1:30PM: Bad Waitress
2:00PM: CARYS
2:30PM: The Franklin Electric
3:00PM: WHOOP-Szo
3:30PM: ELLEVATOR
4:00PM: Lido Pimienta
4:30PM: Neon Dreams
5:00PM: Roman Clarke
The Canada House lineup on Thursday, March 19 features:
1:00PM: Gunner and Smith
1:30PM: Sebastian Gaskin
2:00PM: Miesha and the Spanks
2:30PM: Snotty Nose Rez Kids
3:00PM: Kiwi Jr.
3:30PM: Dan Mangan
4:00PM: Begonia
4:30PM: Haviah Mighty
5:00PM: Boniface
Make sure to join us at Canada House throughout the week for networking opportunities, mixers and a diversity panel on Thursday at 11:00AM. Delegates are also encouraged to use The Venue as a business hub (private meetings, networking etc) during the week.
CIMA will also be partnering with international export offices on Wednesday, March 18, to present Country Connections "It's a Small World" speed meetings from 10:00AM-12:30PM at the British Music Embassy. If you are interested in participating please register here https://www.universe.com/countryconnections2020