Finalists announced for MusicOntario x Humber's 2020 Capstone Project: COry Hotline, Heather J, Terence Penny!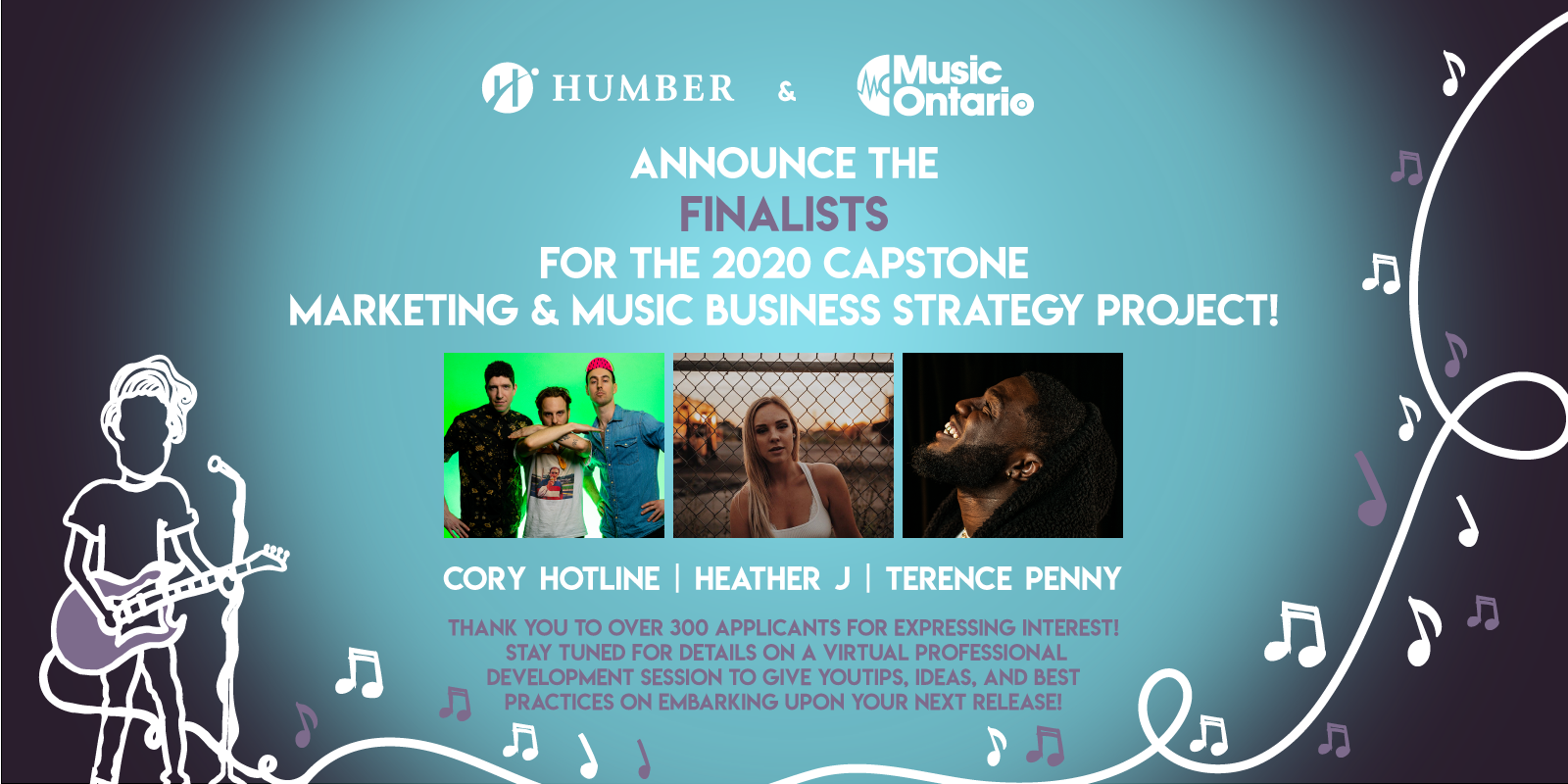 Posted on

May 11, 2020
MusicOntario teamed up with Humber College to find three artists/groups to participate in the Capstone Project for their Music Business Program in 2020.

In this mutually beneficial exchange, post-graduate students will apply their skills, knowledge and a budget of $5,000 per artisttowards strategizing, marketing, promoting and the research and writing of funding applications for an upcoming release, be it single, EP or LP.
More than 300 exciting artists from Ontario applied to be considered for this project! While there's certainly no shortage of talent in our fair province, this particular opportunity came down to three hardworking finalists:
CORY HOTLINE – www.coryhotline.com
Cory Hotline is a cosmic collision of funk, pop, rock and disco; the kind of band you might expect to see at an especially raucous dance party in space. Comprised of meticulously selected pros from Toronto's live music scene, Cory Hotline is a synthesis of retro nostalgia and future-facing funk with the pop sense of Maroon 5 and Michael Jackson.
HEATHER J – www.instagram.com/heatherjanssenmusic
Born and raised in Dundas ON, Heather J is a soulful singer-songwriter with strong pop breakdowns, infectious syncopation, and a smooth, honest voice. Heather's most streamed song on Spotify has garnered over 5M streams, 3M+ Youtube video views, 33K subscribers, and recently released a single with Toronto DJ Ryan Shepherd, which was released through Armada Music.
TERENCE PENNY – www.instagram.com/terencepenny
Born and raised in the Jane and Finch community Terence Penny has a natural ability to connect with people and uses his music to uplift and energize his audience. Terence Penny Narrates his life stories through hip hop and brings the listener through an emotional journey.
Stay tuned for updates on their progress!