Meet the Pros for the Ontario edition of the 2020 Canadian Songwriter Challenge: Adrian X, Moe Berg, & Terra Lightfoot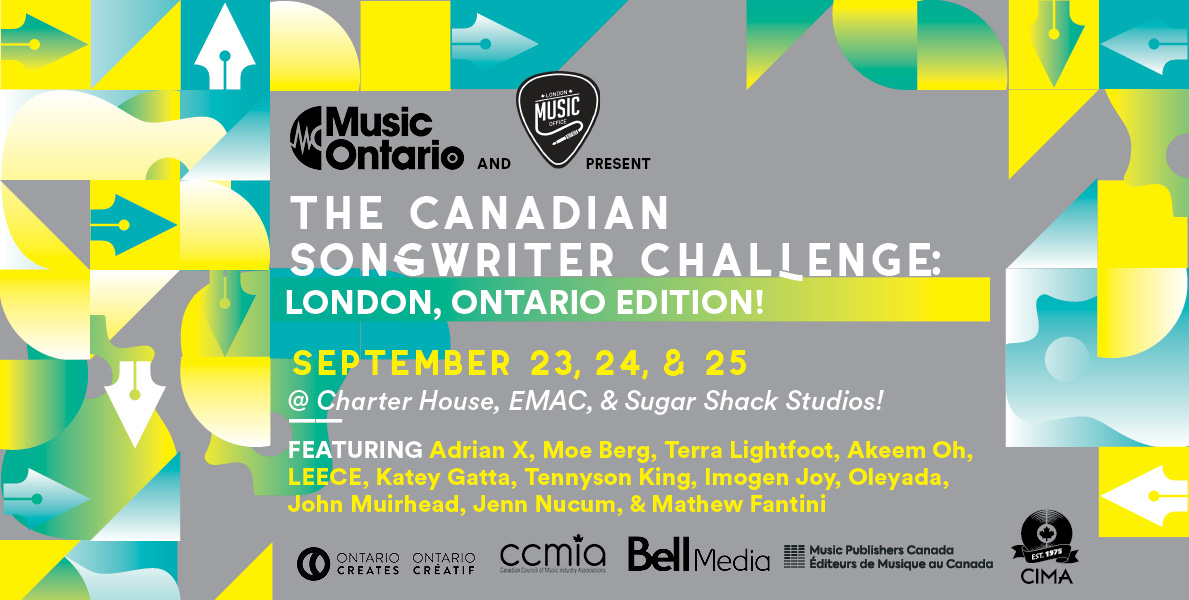 Posted on

September 23, 2020
ADRIAN X
Defying the boundaries of genre through his far-reaching brand of Psychedelic RnB, Adrian X has been finessing fretboards since the age of nine and is undoubtedly one of Toronto's best kept secrets. A songwriter and producer with endorsements from the legendary Gibson guitar company and UK-based Victory Amps, Adrian represents his roots and the best of the city's diversity as a hand-picked touring guitarist for The Weeknd, Nelly Furtado, Kylie Minogue, PARTYNEXTDOOR, and as a member of the Grammy award winning team behind Drake's Take Care. As he gears up for the release of Soulgazer Deluxe, for which the first single is slated to drop later this fall, the cherry on top of Adrian X's inimitable laid-back-yet-fiery sound, is an understated competitiveness that only sees him continue to reach new heights in an already soaring career.
MOE BERG
Moe Berg is the guitarist, vocalist and songwriter for the internationally acclaimed group, The Pursuit of Happiness. The band toured the world extensively and released five studio albums, one live in the studio record and three Greatest Hits compilations. Moe also recorded and produced a solo album. Universal Records has just released a deluxe version of the band '92s platinum album. Love Junk as a 2 CD/Vinyl package. This has led to a rash of shows across Canada.
He has also been working as a producer for over 20 years. His credits include The Cliks, The Monoxides, Robin Black and the Intergalactic Rock Stars, Jessica Allossary and Sarina Haggarty among others. A more complete discography can be found on his website www.moeberg.ca.
Also, he has composed music for film and the theatre, worked as the musical director of the Crows Theatre production of Hedwig and The Angry Inch and recently recorded the music for the NAC production of John A MacDonald.
His book of short stories, The Green Room, was published by Gutter Press
Currently he is a member of The TransCanada Highwaymen, a power pop supergroup featuring Steven Page, Chris Murphy of Sloan and Craig Northey of Odds.
Finally, he is the First Year Music Production Professor in the Music Industry Arts program at Fanshawe College in London ON.
www.moeberg.ca
www.twitter.com/moeTPOH
www.instagram.com/moetpoh
TERRA LIGHTFOOT

"Drawing from rock, soul and blues, [Terra Lightfoot] is a monster talent" – PopMatters
At the end of a gruelling two-year stretch on tour promoting her third studio album, New Mistakes—a trek that took her to every corner of the world—Terra Lightfoot found herself at home and sapped. Life on the road had done a number on her body, her voice, and her mind, and despite isolating herself from friends and family, sitting down for hours a day at her writing desk, she was coming up with nothing inspiring.
A trip to Nashville changed all that. Just a few weeks in Music City broke the dam wide open. In rapid succession, Lightfoot wrote the songs that would form her new record, Consider the Speed. Out poured more than a dozen, one after the other, reflecting on life as a touring musician, past relationships, and the death of her grandmother. "The healing power of rock 'n' roll," a true blue sentiment that Lightfoot and her bandmates keep the faith in on tour, was in full force. And you could even say it hit her like a jolt of electricity.
THEN IT HIT ME LIKE A BOLT OF LIGHTNING!, a man yelled as Lightfoot stepped out onto Willie Mitchell Boulevard in Memphis after a visit to Royal Studios. She took it as a sign that she had to return to lay down Consider the Speed there, the same place Ann Peebles simmered through "I Can't Stand The Rain" and Al Green set devotion to tape with "Let's Stay Together." Even the same technology—a hallowed #9 microphone—captured Lightfoot's bluesy, long and low howl during tracking sessions.
"Ms. Lightfoot's voice is a dominant as ever, straddling Memphis soul and urban blues with ease, and boy… can she write a song" – No Depression
Each night, she sat on a red porch swing on the hot Tennessee nights and considered how dreamlike it was to be in that place with its soul, blues, and rock 'n' roll ghosts; every day, she faced the sweet reality of adding her own music to the studio's history, working with a cast of supernaturally talented players: Steve Potts on drums, Davy Smith on bass, and Lester Snell on keyboards.
It's no surprise, then, given the combination of a conspiratorial universe and Lightfoot's hard work, that Consider the Speed is her most soulful, soul-baring, soul-searching record to date. There is soul to spare—in "Called Out Your Name" and its call-and-response verses; the raucous recklessness of "Midnight Choir"; and the gospel vocal stylings of Sharisse Norman and Candice Rayborn-Marshall on "Two Wild Horses." There are the Godzilla riffs we've come to expect from Lightfoot, too, in the title track's lustful overdrive and the bluesy stomp of "Paper Thin Walls." And her already enviable lyrical skills have been elevated even further. The album's centrepiece, "Lost You Forever," is an epic tale of devotion over hundreds of miles, distilled to three and a half minutes, and "Empty House" is a sweet, deceptively simple ode to the quiet reveries of partnership. One song, "Ramblin' Rose," was given to her in a dream by her trucker grandfather. When producer Jay Newland first heard Lightfoot's vocal take for it, he remarked: "I hope you're ready to be heard now."
More than ever, Steeltown's own is coming through, once again, loud and clear. Consider The Speed adds to an impressive legacy that already includes 2018 Polaris Music Prize and JUNO nominations (Adult Alternative Album of the Year) for New Mistakes, Road Gold Certification thanks to her millions of miles logged around the globe, including marquee tour dates supporting legendary acts like Willie Nelson, Bruce Cockburn, and Blue Rodeo. On top of all that (and being a songwriter and producer for hire), in 2019 Lightfoot also debuted The Longest Road Show, a touring revue that brought some of Canada's most groundbreaking music-makers together for a jaw-dropping handful of nights in Ontario. Keep an eye out for the next edition when it's safe to hit the stage again.
Until then, Consider the Speed at which you're falling for Terra Lightfoot—a spectacular velocity that will gain momentum with every electrifying note. "Canada's Terra Lightfoot has a huge voice and a big and gutsy guitar tone to match" — Guitar Player