Meet the Songwriters for the Ontario edition of the 2020 Canadian Songwriter Challenge in London!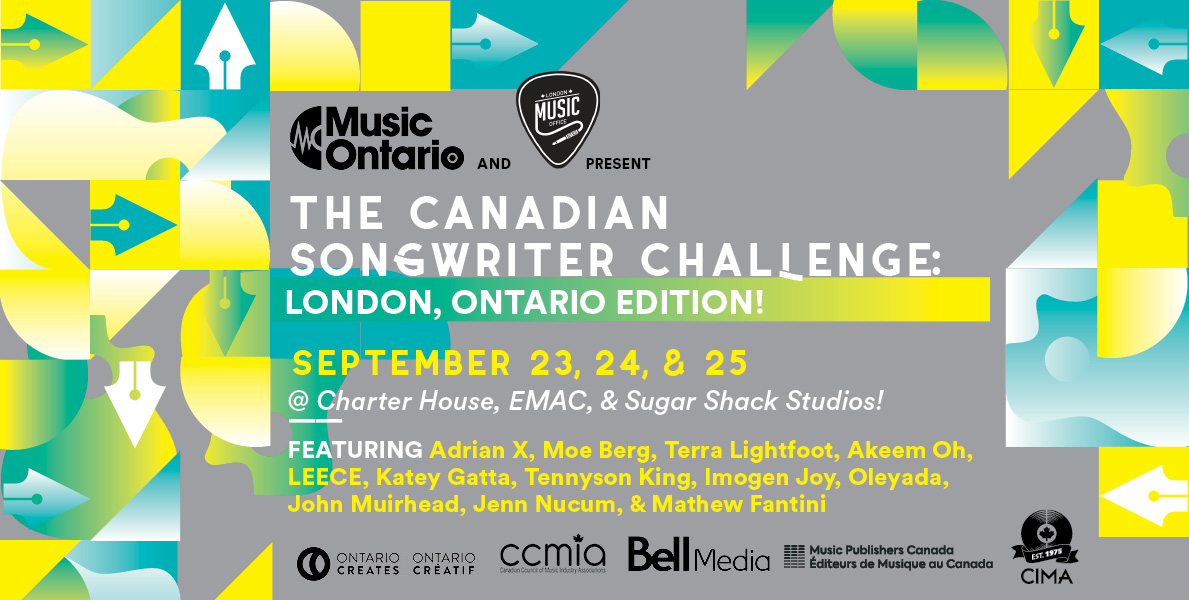 Posted on

September 23, 2020
AKEEM OH
Akeem Oh (Ouellet) is a American-Canadian singer/songwriter, multi-instrumentalist and producer based in Ottawa ON. He was born in Philadelphia PA, adopted by a Canadian Family and raised in
 Mattawa ON (a small town in Northern Ontario). Initially contributing to the growing French Canadian music scene, he won the APCM prize at Ontario Pop Music Showcase 
(now rebranded as Rond Point). He was also one of the finalists on the hit musical TV Show JAM, that premiered on TFO in 2012. Akeem has worked with numerous organizations such as La FESFO, an organization that represents francophone youth in High Schools across Ontario; and the Ottawa Music Industry Coalition. Dizzy. is the name of Akeem Oh's current "artistic era" - One where he's exploring the effects of human relationships and connections through sounds reminiscent of his influences: The Beatles, Arcade Fire, Beach House, Malajube, The Beach Boys and MGMT. A first glimpse at this artistic era came in the form of Winter Crush, a catchy indie/pop epic released in January 2018 to critical acclaim. In February 2018, CBC named it one of the "Top 3 New Ontario Songs You Need To Hear". The track was also featured in the Ottawa Run Marathon campaign videos. His work has recently been featured in multiple television movies for Lifetime, Hallmark and ION. Winter Crush is available on all major streaming sites. New music is scheduled for Fall 2020.

http://www.akeemoh.com
http://www.instagram.com/akeemohmusic
http://www.facebook.com/akeemohmusic
http://www.akeemoh.bandcamp.com

IMOGEN JOY


Imogen Joy is a Toronto songwriter, producer and poet. Her dark and humorous lyrics are captivating and heartbreakingly honest. Gifted at an early age her poems were printed in various publications including Toronto's Young Voices. She studied flute, piano, guitar and vocals before graduating from a Music Industry Arts & Performance program.
Growing up with her Korean background she quickly realized none of her idols looked like her. She also found herself inspired by other women. "My experiences are unique and my songs tell these stories. I write as if no one else will ever hear it - which is scary and exciting," she says. Melodic, thoughtful verses with heavy beats she says, "I want my music to sound like Leonard Cohen walked through a meadow and then went to a rave."
Performing across Ontario her songs have been featured on CBC radio 2 and Toronto New Wave. With no signs of slowing down she continues to release singles and is currently working on her third EP.
https://open.spotify.com/artist/6YUfUHk74WF2P3tbj9...
http://www.imogenjoy.ca
https://www.instagram.com/imogen.joy/

JENN NUCUM
Jenn Nucum (she/her/hers) is an emerging Filipina-Canadian singer-songwriter based in Toronto. Navigating life as a diasporic queer woman of colour, Jenn's music deconstructs the complex fabric of identity with dreamy and ambient Alt Rock/Post-Rock melodies, honest lyrics, and emotive vocals. Her music takes listeners on a reflective and evaluative journey of reconciling identity with reality.
https://www.jennnucum.com/
https://jennnucum.bandcamp.com/
https://www.instagram.com/jennnucum/

JOHN MUIRHEAD
John Muirhead is a wandering troubadour, a campfire storyteller, and a big-hearted folk-rocker. From fingerpicked folk confessionals to upbeat singalongs, John's award-winning songs have touched audiences across Canada and beyond. Since the release of his debut EP Yesterday's Smile, John has earned a Canadian Folk Music Award nomination (Young Performer of the Year, 2017), a Forest City London Music Award nomination (Folk/Roots Artist of the Year, 2020), and has graced the stages of Winnipeg Folk Festival, Sawdust City Music Festival, Home County Folk Festival, and more. He has since released two follow up EPs, Foundational and Head Stays Down. On festival stages or in living rooms, in theatres or moving trains, John's unforgettable performance has solidified him as a must-see Canadiana performer. https://www.johnpmuirhead.com/listen
https://www.facebook.com/johnmuirheadmusic/
https://www.instagram.com/johnpmuirhead/
https://twitter.com/johnpmuirhead
https://open.spotify.com/artist/5LbFyIkuT9CraXUmsA...

KATEY GATTA

Songstress Katey Gatta weaves melodies that leave you feeling like you're caught in the crosswind of a gentle breeze and a wailing gale. Sometimes her sweet, sultry voice has been described as reminiscent of Norah Jones or Joni Mitchell, and well, sometimes it is. She pairs her tongue in cheek lyricism with intricately picked chords that'll ring in your ears like peanut butter stuck to the roof of your mouth. Don't ask why she won't wear her shoes when she starts to sing - all her secrets lie in the souls of her feet. www.instagram.com/ktgatta www.ktgatta.com
LEECE
Born in London, Ontario, Allisa Galante, known to her friends and fans as LEECE, developed her innate singing and writers voice from a young age. As a child, she studied classical vocal and piano through The Royal Conservatory of Music, was accepted into specialized music programs throughout school, and sang in local singing competitions as a soloist and with the Amabile Women's Choir of London.
After spending eight years in music school quietly honing her songwriting craft, LEECE ended her studies with a Master in International Business, where she proceeded to live across Canada, Italy and India. She describes this period of her life as time spent becoming fine-tuned to linguistics and cultivating a unique resource of inspiration to pull from.
Since returning to Canada in 2016, she has been performing as a commercial dancer while writing and recording new music. This year, she released her first two singles: Easier and Shadow, which have reached almost 100,000 streams in just a few months. LEECE has been praised for having a "soulful, euphonious voice that produces blue auras of sound within an alternative pop universe."
Making waves across Canada and internationally with her catchy hooks and sharp production ear, LEECE is looking forward to releasing new music in the last half of 2020 while writing, producing and recording her debut EP set for 2021.
www.leecemusic.com
https://open.spotify.com/artist/2g2Y3MHWEfBpreBWio...
https://www.instagram.com/leecemusic/
https://www.facebook.com/leecemusic/
https://soundcloud.com/leecemusic

MATTHEW FANTINI
Mathew Fantini is a multi-instrumentalist, producer, singer-songwriter, from Toronto, Canada. As primarily a bass player, and producer Mathew takes a song first approach to creating, and performing. Mathew's songs have accrued over 700k streams and counting.
Mathew has been a featured performer on all of The Free Label's records, as well as a credited producer, and songwriter. The Free Label's song M.I.A. was placed as a finalist in the Unsigned Only Music Competition, as well as The Edge's 20k Summer Song. He also produced, mixed, mastered and helped release Oleyada's debut single "Pick Up the Phone," which was selected for Unisigned Only Music Competition's semi-final round.
https://www.instagram.com/freelabellove/?hl=en
https://m.facebook.com/freelabellove/
https://open.spotify.com/artist/4YOL2g6AwphwsB1dOZ...
OLEYADA
Oleyada is a bilingual (English/Spanish) indie pop artist who makes music out of her bedroom in Toronto, Canada. Oleyada typically covers up darker lyrical themes with sweet and upbeat sounds. She takes inspiration from current pop artists like Ariana Grande and Carly Rae Jepsen, as well as indie acts like The Marias and Rex Orange County.
Oleyada has played Youth Day, and the Akashic Rekords Opera House showcases. She has also appeared on the Eric Alper show on Sirius XM and on the What She Said radio show. Oleyada previously released music under a different name with Akashic Rekords (with distribution through ILSGroup/UNIVERSAL), but split from them in 2019 to pursue music independently.
Oleyada released her first independent single "Pick Up the Phone" (May 9), a bright and poppy diss track to your worst best-friends. She was also featured on The Free Label's single and music video "Up In Flames" (April 22) and on "Antifreeze" from the Free Label's mixtape "Quarantoonz" (April 7). Oleyada's first EP is currently in the works.
https://oleyada.wixsite.com/website
https://www.facebook.com/oleyada
https://www.instagram.com/oleyyada/
https://spoti.fi/2ZeRKS5

TENNYSON KING


Tennyson King is a Chinese-Canadian folk pop singer-songwriter. His music takes you on a road trip along the coast of the ocean in search of the next adventure. If you're looking for the place where your soul can be wild and your heavy-heart assuaged, follow the sound of Tennyson's crisp, round voice, as he plucks an electric chord and hammers out a beat on the kick-drum.
http://www.tennysonking.com
http://www.facebook.com/tennysonkingmusic
http://www.instagram.com/tennysonking
http://www.youtube.com/tennysonking
https://open.spotify.com/artist/3IGKryNdVfX5lbqpVI...