Meet the Pros for the Ontario edition of the 2021 Canadian Songwriter Challenge: Adrian X, Luke Roes, & TiKA Simone!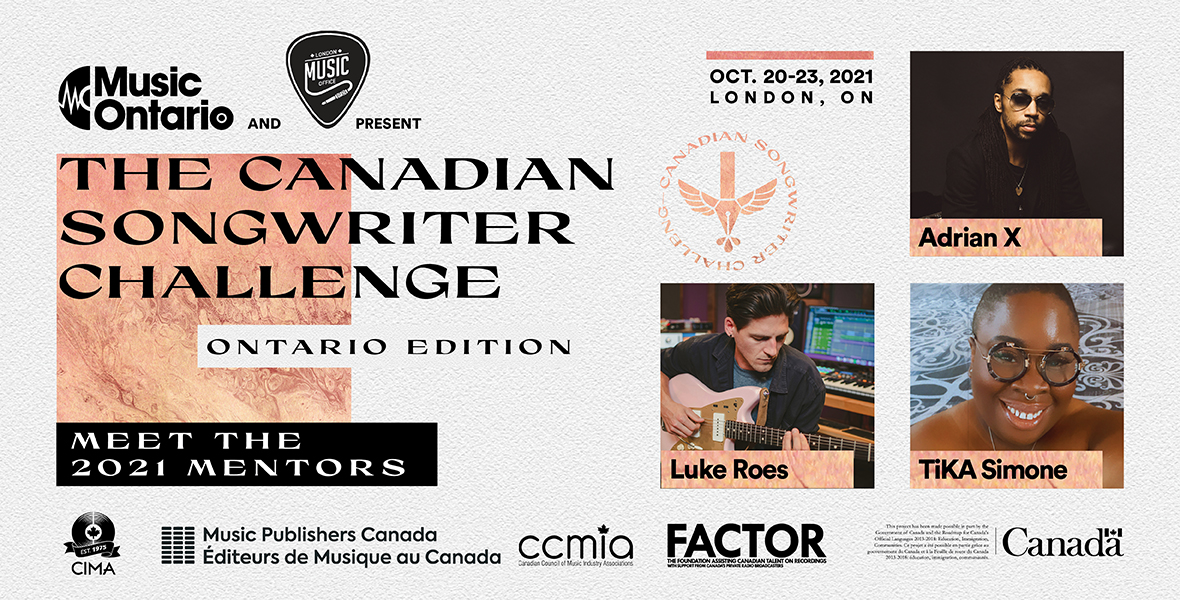 Posted on

October 18, 2021
MUSICONTARIO & LONDON MUSIC OFFICE PRESENT:
THE 2020 CANADIAN SONGWRITER CHALLENGE
October 20-23, 2021 in London, ON
Welcome to the seventh annual Ontario edition of the Canadian Songwriter Challenge, in partnership with the London Music Office, the Council of Music Industry Associations (CCMIA), and Bell Media! The Canadian Songwriter Challenge invites Music Industry Associations from each province to program unique songwriting retreats to develop the skills of local songwriters.
Each year, the MusicOntario hosts a group of emerging songwriters and pairs them with experienced mentors, producers, and engineers to co-write and record demos, participate in workshops on the business of music, and network and build relationships over the course of 2-5 days. We have hosted more than 100 artists over the years, producing 60+ recordings, many of which went on to be released as singles, included on albums, and chart on radio!
This year's Challenge will highlight one of Ontario's major hubs for studios, producers, and production: London, ON! London is a music production hub with world renowned music education facilities at Fanshawe College, Western University and Ontario Institute of Audio Recording Technology (OIART). These schools educate 1,000+ music students with a major focus on audio production – it's truly a progressive music city.
MENTORS
ADRIAN X
Defying the boundaries of genre through his far-reaching brand of Psychedelic RnB, Adrian X has been finessing fretboards since the age of nine and is undoubtedly one of Toronto's best kept secrets. A songwriter and producer with endorsements from the legendary Gibson guitar company and UK-based Victory Amps, Adrian represents his roots and the best of the city's diversity as a hand-picked touring guitarist for The Weeknd, Nelly Furtado, Kylie Minogue, PARTYNEXTDOOR, and as a member of the Grammy award winning team behind Drake's Take Care. The cherry on top of Adrian X's inimitable laid-back-yet-fiery sound, is an understated competitiveness that only sees him continue to reach new heights in an already soaring career.
After a long year, and even longer wait, famed Toronto guitarist Adrian X finally released his debut album Soulgazer on October 30th across streaming platforms. If you're an R&B fan, or a musician who has been through "The Six", it is possible that you've already seen Adrian X at work, but not like this. Not only does Soulgazer give a home to Adrian's immense talent as a guitarist, it also showcases his skills as a producer of his unique and self-described brand of wild yet refined Psychedelic R&B.
X defies norms in every way; it is an amalgamation of progressive rock with tastes of metal, hip-hop beats and alchemical funk. It is a groovy and ambient jaunt through the cosmos, and simply drips with soul. With this debut, Adrian X manages to neatly condense his stadium-seeking sounds into an intergalactic experience, never skimping on substance or style throughout. X is psychedelic escapism in a record and we can't imagine a music lover needing anything more.
LUKE ROES
Luke Roes is a producer & artist based out of London, Canada. He's released music as Ivory Hours and Holiday Tears and is currently working on a solo record.
TiKA SIMONE
TiKA is an artist, DJ, model, film composer, actress, curator, cultural producer, TV/Online personality, and activist. TiKA makes an impression on everyone she encounters and is a strong advocate for female artists and creatives.
TiKA added film scoring to her repertoire in 2019 after graduating from the Canadian Film Centre in 2021. To date she has scored 2 short films, one feature film and a tv teaser. This year, TiKA started her first non-for-profit organization, StereoVisual, which aims to teach marginalized musicians and producers how to transition into making music for film in an effort to create equity in the film industry.
TiKA's love and passion for culture and music has led to the release of 2 EP's, "Some Things Are Better Left Unsaid" + "Carry On." With features in Complex, Noisey, MILK, Afropunk, Saint Heron, The Fader, CBC, The Source, among others, TiKA is receiving critical acclaim for her voice, her energy, her love. Her music. She has opened for major R&B heavyweights like John Legend + NAO and is listed by Complex Magazine as "One of the most prolific creatives in Toronto."
TiKA's debut album was released in Spring of 2021. Aptly titled "Anywhere But Here," it serves as a brilliant indication of her unique voice, as well as her distinctive resonance and personality as a developed artist. With many critics internationally hailing "Anywhere But Here" as one of the most powerful releases of 2021.
In addition, TiKA was the only Canadian musician to model for Sephora 2 years in a row. Her billboards can be seen all across Canada. While her vocation as an ambassador and creator of music has been well established, her image and sound as a new artist is being unleashed to make a very durable impression in order to gracefully provide what this generation has been missing musically.
2021 will see the relaunch of the artistic side of TiKA.