Meet the Songwriters for the Ontario edition of the 2021 Canadian Songwriter Challenge in London!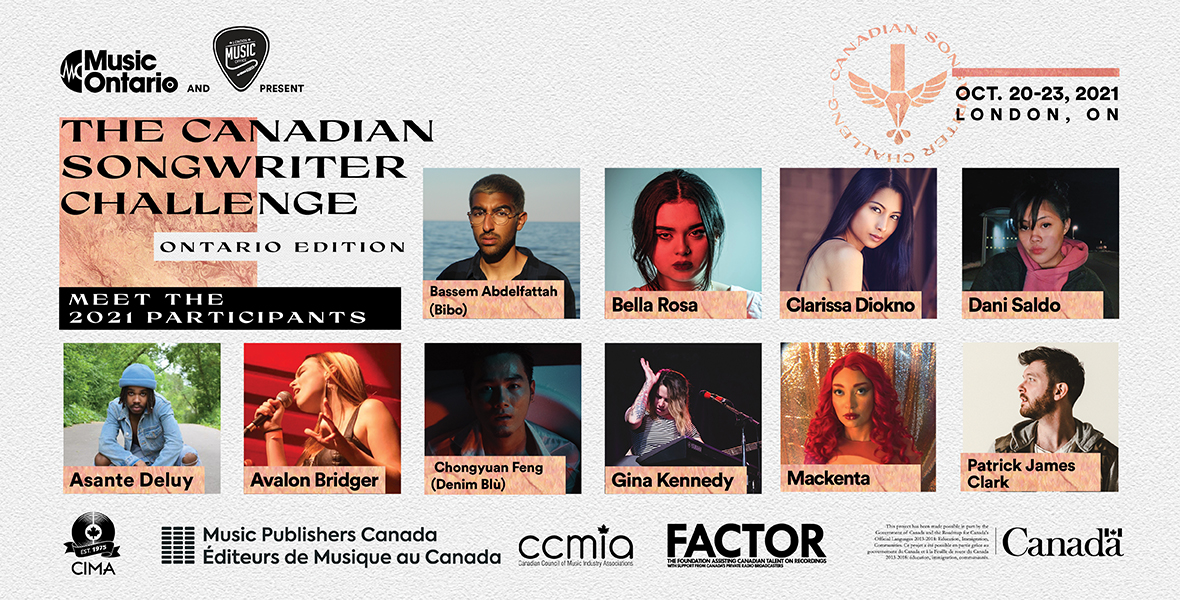 Posted on

October 18, 2021
MUSICONTARIO & LONDON MUSIC OFFICE PRESENT:
THE 2020 CANADIAN SONGWRITER CHALLENGE
October 20-23, 2021 in London, ON
Welcome to the seventh annual Ontario edition of the Canadian Songwriter Challenge, in partnership with the London Music Office, the Council of Music Industry Associations (CCMIA), and Bell Media! The Canadian Songwriter Challenge invites Music Industry Associations from each province to program unique songwriting retreats to develop the skills of local songwriters.
Each year, the MusicOntario hosts a group of emerging songwriters and pairs them with experienced mentors, producers, and engineers to co-write and record demos, participate in workshops on the business of music, and network and build relationships over the course of 2-5 days. We have hosted more than 100 artists over the years, producing 60+ recordings, many of which went on to be released as singles, included on albums, and chart on radio!
This year's Challenge will highlight one of Ontario's major hubs for studios, producers, and production: London, ON! London is a music production hub with world renowned music education facilities at Fanshawe College, Western University and Ontario Institute of Audio Recording Technology (OIART). These schools educate 1,000+ music students with a major focus on audio production – it's truly a progressive music city.
PARTICIPANTS
ASANTE DELUY (he/him)
Asante Deluy is a 21-year old artist residing in London, enrolled in second year with The Music Industry Arts at Fanshawe College. Not only is Asante very catchy and melodic, he is also a lyrical artist who loves telling stories to his audience. Asante has 10 commercial singles out on digital streaming platforms, showing the diversity in his music. Asante's LIVE performances are an experience on their own, his fans both current and new wanting more. His onstage energy gives his music that extra spark to show his performance skills. He is a signed performing artist with London Arts Council having played at Budweiser Gardens (Part of REVIVE LIVE) as well as Victoria Park and Dundas Place.
Asante was nominated for Best Pop Category at the 2021 FCLMA making him the youngest black male artist ever nominated in this category). Asante has songs on University and College radio across Canada. His music can be found on Spotify, apple music and more.
www.open.spotify.com/artist/3qzMP21drX1pzTKkkBVGvF
www.instagram.com/asangedeluy
www.youtube.com/channel/UCa2_oEtG51UEdxAoYwmrWbA
AVALON BRIDGER (she/her)
Avalon brings passion, drive and a magnetism audiences can't ignore to two very different styles of music. Whether she is belting epic rock and blues with her band .Vintage Flight, or telling stories with just her heart melting voice and an acoustic guitar, any stage is clearly her home. See her play live and you will see for yourself why audiences are so surprised by this talent well beyond her years. Her powerhouse voice and style has been compared to some of music's greatest performers.
www.avalonsmusic.com
www.vintageflightband.com
www.musicformentalhealthcanada.com
BASSEM ABDELFATTAH, AKA BIBO (he/him)
My name is Bassem (he/him). I'm a self-produced, singer/songwriter, under the alias "Bibo". I am originally from Waterloo, Ontario. I am a "Music Industry Arts" student at Fanshawe College. I started writing songs around 2015, and started making beats in the summer 2017. Since then, I've self-published a 6-song EP, and 5 singles. The sound I've created for "Bibo" is quite experimental, but generally falls into a psychedelic interpretation of pop, r&b, & hip-hop. As a songwriter, I've written about love, but I'm currently more interested in the more complicated aspects of the human conditions, such as mental health, other relations including friends & family, introspection, etc.
www.instagram.com/likebibo
www.twitter.com/likebibo
www.album.link/ca/i/1543450610
BELLA ROSA (she/her)
Bella Rosa is a Canadian alternative artist born and raised in London, ON. Coming from a musical family, she grew up around band practices, recording sessions and musical instruments everywhere around the house.
Passionate about singing and writing, her music and lyrics are full of passion and charisma. She writes about her life and her experiences as a teenage girl living in modern times.
With a strong stage presence and powerful vocals, Bella Rosa is an artist to watch as one of Canada's next music Stars
CLARISSA DIOKNO (she/her)
Clarissa Diokno is a Singer-Songwriter based in Kitchener, Ontario, who blends her smooth, yet raw and soulful vocal style with modern pop production. Clarissa's debut single, "Confusion", is a hypnotic pop and contemporary R&B track about the gray area of relationships. Released independently in February 2021, "Confusion" has over 23,000 Spotify streams and airplay on college and community radio. Her latest single, "BAD", is a powerful pop track with a dark undertone. It accumulated over 10,000 Spotify streams within its first month of release. It was aired on CBC Radio Canada and also has airplay on college and community radio.
www.clarissadiokno.com
www.instagram.com/clarissadiokno
www.tiktok.com/@clarissadiokno
www.youtube.com/clarissadiokno
www.facebook.com/clarissadiokno
www.twitter.com/clarissadiokno
DANI SALDO (she/her)
Dani Saldo is a Filipino-Canadian artist & songwriter based in Guelph. As if lifted straight from the pages of her diary, Dani's lyrical content is openly honest, genuine & relatable as she effortlessly laments on young love & self-discovery via moody melancholia & dreamy beats, oozing with a knowing nostalgia.
Having trained at ABS-CBN's Star Magic in the Philippines & at none other than Berklee in LA, Dani is certainly no stranger to the music scene. As an active songwriter, she works to create songs for TV & Film in addition to her own artist project. Dani co-wrote Jillian May's debut single "Could We Be Happy" which featured on Season 9 of MTV'S Teen Mom OG in addition to Arcana's song Stockholm Syndrome performed by the dance studio ALiEN in Korea & Ninetone Records Harley Huke's single Afraid. Continuously collaborating with numerous artists & producers she is continuously making music soon to be released.
CHONGYUAN FENG AKA DENIM BLÙ (he/him)
Denim Blù (he/him) is an emerging Toronto-based singer-songwriter whose identity and music reflect the cultural mosaic that makes Toronto's music so universally-appealing. He's a Chinese-born queer artist whose inspiration is borne out of rebellion. He's not supposed to be Chinese and making pop music; he's not supposed to be gay; he's not supposed to emote sex. Well, he does. His music training and influence spans three continents having studied and composed in China, the UK, and Toronto. The product of his music is pure pop fantasy with emotional intrigue, drawing from blues, dance, electronica, and R&B elements, all while being unapologetically queer. His music delivers new-age pop with a story to tell.
www.denimblu.com/
www.instagram.com/denimblu_/
www.facebook.com/DenimBluMusic/
www.twitter.com/DenimBluMusic
www.youtube.com/channel/UCpqvkPf7ImodtaxffRWQNtA
www.open.spotify.com/artist/26cFSSGZRvpy1XPGrduinU
GINA KENNEDY (she/her)
Gina Kennedy is a Toronto-based songwriter and multi-instrumental performing artist originally from very rural Nova Scotia. As one half of power-everything duo Altered By Mom, Gina released an original song per week for all of 2020; the resulting collection of 52 Songs garnered multiple placements in Kim's Convenience on CBC and earned her an official endorsement from Yamaha Music Canada. Equally comfortable writing alone as with others, Gina's cowrites include tracks with Nigel Pulsford of BUSH, the Lowest of the Low, TJ Simpson, Roddy Colmer, and more. When she's not writing, Gina can be seen and heard performing with Monowhales, Skye Wallace, and (of course) Altered By Mom.
MACKENTA (she/her)
Mackenta seamlessly moves between moody R&B melodies, and clever rap flows. The Toronto-based recording artist and songwriter hit the scene in 2015, with her singles "Issues" and "No Finesse" which gained attention from outlets like, The Source, Noisey, and OVO Sound Radio. Since then, she has released two EP's and performed extensively throughout Toronto at shows including Manifesto, 199Z, and Blockobana, and at New Skool Rules in Rotterdam. In 2020 she also performed on CBC's Emancipation Day Special alongside other Black Canadian artists to celebrate Black Liberation. Mackenta's upcoming releases create anticipation for new music full of transformation and free-spirit.
www.facebook.com/Mackentaworld
www.instagram.com/Mackentaworld
www.twitter.com/Mackentaworld
www.soundcloud.com/mackenta
www.youtube.com/mackenta
PATRICK JAMES CLARK (he/him)
2019 brought a debut to the country music scene with Canadian-born singer-songwriter Patrick James Clark.
Clark has spent the past seven years performing across the province and, in 2019, totaled 200 shows across southern Ontario. He has also had the opportunity to open up for artists like The James Barker Band and The Reklaws. When the pandemic hit, musicians everywhere had to shift gears. Clark went all-in on developing his songwriting. Since March of 2020, he has written over 250 songs and had ten of those songs cut by up-and-coming and established Canadian country artists. While he has been working on his craft for his entire life, this is just the begging for the talented country artist.
www.facebook.com/patrickjamesclark
www.instagram.com/patrickjamesclark/
www.tiktok.com/@patrickjamesclark?