CANADA HOUSE RETURNS TO THE GREAT ESCAPE 2022 THIS MAY!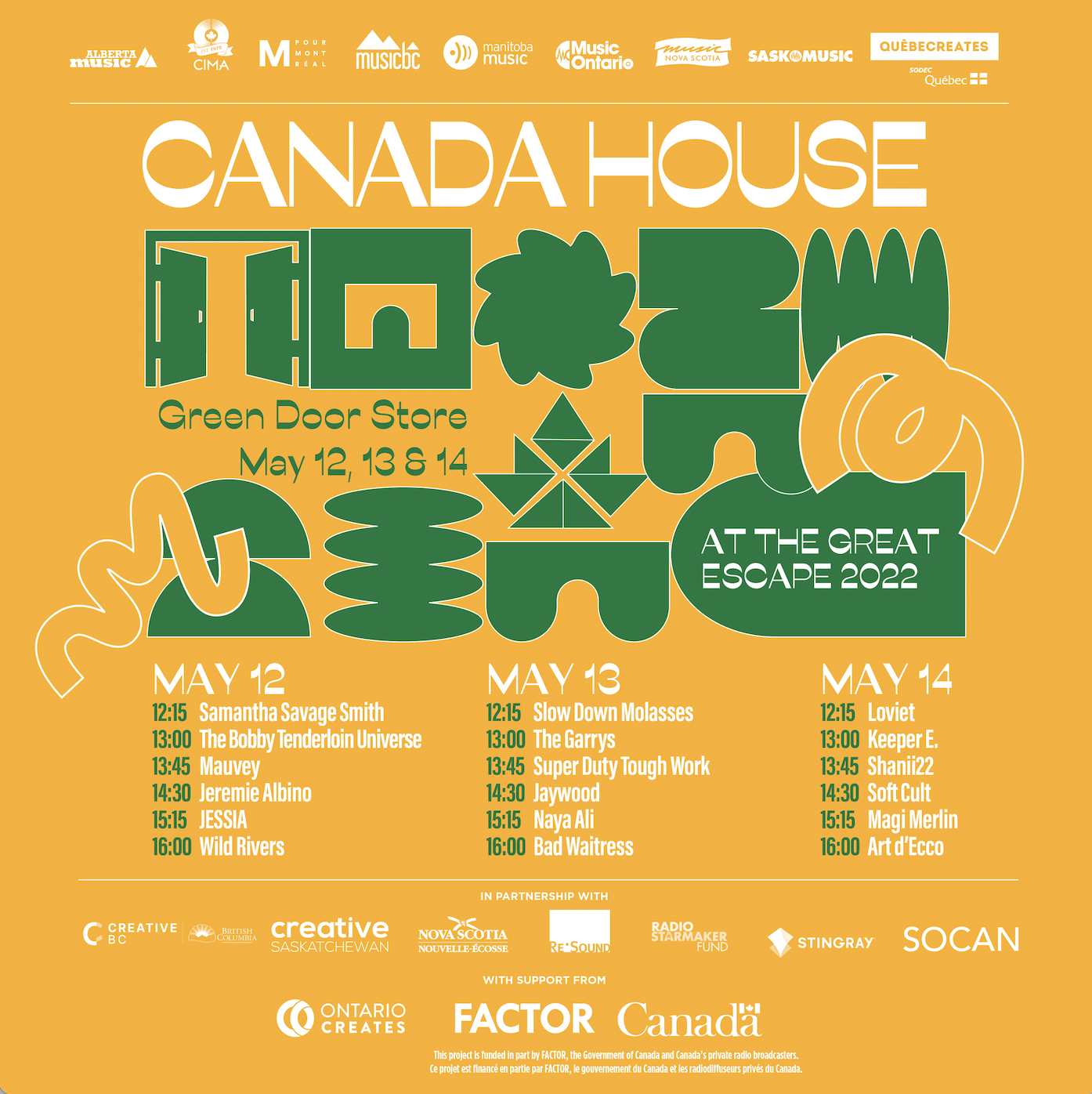 Posted on

May 4, 2022
Canada House Returns to The Great Escape this May
Don't miss 3 days of official showcases from indie artists from across Canada
CIMA is excited to announce the return of Canada House at The Great Escape this May in Brighton, UK! After participating in a virtual edition of the event last year, we are looking forward to returning in person to Brighton in 2022.
As the UK's premier new music and industry gathering, The Great Escape Festival is where sectors from the entire UK music industry come to network, make deals and generally grease the wheels of industry. CIMA helps facilitate entry into international music markets by working closely with key personnel from the Canadian music scene and enabling international export and import opportunities.
Canada House will once again showcase the country's hottest rising independent artists to music fans as well as international and UK industry over three days (May 12, 13 & 14) at the Green Door Store venue. CIMA will be partnering with Alberta Music, M for Montreal, Manitoba Music, Music BC, MusicOntario, Music Nova Scotia, SaskMusic and SODEC to present 18 artists from across the country.
The 18 Canada House artists you won't want to miss this year are:
Art d'Ecco // Bad Waitress // Jaywood // Jeremie Albino // JESSIA // Keeper E. // Loviet // Magi Merlin // Mauvey // Naya Ali // Samantha Savage Smith // Shanii22 // Slow Down Molasses // Softcult // Super Duty Tough Work // The Bobby Tenderloin Universe // The Garrys // Wild Rivers
Canadian companies attending TGE are also encouraged to register for the Country Connections business event. Click here for more information.
See you at the Green Door Store!
--
CIMA gratefully acknowledges and thanks our generous sponsors and partners the Foundation Assisting Canadian Talent on Recordings (FACTOR), the Government of Canada (through the Canada Music Fund), Ontario Creates, the Radio Starmaker Fund, Re:Sound, SOCAN and Stingray Music.