CIMA and MusicOntario at Folk Alliance International 2022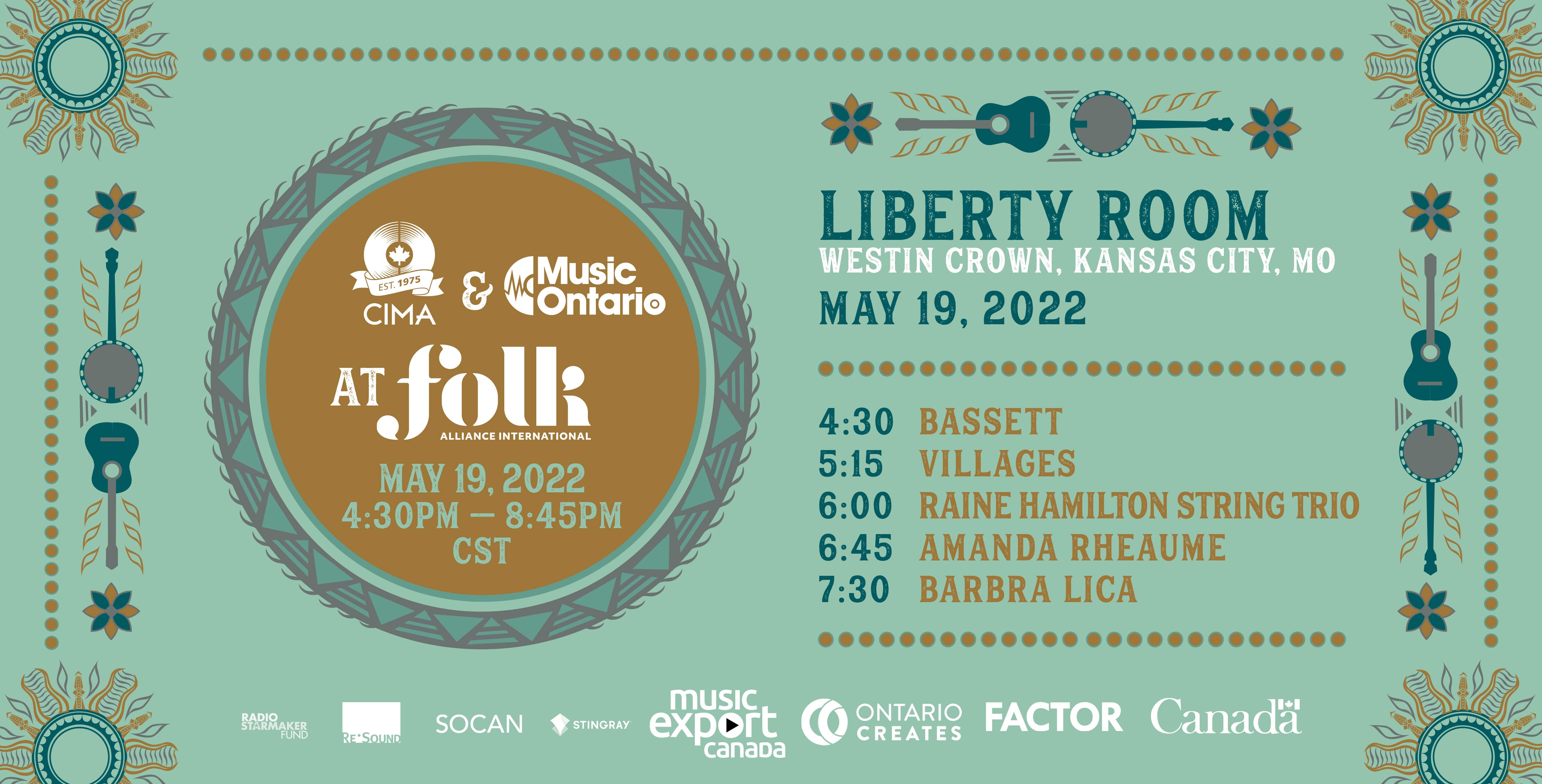 Posted on

May 4, 2022
This May, CIMA and MusicOntario will be returning to Kansas City, Missouri for the 2022 edition of Folk Alliance International.
This year marks the return of the world's largest gathering of the folk music industry and community in person after two years of virtual editions. The conference & festival attracts over 2,000 artists and industry professionals (agents, managers, publishers, labels, festivals, promoters and media) dedicated to folk music. For more information about Folk Alliance, click here.
This year's CIMA & MusicOntario showcase will take place at The Liberty Room (Westin Crown Center) on Thursday, May 19 2022.
The showcase kicks off at 4:30pm and features the following artists:
4:30 – Bassett
5:15 – Villages
6:00 – Raine Hamilton String Trio
6:45 – Amanda Rheaume
7:30 – Barbra Lica
For the full conference schedule & information on how to register click here.
Get to know the showcasing artists:
Bassett: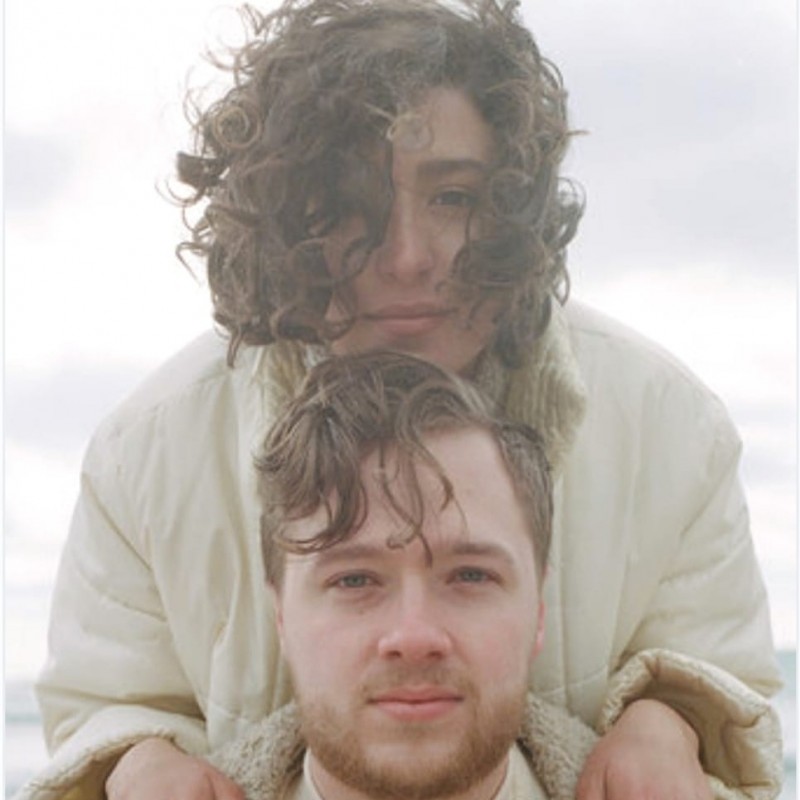 Toronto-based folk duo, Basset, are full of timeless heart. Acoustic songwriters Sam Clark and Yasmine Shelton will take you from a beekeeper's fields to the haunted basement of a second-hand store, in a style that is all their own.
Basset bring a deep love of the natural world to their gorgeously meditative and assured debut album, In The Clay, set to release in Fall 2022. Produced by Joshua Van Tassel (Sarah Slean, Christine Bougie), the ten songs on In The Clay explore various themes of life in change, Shelton and Clark's travels around Northern Ontario, the Canadian and American prairies, their lives in Toronto, and the characters – from all walks of life – who have crossed their paths. With comparisons to The Milk Carton Kids, Hozier, and Bon Iver, their inventiveness shines on fiddle and intricate harmonies, with Shelton and Clark's voices wrapping around each other like twin flames in a warm fire.
In 2021 Basset performed at Boston-based Club Passim's virtual Campfire Festival, as well as the Honey Jam developing artist showcase (Nelly Furtado, Jully Black, Haviah Mighty) at the El Mocambo in Toronto, and the Summerfolk Festival in Owen Sound. They've performed at venues across Ontario and Quebec promoting their self-titled EP. In 2022 they will be Official Showcase Artists at Folk Alliance International and are looking forward to the release of their LP, In the Clay, in Fall 2022.
Villages: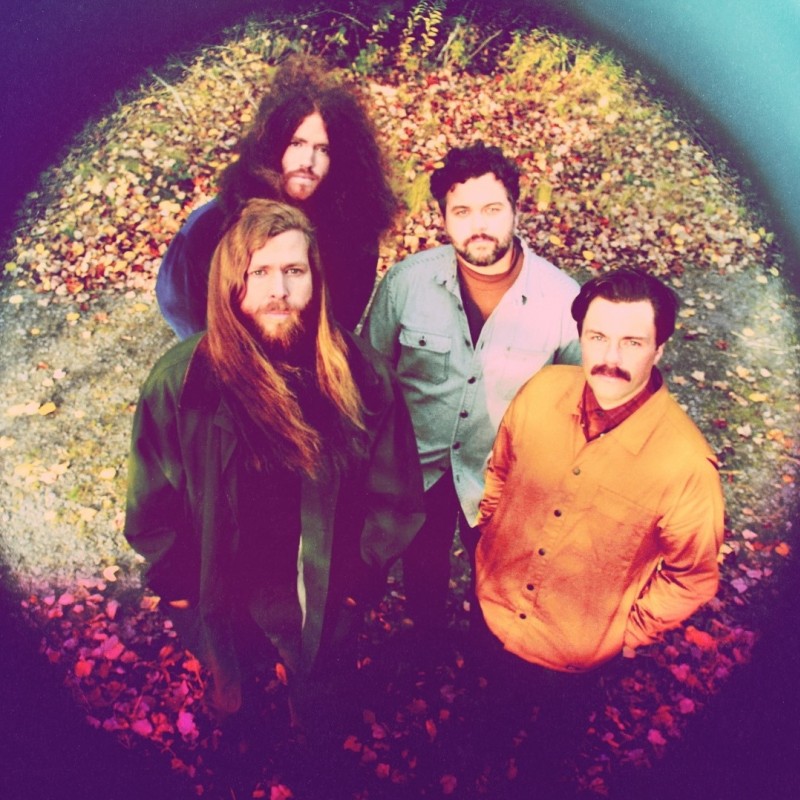 In the late aughts, traditional music was the furthest thing from the minds of Matt Ellis, Travis Ellis, Jon Pearo, and Archie Rankin. Having left their Cape Breton homes for the allure of the big city, the musicians formed Mardeen - a group steeped in Halifax's history of melodic pop-rock and anchored in the vein of their musical heroes such as Sloan, The Super Friendz, and Thrush Hermit. Long heralded as one of Atlantic Canada's hidden treasures, Mardeen amassed heaps of praise from critics and peers alike.
Steadfast, prolific, and revered, Mardeen found themselves looking back on their heritage after an unexpected trip down memory lane. "One late night, a singalong of Rankin Family tunes broke out," says vocalist Matt Ellis. "I remember saying to the rest of the band that we need to write something that evokes the sound of home."
Named after an essay penned by Cape Breton illustrator Kate Beaton, Villages was born. Beginning with a song called "Hymn After Hymn", the group parlayed their newfound appreciation for Celtic and British folk into a four-song EP with the same name. Produced by East Coast icon Joel Plaskett, the output cemented the four-piece as an entirely new entity focused on melding the melodies and lyrical influences of their deep-rooted history with contemporary instrumentation, moods, and sounds.
This turning point culminates on the self-titled Villages full-length. Recorded at their home studio in rural Nova Scotia with producer Thomas Stajcer (Joel Plaskett, Erin Costelo), the record presents a unique take on life in the Maritimes. From the opening ethereal thump of a distant kick drum and chiming distorted chords on "Awakening of Spring," to the reel-esque drive on "Maggie of the Cove" and "Sarah's Whistling Tune," to the country-tinged inflections on "At Your Door," the eight-song LP tells the story of four young Nova Scotians coming back to their traditions on their own terms.
Ringing like a rural anthem, Villages serves as a reminder that while it's easy to leave home, for some, it's never quite possible for that home to leave you.
Raine Hamilton String Trio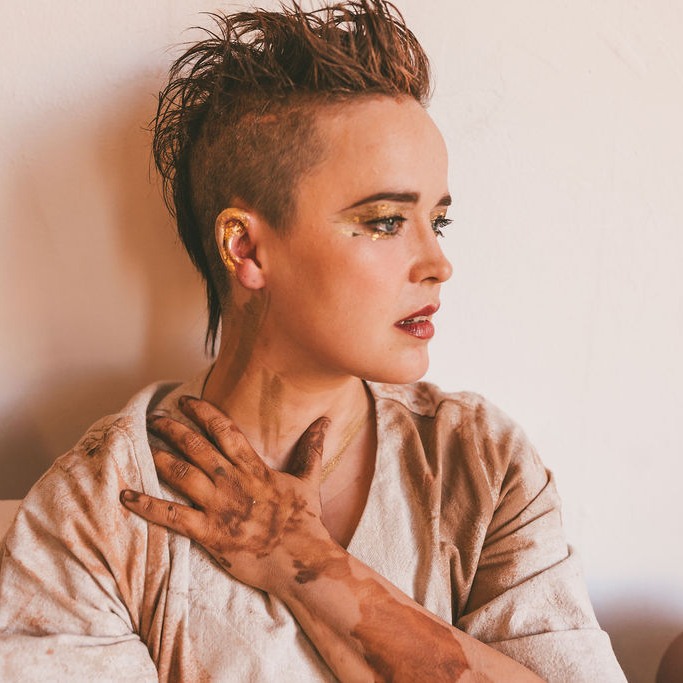 Raine is part prairie songstress, part storyweaver; Each song has a story, delivered between songs with humour and grace. Raine invites deep love of the violin into the singer-songwriter genre, writing for violin and voice, as well as for guitar and voice. Joined by cello and upright bass, expect string arrangements that push and pull, that move as they console.
A classical violinist and musicologist by training, Raine and their string trio offer string-quartet-like arrangements of Raine's original songs. They call this chamber-folk, a hybrid of the classical tradition of string quartet chamber music, with the singer songwriter folk that comes so organically to Raine.
Raine's latest work, the full-length album Brave Land (2021-22), is a concept album about mountains, and the courage, wisdom, and otherworldly connection they represent. Here, as in Raine's 2018 album Night Sky, the songs are set to intricate and seasoned arrangements for guitar, violin, cello, and double bass. Once again Raine has worked with string trio collaborators Quintin Bart on double bass, Natanielle Felicitas on cello, and Lloyd Peterson as producer/engineer.
Raine believes that music is for everyone, and that we all have something to share. An experienced educator, Raine offers workshops in songwriting and fiddle tune writing (EN/FR). Raine also offers concerts with American Sign Language (ASL) interpretation, to help make live music and the community that comes with it more accessible to the Deaf community.
Raine is the recipient of the 2018 Canadian Folk Music Award for Emerging Artist of the Year! Raine has toured Canada extensively, driving, flying, and floating coast to coast. Highlights include: Performing songs with the Winnipeg Symphony Orchestra (5 times!), performing with the Manitoba Chamber Orchestra, playing a show in a cave (10 stories below the earth!), playing festivals across Canada (Vancouver Folk Festival, Vancouver Island Music Fest, Atlin Festival, Home County, Filberg Fest, Lilac Fest, Harvest Moon, Trout Forest), playing for passage on Via Rail, and meeting so many amazing humans along the way.
Amanda Rheaume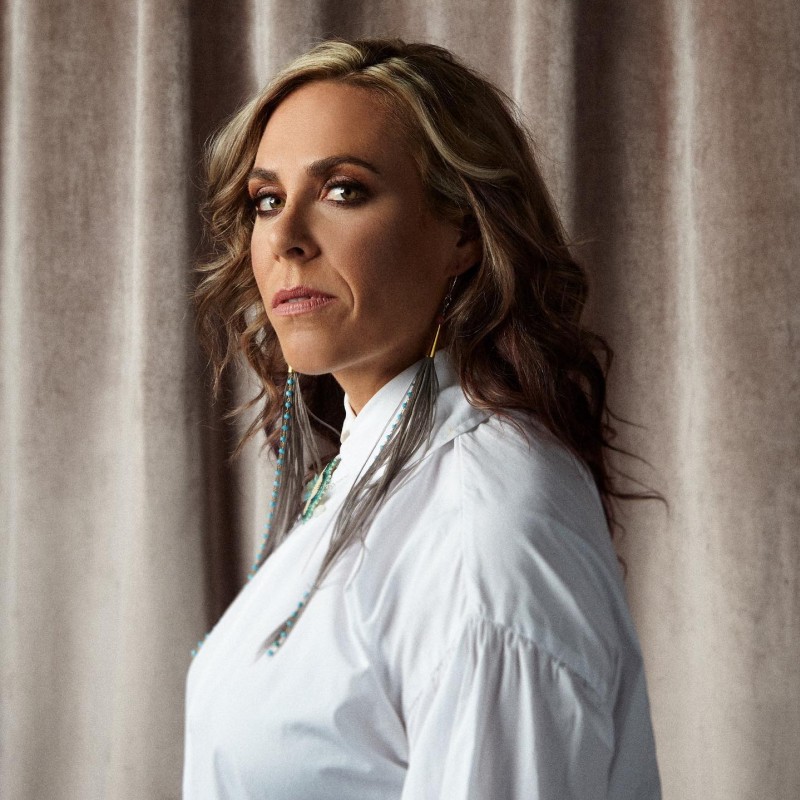 Amanda Rheaume's rootsy, guitar-driven ballads introduce crucial dimensions to the world of Heartland Rock. In a genre characterized by anthems of underdogs, assumptions and unfair advantages, Rheaume's sound and story crucially and radically expand the boundaries, geographic and cultural, to make space for new perspectives on resistance and resilience. A Citizen of the Métis Nation, and an active and proud member of the 2SLGBTQ+ community, Rheaume's music is indeed from the heart, and the land.
First a songwriter, Rheaume comes from a long line of tireless, transformational organizers and activists, and carries this lineage forward in her ever-growing role as a crucial builder of Indigenous music infrastructure and community. From the International Indigenous Music Summit, to newly-founded Ishkode Records, and the National Indigenous Music Office, the goal of raising Indigenous sovereignty in the music industry drives all of Rheaume's work.
Rheaume (she/her) has released 5 full-length albums over a period of 15 years, a self-managed career that has traveled countless tours and milestones. 2013's Keep a Fire was nominated for a JUNO Award and won a Canadian Folk Music Award for Indigenous Songwriter of the Year. With a new single "100 Years," a driving, surging Copperhead Road-esque journey through a wilfully, harmfully misrepresented chapter in a violent colonial timeline, Rheaume makes a powerful statement about history and identity.
Barbra Lica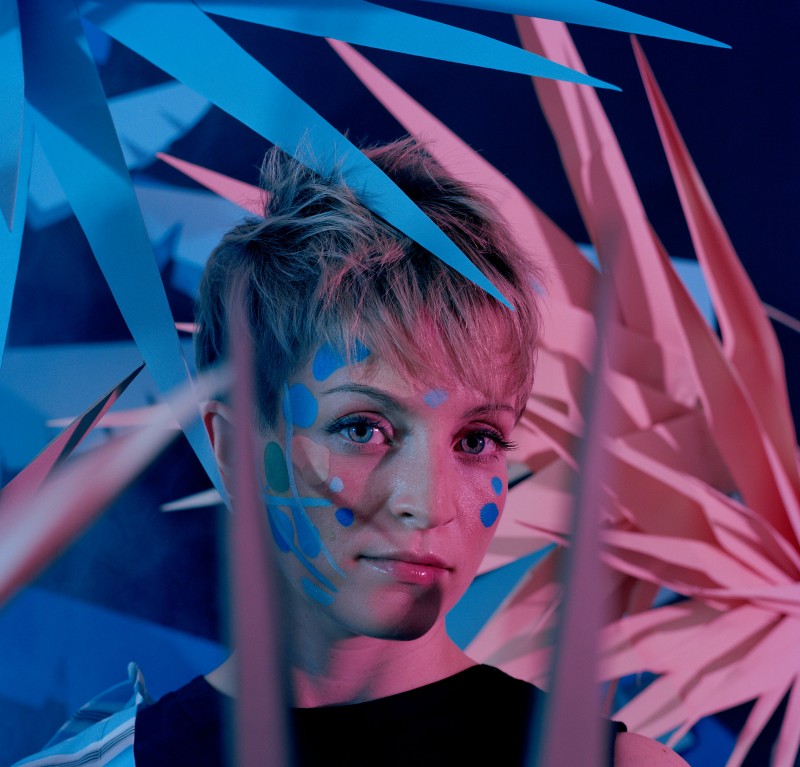 Barbra Lica is a Juno-nominated artist singer-songwriter based in Toronto. A seasoned act on the North American club and festival circuits, Barbra has performed everywhere from New York City's legendary Birdland to Toronto's prestigious Koerner Hall. She has also headlined at festivals across the continent including Festival International de Jazz de Montréal, Vancouver International Jazz Festival and Xerox Rochester International Jazz Festival, and opened for the likes of Christian McBride, Pat Metheny, Bob Dorough, and Terence Blanchard.
Barbra's debut album That's What I Do (Triplet / Universal Jazz Japan) was released to widespread acclaim in 2012, ranking her in Canada's Top 5 Jazz singers on the CBC, as well Top 5 up-and-coming Toronto jazz artists on blogTO. Shortly after, her band made their Japanese debut live at the Tokyo International Jazz Festival in 2015 for over a thousand Japanese fans Her first album with Justin Time Records, I'm Still Learning, was released September 2016 and subsequently nominated for a 2017 Juno Award in the category of "Best Vocal Jazz Album". Her subsequent project, You're Fine (Justin Time Records) marked the introduction of Folk an Americana elements to her repertoire and has amassed over 4 million streams to date on Spotify.
In addition to writing for herself, Barbra has written cuts for such artists as jazz crooner Matt Dusk (Entertainment One/Universal), rising J-Pop singer Harumi (Sony Music Japan), and Taiwanese pop recording artist, Morrison Ma (Universal Music Group/X Entertainment). She is currently working on her first self-produced project slated for release in 2022 with generous support from FACTOR.
--
CIMA gratefully acknowledges and thanks our generous sponsors and partners the Foundation Assisting Canadian Talent on Recordings (FACTOR), the Government of Canada (through the Canada Music Fund), Ontario Creates, the Radio Starmaker Fund, Re:Sound, SOCAN and Stingray Music.