Call for Submissions: Ontario & Friends at Folk Alliance International 2023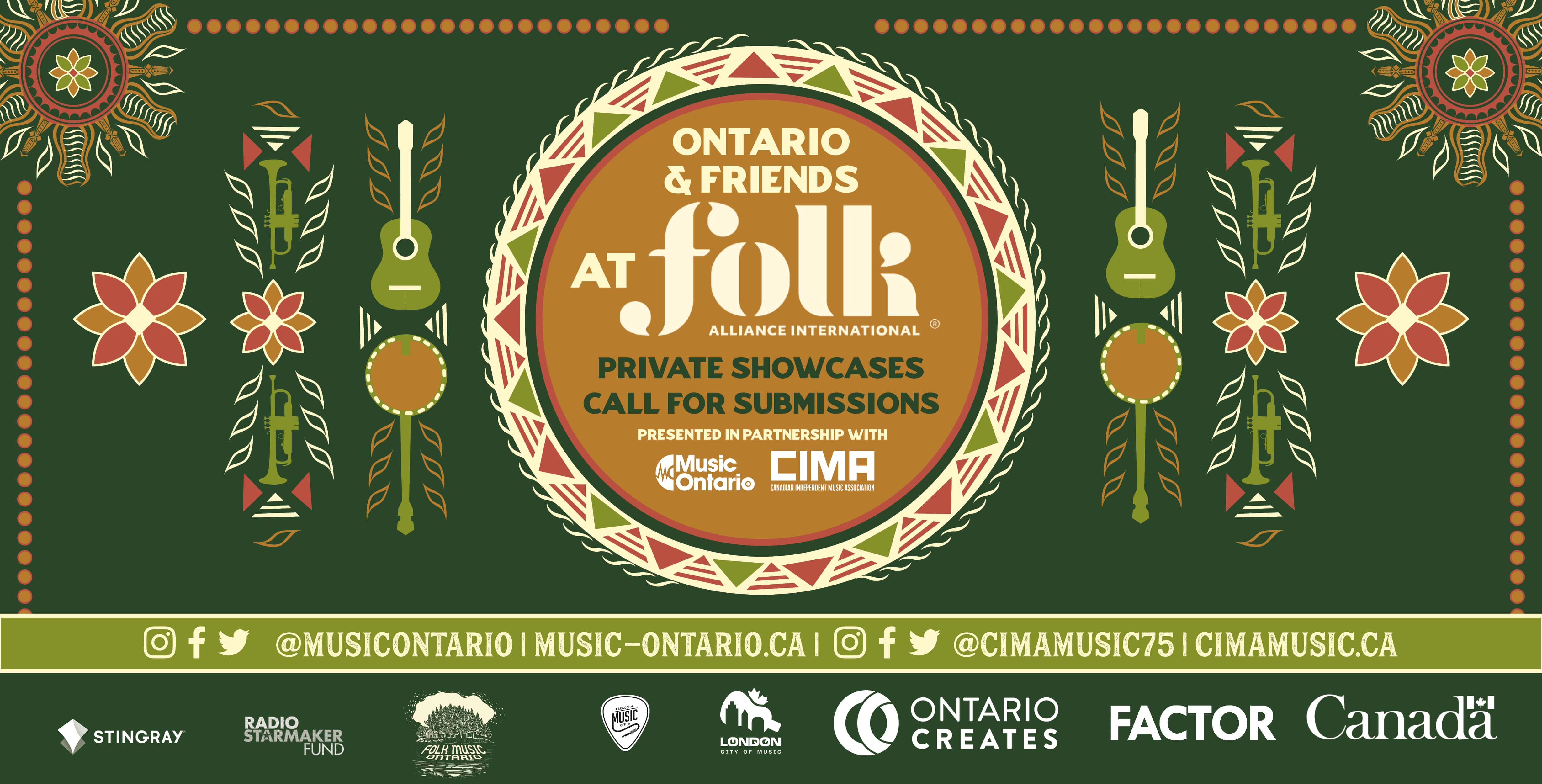 Posted on

November 4, 2022

Tagged as
MusicOntario at Folk Alliance International 2023
February 1-5, 2023
Westin City at Crown Center (Kansas City, MO)
Apply Now: https://www.surveymonkey.com/r/KJ9GCXJ
MusicOntario is pleased to be returning to Kansas City this February 1-5, 2023 to host our seventh annual private showcase suite at Folk Alliance International 2023, the world's largest gathering of the folk music industry and community (crossing a diverse array of genres including Blues, Bluegrass, Roots, Celtic, Cajun, Appalachian, Traditional, World, and Singer-Songwriter), boasting a comprehensive conference, custom business opportunities and hundreds of showcasing opportunities.
MusicOntario creates this opportunity to support Ontario-based artists and companies in their export, touring, and professional strategies. We welcome applications from any tradition and iteration of folk music. Please keep in mind that:
You must be an Ontario-based artist to be eligible.
MusicOntario members in good standing receive a stipend for their performance.
Showcases are brief – 20 minutes each, with 10 minutes to change over.
Showcases take place in suites in the host hotel, so you must have an acoustic configuration, with only light percussion/amplification permitted.
MusicOntario will provide a sound technician for performers to use.
In order to perform, you must be registered with the Folk Alliance International conference – head to https://folkconference.org/register for rates
We suggest you start exploring funding/grant opportunities ASAP if you hope to offset costs related to attending a business and showcase conference like Folk Alliance.
A non-refundable administrative fee of $10.00 per submission is applicable if you are not a current member in good standing of MusicOntario, CIMA, or Folk Music Ontario. Members are invited to apply for free.
Application deadline is November 25, 2022.
The Canadian Independent Music Association (CIMA) will be sponsoring a select number of artists in the MusicOntario showcasing room this year at Folk Alliance. The criteria to be eligible for this opportunity is:
You must be a CIMA member in good standing based in Ontario representing an Ontario based or non-Ontario based artist OR a CIMA member in good standing based outside of Ontario who represents an Ontario artist.
All applications will be reviewed by our independent Talent Committee. We appreciate all submissions, however, for administrative purposes, only successful applicants will be contacted.


If you would like to learn more about MusicOntario membership, please contact Sam Rayner: samr@music-ontario.ca.
ONTARIO's storied private showcase suite on the Folk circuit is back, featuring stunning performances, plenty of avenues to quench your late night thirst and cravings, and opportunities to connect with key Ontarian/Canadian music industry professionals and artists, in both creative and business capacities!
Ontario & Friends at Folk Alliance 2020 is presented in partnership with MusicOntario, Music Export Canada/Canadian Independent Music Association (CIMA), Folk Music Ontario, and the London Music Office, with support from Ontario Creates and the Government of Canada (through the Canada Music Fund).
About MusicOntario:
MusicOntario is a non-profit, membership-based provincial Music Industry Association (MIA), whose mission is to provide professional development, education, information, and support to the music industry of Ontario. The association's mandate is to nurture, elevate, and empower emerging companies and artists in Ontario's indie music sector. We help.

About CIMA:
CIMA is the not-for-profit national trade association representing the English-language, Canadian-owned sector of the music industry. CIMA''s membership consists of Canadian-owned companies and representatives of Canadian-owned companies involved in every aspect of the music, sound recording and music-related industries. They are exclusively small businesses which include: record producers, record labels, recording studios, managers, agents, licensors, music video producers and directors, creative content owners, artists and others professionally involved in the sound recording and music video industries.
CIMA's mandate is to develop and advocate policies and services that serve to support a strong and economically stable Canadian independent music and sound recording industry, ensuring the long-term development of the sector and to raise the profile of Canadian independent music both in Canada and around the world.
CIMA continues to take a leadership role in improving the economic viability and well-being of the independent music and sound recording sector in important areas such as cultural industry policies and programs; intellectual property and copyright law; tax laws and tariffs; international export and trade development programs; and professional development.
About Folk Music Ontario:
The Folk Music Ontario Conference is Canada's largest annual conference devoted to the folk, roots, and traditional music community, offering showcasing, professional development, and networking opportunities for artists and music industry professionals at any stage of their career, from emerging to export-ready.