MusicOntario at Folk Alliance International 2023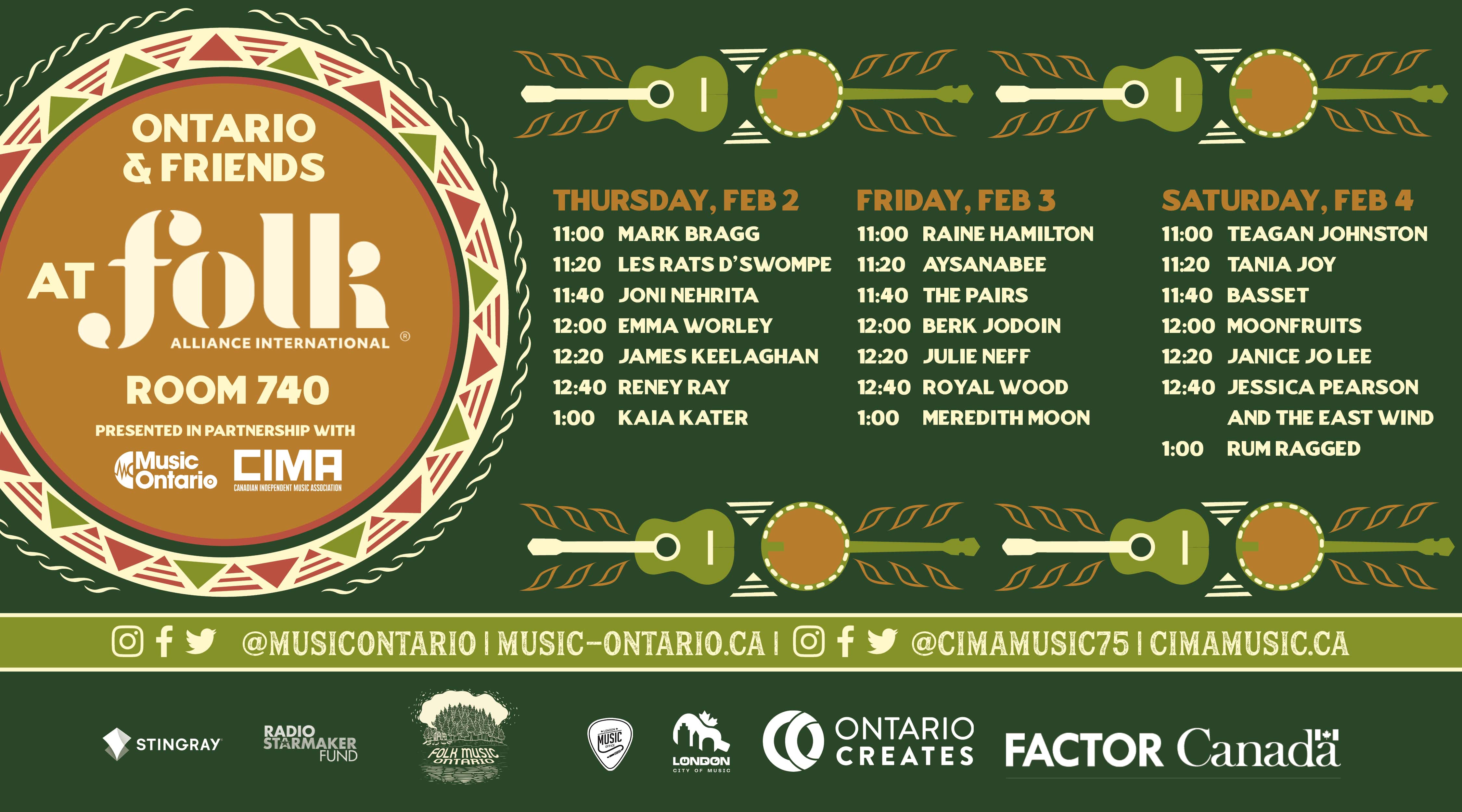 Posted on

January 16, 2023

Tagged as
MUSICONTARIO @ FOLK ALLIANCE INTERNATIONAL 2023
February 1-5@ The Westin at Crown Center (Kansas City, MO)
MusicOntario will be returning to Kansas City to host our seventh annual private showcasing suite during Folk Alliance 2023, the world's largest gathering of the folk music industry and community. The event crosses a diverse array of genres including Blues, Bluegrass, Roots, Celtic, Cajun, Appalachian, Traditional, World and Singer-Songwriter and boasts a comprehensive conference, custom business events and hundreds of showcasing opportunities.
The "Ontario and Friends" private showcasing room presented by MusicOntario in partnership with the Canadian Independent Music Association (CIMA), Folk Music Ontario and the London Music Office, will take place in Suite 740 at the Westin. These showcases will run for 3 nights beginning on Thursday, February 2 until Saturday, February 4 and will feature 21 Canadian acts.
The Artist Green Room hospitality is provided by the Canadian Federation of Musicians.

MusicOntario gratefully acknowledges and thanks our generous sponsors and partners Ontario Creates, the Foundation Assisting Canadian Talent on Recordings (FACTOR) and the Government of Canada (through the Canada Music Fund).
Check out the full showcasing schedule below: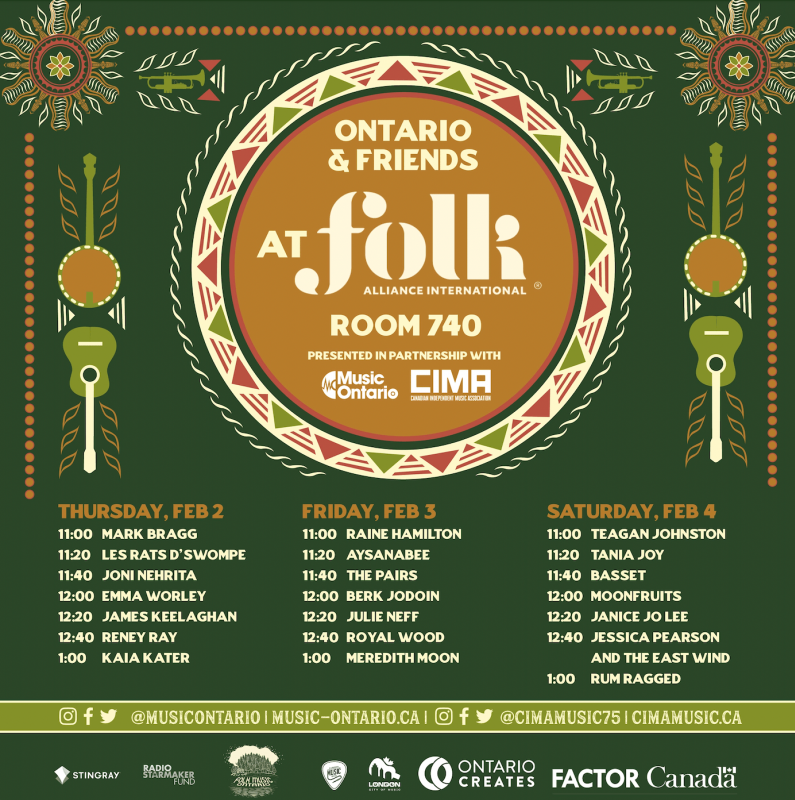 Get to know the showcasing artists:

Thursday, February 2, 2023 @ 11:00-11:15
An east coast legend, Newfoundland's Mark Bragg is perhaps Canada's most flamboyant folky. Mix the earnestness of Bruce Springsteen, with Elton John's showmanship and Tom Wait's dramatic flair, and you're about half way there. Like hot toddies, Bragg is a cure for the common cold. After earning MusicNL Songwriter of the Year in 2018, touring Canada and the USA in 2020, Bragg hunkered down during the pandemic and is set to release new music in early 2023.
Thursday, February 2, 2023 @ 11:20-11:35
Originally from Northern and Eastern Ontario, Les Rats d'Swompe are proud French Canadians, brought together to introduce people to the sound of the traditional violin, call and response songs and the musicality of yesteryear. Based in Ottawa, Les Rats d'Swompe are five plaid lumberjacks who take the stage to fuse elements of rock, traditional, pop and punk. These young but experienced musicians are one of the few groups to bring Franco-Ontarian folklore to life. A high energy act that will make you want to sing and dance.
Thursday, February 2, 2023 @ 11:40-11:55
Socially-charged Afro-Latin + Caribbean soul flirts with jazz. Folk Heart.Joni NehRita invites listeners to feel, move and think more. She has a gift for crafting singable melodies dressed in jazzy chords with grooves that feel ready to hit the beach- south of the border, of course! This knack for sun-drenched songs and infectious grooves help her message of equity, social change and compassion to be received like a cool drink on a sweltering day. She leans in toward fearless self-expression and the complexities of what it is to be a human striving to be better. The path isn't linear, nor is it without discomfort, but that doesn't mean it can't be joyful along the way. This notion is in essence, her latest album, entitled Love & Protest.
Thursday, February 2, 2023 @ 12:00-12:15
Toronto-based Emma Worley spent many years dedicated to a career as a visual artist. Upon graduating from OCADU, Worley garnered attention for her sculpture/installation work at various high-profile institutions. Despite her burgeoning success in the visual-arts world, Worley found herself compulsively drawn towards creating the material that would become her debut album, Sentimentalist. Her songwriting is heartfelt, genuine and clever and her voice as soothing as it is powerful. Her debut record, Sentimentalist, released Spring 2022 on Victory Pool, showcases her maturity as a writer, despite it being her first public release of music.
Thursday, February 2, 2023 @ 12:20-12:35
James Keelaghan is a JUNO and CFMA-winning singer-songwriter who has just released a fantastic new album: Second-Hand, on Borealis Records. With a highly regarded command of history and skill as a lyricist, his songs are delivered with an unmistakably rich baritone that has defined his career. Despite some stiff competition, James is considered one of Canada's all-time greatest singer-songwriters.
Thursday, February 2, 2023 @ 12:40-12:55
Born and raised in Kapuskasing Ontario, and nestled in front of a piano since the tender age of 5, Reney Ray has been writing and composing music almost her entire life. Now playing multiple instruments, helping her explore different types of sounds like Folk, Country, Blues, Pop, RnB, and Gospel, she gives a voice to her stories with lyrics that are heartfelt and empowering, constantly aiming self growth. Born bilingual, Reney has been releasing albums in both French and English, getting her nominated quite often throughout the last few years. Winner of the "2022 French Songwriter of the Year" award at the CFMA's (Canadian Folk Music Awards) and the "2022 French Artist of the Year" award at the CMA0 (Country Music Awards of Ontario) with her unique and soothing voice that charms and enchants. From her heart to her art, a refreshing authenticity in today's music with strong messages the world needs and that are worth listening to.
Thursday, February 2, 2023 @ 01:00-01:15
Montreal-born Grenadian-Canadian Kaia Kater's jazz-fueled voice and deft songcraft have garnered acclaim from NPR, CBC, Rolling Stone and No Depression. On her JUNO nominated and Polaris Music Prize long-listed album 'Grenades', Kaia leans into a wide array of sounds and styles in order to convey a broad range of emotions and topics, most notably her paternal Caribbean ancestry. In 2021, Kaia took part in the Slaight Music Residency at the Canadian Film Center, released a new single ("Parallels") in October, and composed original music for the CBC/BET+ TV series entitled 'The Porter'. She is currently working on a full length album for release in 2023.
Friday, February 3, 2023 @ 11:00-11:15
Resonant, acoustic chamber folk with an otherworldly edge, and a lyric presence that cuts deep. Prism-clear vocals and strings, reaching out beyond the earthly.
A classical violinist and musicologist by training, Raine and the trio offer string-quartet-like arrangements of Raine's original songs. They call this chamber-folk, a hybrid of the classical tradition of string quartet chamber music, with the singer songwriter folk that comes so naturally to Raine.
Raine's latest work, the full-length album Brave Land (2021-22), is a concept album about mountains, and the courage, wisdom, and otherworldly connection they represent. Here, as in Raine's award winning album Night Sky, the songs are set to intricate and seasoned arrangements for guitar, violin, cello, and double bass.
Friday, February 3, 2023 @ 11:20-11:35
Aysanabee's voice introduces himself in a way that words cannot. Solemn and soaring, backed by a swirling blend of indie, soul and electronic soundscapes, mournful saxophone and pulse-quickening finger-picking, Aysanabee's striking sound is equal parts hypnotic and melodic. The Toronto-based songwriter made his entrance in 2021 with the jaw-dropping song "Ocean Breath." The self-produced, self-released single quickly found its new home with Ishkōdé Records, where Aysanabee became the new label's first signing. In a whirlwind year, Aysanabee performed on major stages across the country, opened for Half Moon Run and July Talk, launched and curated an emerging Indigenous artist series in Toronto, and is currently readying his debut album, expected in 2022. Aysanabee is Oji-Cree, Sucker Clan of the Sandy Lake First Nation.
Friday, February 3, 2023 @ 11:40-11:55
Family is what ties The Pairs together. With soaring harmonies, they share stories of life's hope, hilarity, and hardship. An honest, quirky stage presence and their unbottled chemistry, quickly connects them with their audience. The line between the stage and the crowd becomes blurred as if we've all pulled up a seat around their family's lively kitchen table. Powered by three classically trained vocalists and a former punk rock drummer, The Pairs offer a unique blend of music that will hug your eardrums and inspire you to dance.
Friday, February 3, 2023 @ 12:00-12:15
Indigenous singer/songwriter Berk Jodoin hails from the Northern community of Pierceland, Saskachewan. Although Berk writes songs based on topics that most people would choose to ignore, such as Residential Schools, addiction, depression and suicide, he hopes that sharing these stories with audiences through song can help to bring awareness and understanding to these difficult issues. His carefully crafted songs captivate listeners emotionally, fusing his influences like Steve Earle and Waylon Jennings together to create soulful storytelling with just the right amount of gravel.
Friday, February 3, 2023 @ 12:20-12:35
Julie Neff is an indie-pop / alt rock artist who wields her heartbreak into powerful melodies and driving rhythms. Primarily based in Toronto, Neff has taken her music to Brazil, Mexico, Argentina, Croatia and Portugal, building on her passion for language and culture along the way. Neff's vocals are emotionally potent, driving to the core, and helping to process the complex emotions we face each day. Whether you need to have a good cry or belt out your frustrations, Neff's music is here for you. While her debut EP, Catharsis, focussed on this emotional release, Neff's latest EP, Over It, shines a light on the open heart needed for vulnerability while planting one's feet firmly on the ground to create the healthy boundaries we need in our lives.
Friday, February 3, 2023 @ 12:40-12:55
Singer, songwriter, multi-instrumentalist and producer Royal Wood has established himself as a true musical talent. Since being proclaimed "Songwriter of the Year" by iTunes (2010), Wood has continued to evolve and hone his musical craft – maintaining an unmistakable identity while uncovering and reinventing his sound.
Friday, February 3, 2023 @ 01:00-01:15
Meredith Moon has been described as a 'gem' among the Old-Time music scene for her unusual expression of the genre, combining influences of folk-punk with traditional Appalachian sound. Besides playing traditional tunes often 'non-traditionally', Meredith is a multi-instrumentalist, incorporating finger-style guitar, piano and lap dulcimer, contemporary clawhammer banjo style, among other instruments, into her performances. Meredith Moon has been a regular in the Folk Festival circuit for over a decade. In the last eight years, she has toured Canada, Mexico, Central America, the UK and Europe. She released "Forest Far Away" in May of 2018, and will be releasing her second full-length album, "Starcrossed" on True North Records in early 2023.
Saturday, February 4, 2023 @ 11:00-11:15
Formerly known as Little Coyote, Teagan Johnston, is a singer-songwriter who drives the genre beyond its current borders, bringing a radical rawness to her work that hits you in your heart. Born in the Yukon, raised between South Afri-ca, Spain, Switzerland and the West Coast of Canada, Teagan brings a vast & ever layered perspective to her work.
A seasoned and experienced live performer, at home playing solo or backed by a band, Teagan has toured North America and Europe, including performing a special set at David Lynch's prestigious private Paris nightclub Silencio.
In 2019 Teagan played her breakout acting role as Catherine in a Canadian Indie Horror movie The Strings as well as composing original music for the film. Out-lets such as The A.V. Club , Bloody Disgusting and more have called John-ston's performance and music in the film "commanding" and "magnetic."
Saturday, February 4, 2023 @ 11:20-11:35
Folk-roots musician Tania Joy has been using the last few years to hone her songwriting, releasing her 2013 EP, I'll Be Around and her 2021 EP I Will Stand, which was produced by Juno Award winner Hill Kourkoutis. "Planks and Marietta" and "The Drought," won Tania Joy the Songwriter of The Year Award at the 2021 OMAs. "Planks and Marietta" also received a nomination for Durham Song of the Year. This pure, heartfelt, release has garnered attention across Canada, and overseas with features on CBC, The Bluegrass Situation, American Songwriter, Americana UK, Sirius XM and her first showcase in the US. I Will Stand has since been nominated for Album of the Year at the 2022 OMAs (Oshawa Music Awards), while Hill Kourkoutis won a Juno in 2022 for Recording Engineer of The Year for her work on "The Drought."
Saturday, February 4, 2023 @ 11:40-11:55
Toronto-based folk band, Basset, will take you through city streets in the hours before the world has woken, or to a corrugated steel home north of the treeline. Basset bring a deep love of the natural world to their gorgeously meditative debut album, In The Clay, released September 2022. In Spring/Summer 2022, Basset performed at NXNE, opened for musicians Ahi, and Danielle Ponder, and performed as Official Showcase Artists at Folk Alliance International. They took part in a 15-stop Canadian East coast tour and performed at the Winnipeg Folk Festival Youth Stage. In 2021 they performed at Boston-based Club Passim's virtual Campfire Festival, as well as the Honey Jam artist showcase (Nelly Furtado, Jully Black, Haviah Mighty) in Toronto. They've performed across Ontario and Quebec promoting their self-titled EP and are looking forward to touring their Debut Album, In the Clay, in the Northeastern USA in Fall/Winter 2022.
Saturday, February 4, 2023 @ 12:00-12:15
Moonfruits craft contemporary folk that addresses our collective humanity with heart, wit, and wonder. Led by partners Alex Millaire and Kaitlin Milroy, Moonfruits pen songs in both French and English, reflecting their bilingual lived experience in their hometown of Ottawa. The band harmonizes over assiduous arrangements of guitar, banjo, chord organ, and glockenspiel, weaving song-worlds that rouse and serenade in equal measure. Theirs is the music of open-minded dreamers and diligent doers, confronting dehumanizing capitalism and environmental catastrophe with rousing a message of solidarity. This Stingray Rising Star, SOCAN, and Trille Or award-winning group has toured their transportive live show across Canada, the US, France, Belgium, and Germany. Moonfruits' lushly orchestrated sophomore album, Salt (Oct. 2022), is a 12-song suite that explores what it means to the band to live, dream, and raise a child in an era of climate change and deepening inequality.
Saturday, February 4, 2023 @ 12:20-12:35
Janice Jo Lee is a dynamic artist. She is a second generation Korean-Canadian settler based in Tkaronto (Toronto), Ontario. She is a folk-soul-jazz singer-songwriter, multi-instrumentalist, composer, sound designer, spoken word poet, theatre maker, and arts and anti-oppression facilitator. Lee's artwork has always been one with her activism. Her artistic works are immersed in issues of gender empowerment, community, climate change, the environment and antiracism. With her guitar, looping pedal, trumpet, Korean janggu drum, disarmingly funny candour and poetically-rich lyrics, Lee commands the stage. She conjures warm energy, asks questions about our times, and leaves audiences rejuvenated and aglow. Her new album Ancestor Song launches this year. The melodies are rousingly thematic and supported by expansive jazz harmonies. Many songs depict water as a force of healing, power, drowning and destruction. "We captured the Janice Jo Lee sound and I've been telling everyone it's the best thing I've ever made."
Jessica Pearson and the East Wind
Saturday, February 4, 2023 @ 12:40-12:55
Like the yellow morning sun inviting fields of sunflowers to turn toward her, Jessica Pearson naturally draws her listeners in. There is a grounded current of energy that runs through Pearson's music and connects with her audience. It feels like bare feet planted on an old hardwood floor. It smells like fields of heather on a foggy day. Her love for storytelling, drawing on folk, outlaw country, and Celtic traditions, is evident in her songwriting. The stories she tells are like lovingly-sewn patchwork quilts, stitched together by soul-stirring melodies and gorgeous modern folk-country arrangements. In 2021, Pearson received the Folk Music Ontario 'Songs from the Heart' award for her song Ready My Heart. She was also selected for Global Music Match, a program created to connect artists internationally on social media platforms during the COVID-19 pandemic. In 2022, Jessica Pearson & the East Wind was an Official Showcase Artist at FAI (US) and Live At Heart (Sweden). Pearson's forthcoming album has been nominated for 'Album of the Year' at the 2022 Faces Ottawa Awards and she was nominated for 'Artist of the Year' at the Capital Music Awards. Her long-awaited debut album On The Line was released on January 21, 2022 through Willow Sound Records, to a sold out crowd.
Saturday, February 4, 2023 @ 1:00-1:15
2021 JUNO Award Nominees, Rum Ragged, take a bold approach to the distinct folk music of their home, the Eastern Canadian island of Newfoundland. With a reverence for their roots and a creative, contemporary edge, this young band has quickly become known as the finest performers of their great, living, musical tradition. Boasting bouzouki, fiddle, bodhran, banjo, guitar, and button accordion, these new champions of East Coast music enliven and enlighten audiences with their signature brand of Newfoundland folk. Always honest, thought-provoking, and often humorous, it's Rum Ragged's live show that makes them a fast favourite with any audience. Their combination of striking vocal harmonies, staggering musicianship, and captivating storytelling gives concert-goers an experience they won't soon forget. Since their inception in 2016, Rum Ragged has maintained a rigorous tour schedule, performing at some of the world's premier folk, celtic and roots venues all while managing to record four acclaimed, award-winning studio albums. Rum Ragged is not your run-of-the-mill folk band, they are the genuine article.