FIMPRO 2024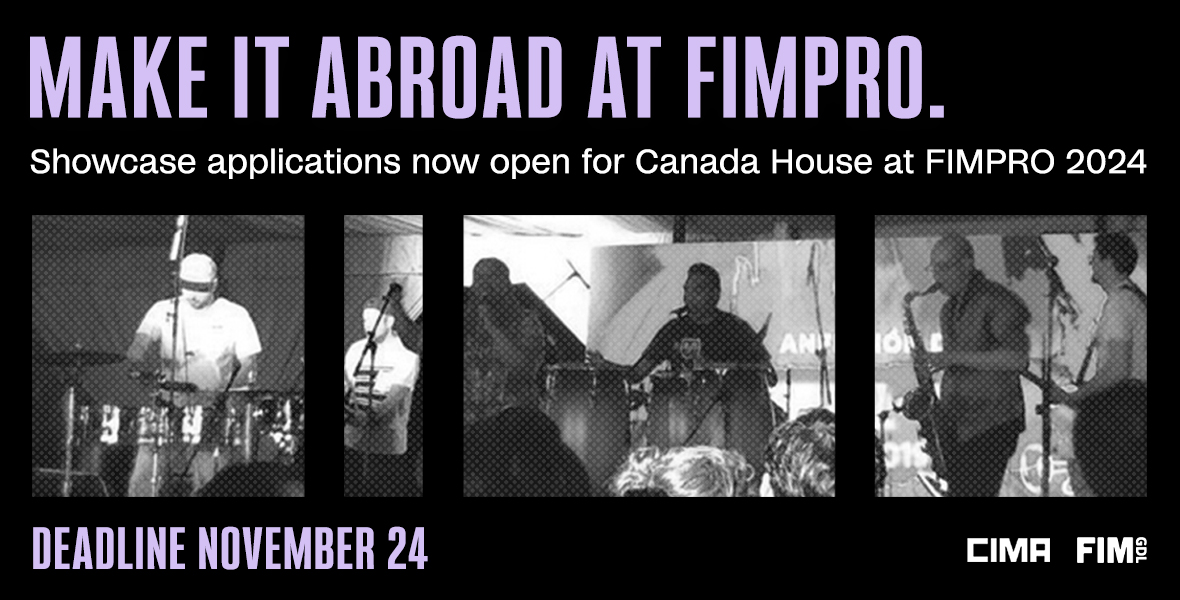 Posted on

November 13, 2023
Call for Submissions: CIMA's Business & Showcase Mission to FIMPRO 2024
Guadalajara, Mexico
February 28 – March 2, 2024
Apply Now: https://www.surveymonkey.com/r/FIMPRO2024
This February, MusicOntario will be conducting our fifth mission to Mexico surrounding the FIMPRO Festival and Conference. Working with FIMPRO, MusicOntario, in partnership with CIMA & Manitoba Music, will organize a showcase and business initiative to Guadalajara from February 28 until March 2. A pre-event in Mexico City will be organized focusing on showcasing and networking for select mission participants.
FIMPRO is one of the most important music conferences in Mexico and Latin America where top emerging international artists are selected to showcase. Launched in 2012, FIMPRO organizes business sessions and meetings with important players in the local, national and international music industries including guests and speakers from all Latin American countries.
This format allows our delegation to gain important information on the state of the music industry in Mexico and connect with over 1000+ professionals, primarily representatives of the independent industry.
Mission Details:
We are seeking applications from export-ready Canadian independent companies with international experience. Successful candidates will demonstrate a strong potential to conduct business in Mexico by demonstrating established international recording, touring or publishing activity. This mission is open to both members and non-members, although spaces are limited. This opportunity is also open to showcasing artists who must be approved by the conference/festivals.
This mission includes:
Participation at the FIMPRO Festival and Conference
Organized B2B meeting sessions
Panel Discussions/ participation in-market connections
Targeted meetings with key professionals in the region
Showcasing opportunities for artists and showcase promotion
Possible pre-event in Mexico City (more details to come)
How to Apply:
This opportunity is best suited for businesses that meet the following criteria:
Businesses looking to enhance their contacts in Mexico in order to develop and/or further existing relationships.
Businesses who do not currently have Mexico representation.
Company representatives in attendance must be able to secure deals on behalf of their roster.
If you meet the criteria outlined above, please submit your applications by clicking the link below:
https://www.surveymonkey.com/r/FIMPRO2024
The deadline to apply is Friday, November 24, 2024