Sharing some music from the Niagara Falls community - a playlist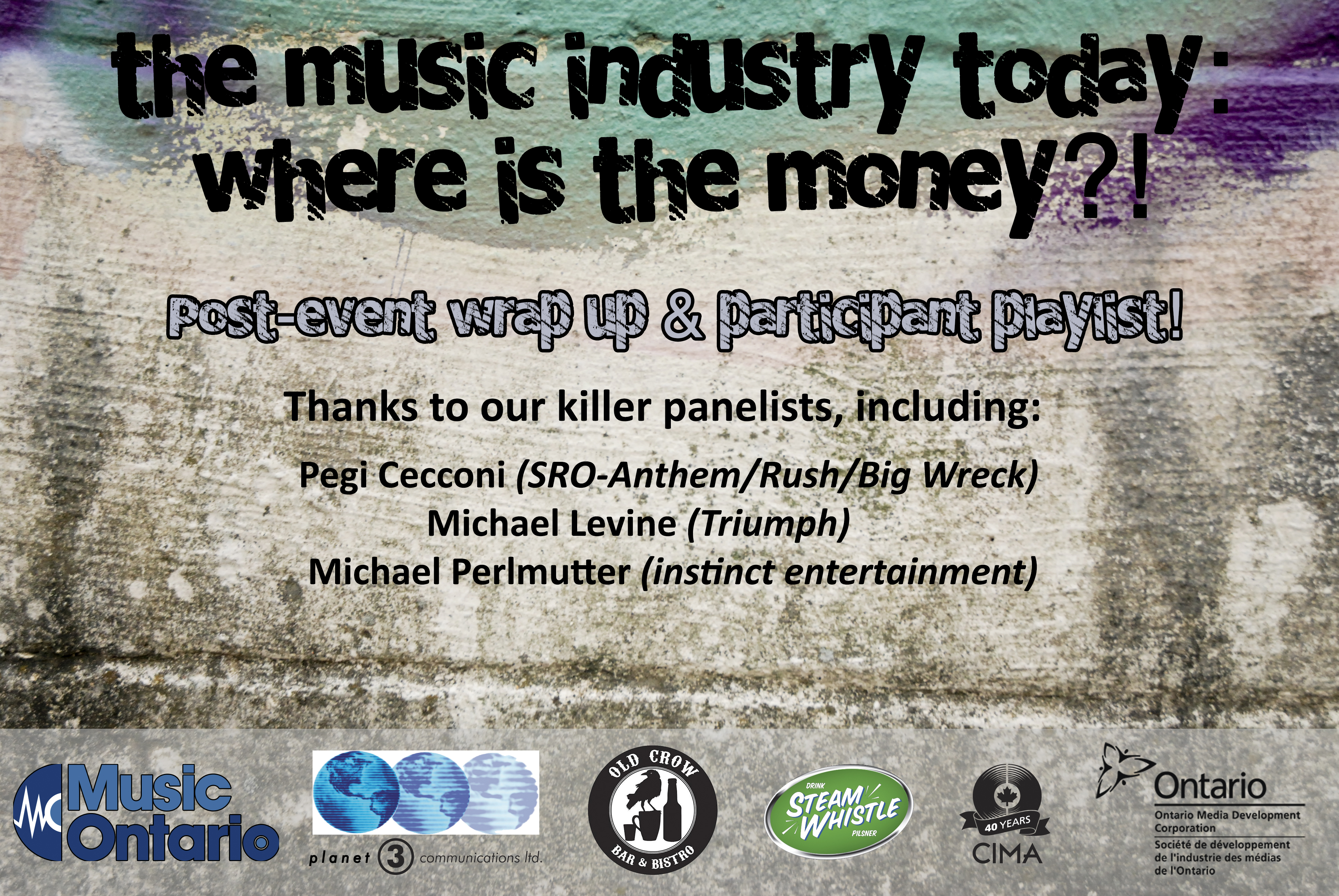 Posted on

July 6, 2015

Tagged as
SHARING SOME MUSIC OF THE NIAGARA FALLS MUSIC INDUSTRY
FROM THE ONE-DAY PANEL AND SEMINAR - THE INDUSTRY TODAY: WHERE IS THE MONEY?!  PANEL WEDNESDAY, JUNE 10, 2015
We explored both the obvious and not-so-obvious revenue sources available to artists, how to approach them and how companies have managed to evolve from the old model to thrive in today's industry, built on constantly shifting tectonic plates.  We discussed streaming royalty rates, merchandising, album sales, record deals and publishing rights - in how artists and their teams are establishing financial stability and security.
The Perpetual Peace Project welcomed guests and panelists Rick Fenton (executive director of MusicOntario), Pegi Cecconi (SRO-Anthem,), Michael Levine (Triumph) and Michael Perlmutter (Instinct Entertainment)
Attendees submitted songs which are now available on MusicOntario's SoundCloud page. So Share and Like on your sites!!

LISTEN HERE!
About MusicOntario
MusicOntario is a non-profit, membership-based division of the Canadian Independent Music Association.  Our mission is to provide professional development, industry education, information, services, & support to the music industry in Ontario.The association delivers programs, services, events and initiatives that assist in nurturing, developing, promoting, and sustaining growth within the provincial music sector. MusicOntario will work to support and develop both the emerging and established independent industry in all markets province-wide.
MusicOntario will also provide leadership in the arena of advocacy & policy as it relates to, or affects members of, the independent music industry within the province of Ontario.
web:
www.music-ontario.ca
// twitter: @MusicOntario
About Planet3 Communications Ltd
Planet3 Communications has been working with international, national and local clients for over 30 years.  Our strong public and media relations are highly recognized with a strong commitment towards Tourism, Arts & Culture and Social Concerns.  The company is based in Niagara Falls and Toronto.
web: www.planet3com.net  // twitter: @Planet3Comm