MusicOntario @ Indie Week 2016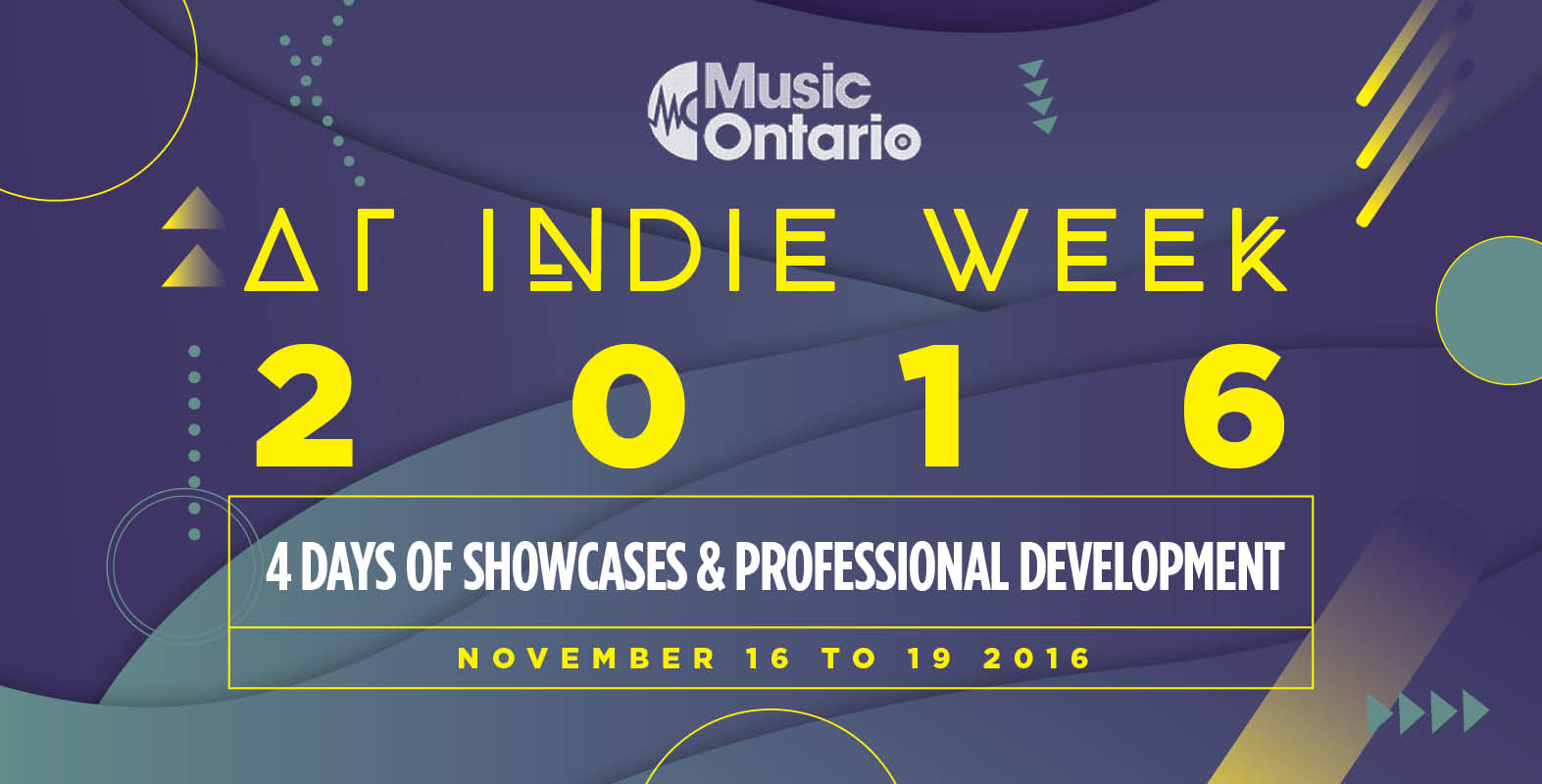 Posted on

November 3, 2016
Indie Week 2016 in Toronto is around the corner (November 15-20, 2016), and MusicOntario is going to be there! Join us for our events, listed below: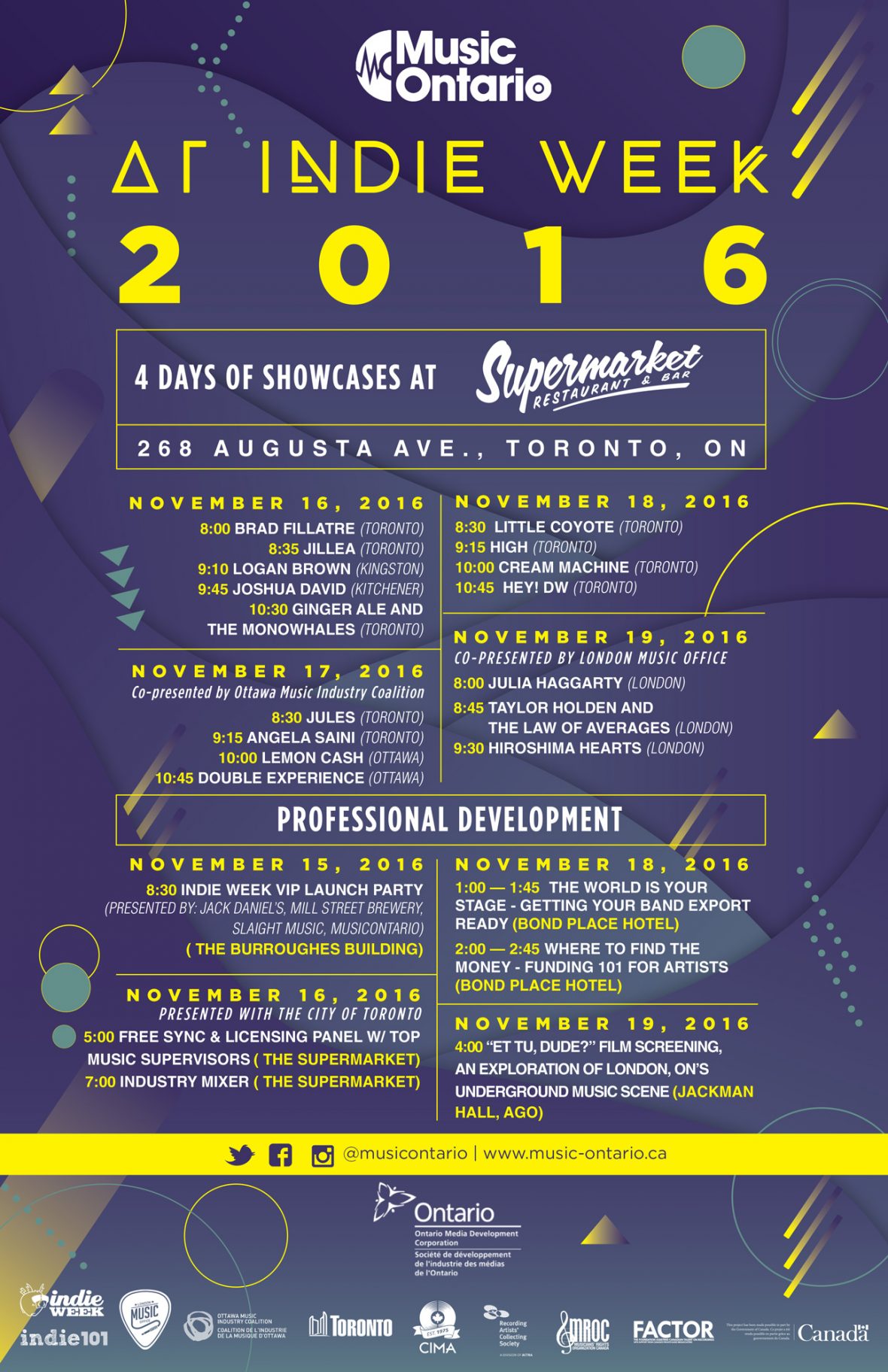 November 15 - Indie Week Launch Party
Presented by: MusicOntario, Slaight Music, Jack Daniel's, Mill Street Brewery
November 16 -
Panel/Mixer @ The Supermarket (268 Augusta Ave, Toronto)
5:00PM-7:00PM - Panel Discussion
7:00PM-8:00PM - Industry Mixer
This event is free, but we ask that you register. RSVP HERE!
Music placement and licensing has gradually become one of the most valuable revenues streams for musicians these days and yet many artists do not understand how it all works.
Getting your music placed in film, commercials, video games etc. is also potentially one of the greatest methods of promotion you can think of. Don't miss this panel about music placement and licencing and how YOU as an artist can benefit greatly from it.
Who should attend this panel: Musicians, music students, and songwriters
Panelists:
Michael Perlmutter, Music Supervisor, Instinct Entertainment (Moderator)
Heather Gardner, Music Supervisor, Vapor Music Group
Leonard Farlinger, Producer/Director/Writer, New Real Films
Cheryl Link, Creative Manager, peermusic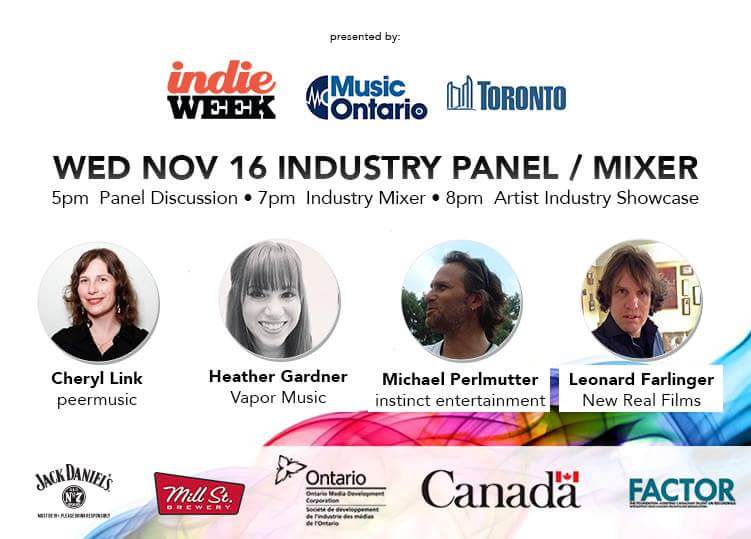 November 16 continued...

Showcase @ The Supermarket (268 Augusta Ave, Toronto)
8:00PM - Brad Fillatre (Toronto)
8:35PM - Jillea (Toronto)
9:10PM - Logan Brown (Kingston)
9:45PM - Joshua David (Kitchener)
10:30PM - Ginger Ale and the Monowhales (Toronto)
November 17 - Showcase @ The Supermarket (268 Augusta Ave, Toronto)
Co-Presented by Ottawa Music Industry Coalition (OMIC)
8:30PM - Jules (Toronto)
9:15PM - Angela Saini (Toronto)
10:00PM - Lemon Cash (Ottawa)
10:45PM - Double Experience (Ottawa)

November 18
Panels @ Bond Place Hotel (65 Dundas St. E)
1:00PM-1:45PM: The World is your stage - Getting Your Band Export Ready
2:00PM-2:45PM: Where to find the Money - Funding 101 for artists

Showcase @ The Supermarket (268 Augusta Ave, Toronto)
8:30PM - Little Coyote  (Toronto)
9:15PM - High (Toronto)
10:00PM - Cream Machine (Toronto)
10:45PM - Hey! DW (Toronto)
November 19 - Showcase @ The Supermarket (268 Augusta Ave, Toronto)
Co-Presented by London Music Office
8:00PM - Julia Haggarty (London)
8:45PM - Taylor Holden and the Law of Averages (London)
9:30PM - Hiroshima Hearts (London)
4:00PM: Don't forget to catch the premiere of Et Tu, Dude?, a film exploring London's underground music scene @ Jackman Hall, AGO)
RSVP on Facebook! https://www.facebook.com/events/1132765950103758/